ÖSTERREICH AUSTRIA
Bundesland: Kärnten Carinthia
|
Bundesland: Tirol Tyrol
Bezirk: Spittal an der Drau
|
Bezirk: Lienz
| | | |
| --- | --- | --- |
| ← map | Großglockner | map → |
The Großglockner is, at 3,798 metres above the Adriatic, the highest mountain in Austria and the highest mountain in the Alps east of the Brenner Pass and, after Mont Blanc (depicted in this collection on a glass from Geneva), is also the second greatest topographic isolation of all mountains in the Eastern Alps. Lying on the border between the Austrian states of Carinthia and Tyrol (East Tyrol) it is part of the larger Glockner Group of the Hohe Tauern range, situated along the main ridge of the Central Eastern Alps and the Alpine divide. The Pasterze, Austria's most extended glacier, lies on the Grossglockner's eastern, Carinthian, slope. The characteristic pyramid-shaped peak actually consists of two pinnacles, the Grossglockner and the Kleinglockner (3,770 m), separated by the Glocknerscharte (Glockner col).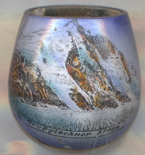 The name Glocknerer is first documented in a 1561 map. The denotation Glogger is mentioned a 1583 description of the Tyrolean Kals legal district, then referring to the whole ridge south of the Alpine main chain. In the 1760s, the Atlas Tyrolensis listed a Glockner Berg, the prefix Groß- ("great") is not mentioned before the first expedition in 1799. The name Glockner is possibly derived from German: Glocke ("bell"), referring to the mountain's characteristic shape. It may also be a Germanised version of the Alpine Slavic word klek ("mountain"), as maintained in the Slovene name Veliki Klek.
The history of the climbs started with French-born natural scientist Belsazar Hacquet, from 1773 professor of anatomy at the Academy of Ljubljana. He travelled the Eastern Alps from 1779 to 1781 and published an itinerary in 1783, describing the Glokner mountain and stating that it had not been climbed yet. He estimated the mountain's height with converted 3,793 m and left an engraving illustrating Grossglockner and Pasterze, the first known depiction of the mountain. Inspired by Hacquet's book and the first ascent of the Mont Blanc in 1786, the Gurk prince-bishop Count Franz Xaver of Salm-Reifferscheidt-Krautheim started efforts for a Grossglockner expedition. Two peasants from Heiligenblut as mountain guides to do the first explorations. These valiant men, called "Glockners" in the records, did more than they were ordered to do — and probably reached the Kleinglockner summit on 23 July 1799. The first successful expedition then reached the Großglockner summit on 28 July 1800.

[https://en.wikipedia.org/wiki/Grossglockner, https://de.wikipedia.org/wiki/Großglockner]

---