| | |
| --- | --- |
| SCHWEIZ / SUISSE / SVIZZERA / SVIZRA | SWITZERLAND |
| Sankt Gallen / Saint Gall / San Gallo / Son Gagl | |
map →
Werdenberg
ru: Верденберв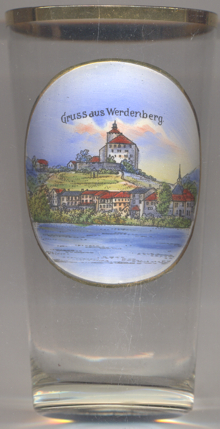 Werdenberg is situated at an elevation of 451 m just outside of Buchs in the east of the Canton Sankt Gallen. Although Werdenberg has the historic privilege of a town, it is today part of the municipality of Grabs. Werdednberg itself has a population of only 50–60 and hence it is often refered to as Switzerland's smallest town.
The historic County of Werdenberg comprised castle and town of Werdenberg, the villages Grabs, Buchs and Sevelen, as well as the jurisdiction over Wartau (Wartau castle and the village of Gretschins). When the County of Werdenberg was partitioned in 1277, Werdenberg remained with the line Werdenberg-Heiligenberg. These pawned off the county to the Counts of Montfort-Tettnang in 1402, and in 1483 the county was obtained by the counts of Sax-Misox. In 1485, Werdenberg was purchased by the city of Luzern, and although ownership changed several times thereafter, Werdenberg remained connected with the Swiss Confederation. In 1517, it was sold to the Canton of Glarus. During the Napoleonic period of Switzerland (called the Helvetic Republic, 1798–1803), Werdenberg was made part of the Canton of Linth (which also included the modern-day Canton of Glarus, and parts of the Canton of Schwyz). After the end of the reign, Werdenberg was made part of the canton of Sankt Gallen.

Werdenberg castle was founded before/around 1228. The old castle was destroyed by a large fire in 1695, however, it was restored immediately thereafter. In 1835, the castle, which in the meantime had fallen into derelction, was purchased by the Hilty family who restored the ruins bit by bit. In 1959 the castle was donated to the Canton of Sankt Gallen and since then it is open to the public. Since 1985 the courtyard of the castle is the venue for the Werdenberger Schloss-Festspiele, a festival of opera. Thus, Werdenberg is also Europe's smallest festival town.

[https://de.wikipedia.org/wiki/Werdenberg_(Ort), https://simple.wikipedia.org/wiki/Werdenberg; https://de.wikipedia.org/wiki/Schloss_Werdenberg, https://de.wikipedia.org/wiki/Werdenberger_Schloss-Festspiele]

---