| | |
| --- | --- |
| ČESKÁ REPUBLIKA | CZECH REPUBLIC |
| Moravskoslezský kraj | North Moravia and Silesia (Ostrava) region |
| Okres: Nový Jičín | |
map →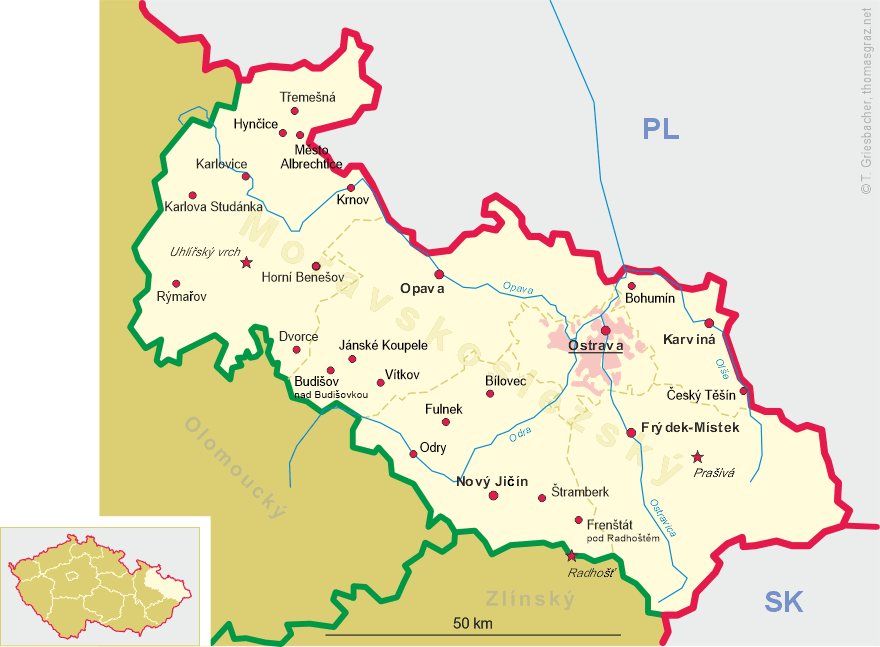 Nový Jičín
• de: Neutitschein
• lv: Novy Jičīna
• lt: Novy Jičynas
• pl: Nowy Jiczyn
• bg, ru: Нови-Йичин
• mk, sr: Нови Јичин
• uk: Нові-Йічін
• be: Нові-Йічын
Nový Jičín is situated at an elevation of 285 m at an old trading path through the Moravian Gate (Moravská brána), the low-lying area between the rivers Odra in the north and Bečva in the south, and the mountain ranges Moravskoslezské Beskydy in the east and the eastern Sudety in the west. The area is also well-known under the name Kravařsko (German Kuhländchen, 'cow country') as it always has been a centre for cattle breeding. In 1313 Nový Jičín obtained the freedom of the city and the right to charge toll. From 1500 onward, the weaving industry increased the wealth of the town. During the 16th century it was a flourishing community of the Bohemian Brethren and obtained the status of a royal town in 1620. During the Thirty Years' War it was occupied by Spanish troops in 1621 and looted by the Imperial army in 1623. From 1624 Nový Jičín was in possession of the Jesuit Order. After the dissolution of the order in 1773 it became an independent municipality. The town also was famous for its hat making industry. The Hückel hat manufacture, founded in 1799, became one of the world's largest hat makers at the end of the 19th century.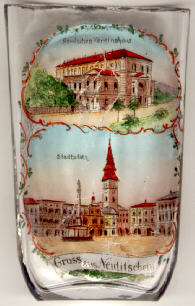 The

parish church Assumption of Our Lady [bottom, background] was built as a Gothic church in the 15th century. The renaissance church tower was added 1587–1618. Between 1729 and 1736 the church was transformed in Baroque style. The Neo-Baroque roof of the tower was added in 1854 and increased the height of the tower to 66 m.
The

Column of Our Lady (Plague Column) [bottom, centre] on the market square was erected in 1710 in remembrance of the Plague which had killed a large proportion of the inhabitants in 1680.
The large rectangular

market square itself goes back to the medieval architecture of the town in the 13th century. The arcades of the houses surrounding the square date from the 16th century. Their façades were shaped in the Baroque period. During the period of the Nazi occupation, te square was named Adolf-Hitler-Platz, as labeled on glass no. 0000 [right]. The square today is named Masarykovo náměstí after Tomáš Garrigue Masaryk, the first President of Czechoslovakia.
The building shown in the top half of the picture today is the

Beskydy Theatre. The building was constructed by the architect Otto Thienemann 1885–1886 in Neo-Reneaissance style. It originally served as the German Club (Deutsches Vereinshaus).
The Austrian painter Anton KOLIG (1886–1950) was born in Nový Jičín.
Also born here was the polar explorer Eduard OREL (1841–1892). He was a member of the Austrian expedition which in 1874 discovered the arctic archipelago Franz Joseph Land.
Another glass from this collection is a souvenir from Jičín in northeastern Bohemia.

---