| | |
| --- | --- |
| ÖSTERREICH | AUSTRIA |
| Bundesland: Niederösterreich | Lower Austria |
| Bezirk: Baden | |
map →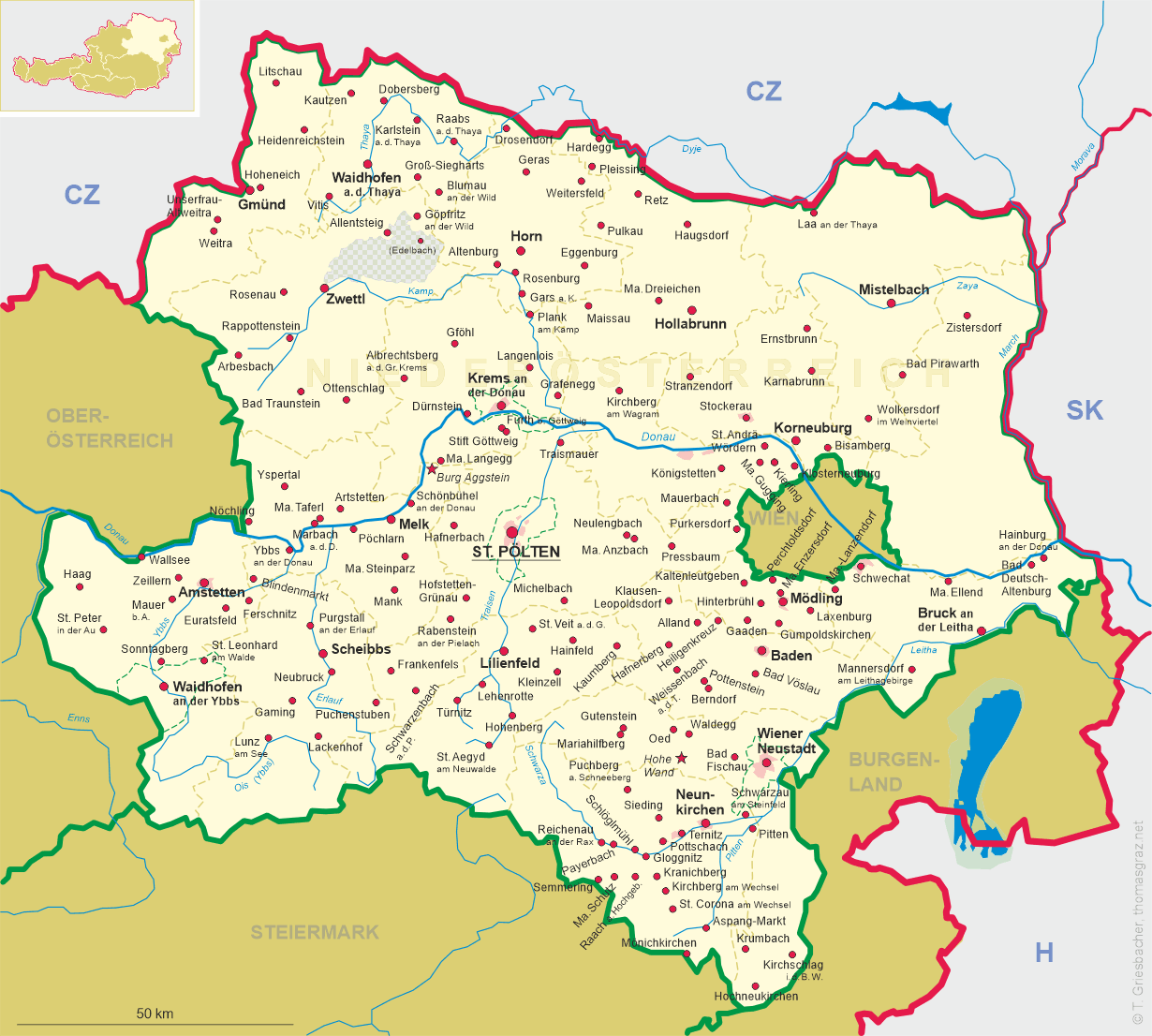 Pottenstein
• lt: Potenštainas
• lv: Potenšteina
• sr: Потенштајн
• ru: Поттенштайн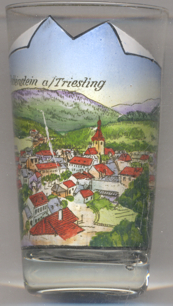 Pottenstein is situatd at an elevation of 324 m in the Triesting valley of the Wienerwald (Vienna Forest) region. The municipality has a population of about 2,900 (2018).
The origins of Pottenstein go bak to the 11th century. The church was already mentioned as a parish in 1155. The village obtained the privileges of a market in 1376. Due to the abundance of water Pottenstein became the central economic place of the region with with mills, forges, saw mills and iron hammer mills. A further exonomic boost occurred in the 18th century with the opening of blade factories that largely covered the Austrian military needs. Further factories followed in the 19th century. The town was connected to the railroad system in 1877, even though it lost its importance to the Krupp factories of Berndorf.
Pottenstein also is connected to the famous Austrian poet and writer Ferdinand Raimund (1790–1836). After having been bitten by a stray dog, he panickly feared to have contracted rabies and committed suicide by shooting himself on 5 September 1836 in the former 'Golden Deer' inn (Hauptplatz no. 6).
The

parish and pigrimage church Maria Trost (Our Lady of Consolation) [background] was first mentioned, already as a parish, in 1155. The Romanesque church of the 12th century was destroyed in 1683 during the Great Turkish War, but it was already reconstructed in 1688/1709. The lower parts of the tower still date from the Romanesque construction. The Gothic choir was added in the 14th century, at the same time the tower was heightened. Since the 17th century the church is a pilgrimage site. The former Romanesque nave was replaced in 1808 by a new nave in Classicist style which was added perpendicularly to the remaining parts of the church.
Pottenstein is also the the former German name of Potštejn, Czech Republic.

[https://de.wikipedia.org/wiki/Pottenstein_(Niederösterreich); https://www.gedaechtnisdeslandes.at/orte/action/show/controller/Ort/ort/pottenstein.html; https://de.wikipedia.org/wiki/Wallfahrtskirche_Pottenstein]

---