| | |
| --- | --- |
| SLOVENSKO | SLOVAKIA |
| Trenčiansky kraj | Trenčín region |
| okres: Prievidza | |
map →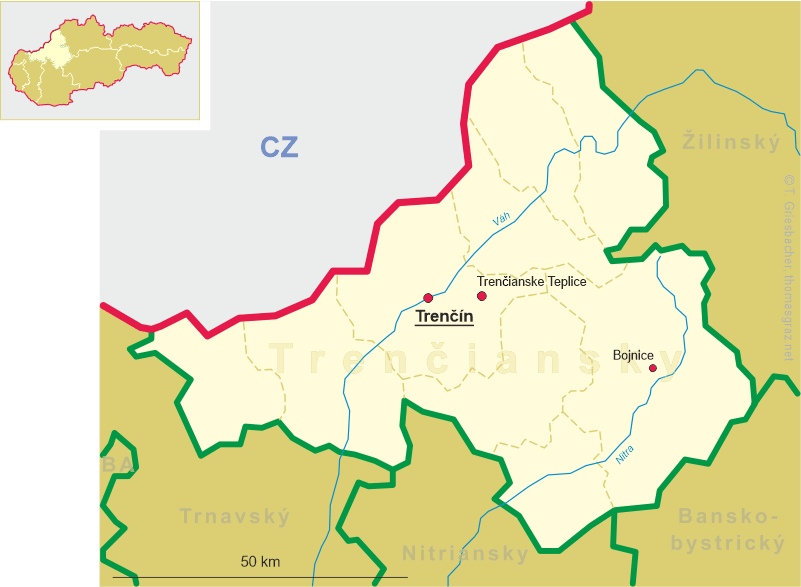 Bojnice
• hu: Bajmóc
• de: Weinitz
• bg, ru, uk: Бойнице
• be: Бойніцы
• mk: Бојнице
• sr: Бојњице
Bojnice is situated at an elevation of 298 m near the river Nitra in the district Prievidza of the Trenčín region of northwestern Slovakia. The municipality has a population of about 4,500 (2018).
Bojnice was first mentined in 1113. Since 1966 it has the status of a town. Bojnice is best known for its castle, which has appeared in many international films and the most visited castle in Slovakia receiving hundreds of thousands of visitors every year. Bojnice also features the oldest zoo of Slovakia. Due to its thermal springs Bojnice also is a popular spa resort.

Bojnice castle [left, no. 3647] was first mentioned in written records in 1113. Originally built as a wooden fort, it was gradually replaced by stone, with the outer walls being shaped according to the uneven rocky terrain. In the 15th century, it was owned by Matthias Corvinus, king of Hungary. After his death the castle became the property of the Zápolya family. The Thurzós, the richest family in the northern kingdom of Hungary, acquired the castle in 1528 and undertook its major reconstruction. The former fortress was turned into a Renaissance castle. From 1646 on, the castle's owners were the Pálffys, who continued to rebuild the castle. A complex romantic reconstruction undertaken in 1888–1910 created today's beautiful imitation of French castle of the Loire valley. The castle was sold off by the heirs of the Pálffy family in 1939, and in 1945 the castle was confiscated by the Czechoslovak government, upon which it became the seat of several state institutions. In 1950, a huge fire broke out in the castle, but it was rebuilt at government expense. After this reconstruction, a museum specializing in the documentation and presentation of the era of architectural neo-styles was opened here. Bojnice Museum is now part of the Slovak National Museum today.

[https://de.wikipedia.org/wiki/Bojnice, https://en.wikipedia.org/wiki/Bojnice; https://en.wikipedia.org/wiki/Bojnice_Castle]

---