| | |
| --- | --- |
| ČESKÁ REPUBLIKA | CZECH REPUBLIC |
| Liberecký kraj | Liberec region |
| Okres: Semily | |
map →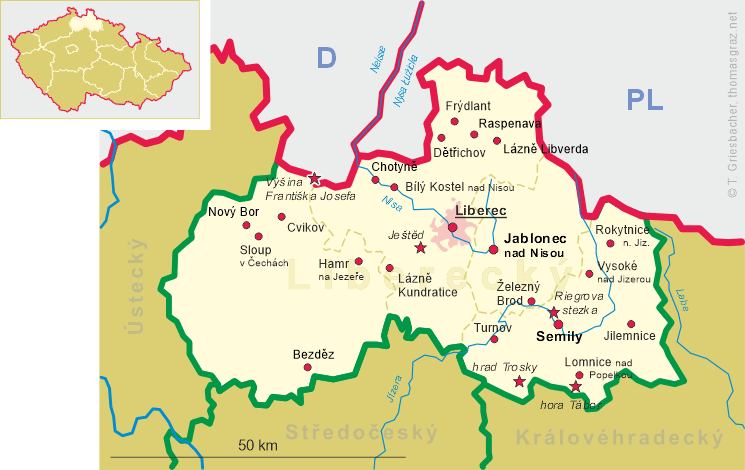 Turnov
• de: Turnau
• lt: Turnovas
• dsb: Turnow
• el: Τούρνοφ
• bg, mk, ru, sr, uk: Турнов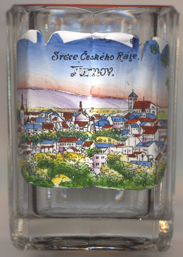 Turnov (in German: Turnau) is situated at an elevation of 260 m on the river Jizera in the district Semily, west of the nature reserve area Český ráj ('Bohemian paradise'). The municipality has a population of about 14,300 (2019).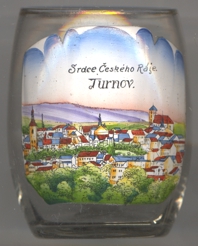 Turnov was founded as a Bohemian town in 1272 on a spur of rock overlooking the Jizera River. During the Middle Ages, Turnov came into the possession of the Wartenberg and Smiřický noble houses. The medieval town was frequently hit by fires: it was burnt by Lusatian crusaders in 1468 and during the Thirty Years' War by Swedes in 1643, as well as a conflagration in 1707. The first European technical school for the processing of gemstones, metals, and jewelry was founded in Turnov in 1882 and still exists as one of the world's best schools of this type.
The Roman Catholic

church of the Nativity of the Virgin Mary [background right] was built between 1825 and 1853 as one of the first neo-Gothic churches in Europe. The massive three-aisled building with the unfinished tower has become a characteristic landmark of the city. A first wooden church was built with the Dominican monastery in the late 13th century. During the Hussite Wars (1423–1424) the church was burnt down. The rebuilt temple was used by the Unity of Brethren from 1550 until 1620, burned down again in 1643 and subsequently repaired. Due to the poor condtion of the building, it was decided in the 1820s to replace it with a new church building. Its construction began in 1825, the architect was Martin Hausknecht from Vienna. The construction was finished in 1853.
The picture on glass no. 3673 [left] is labeled Srdce Českého Ráje ('Heart of the Bohemian Paradise').

[https://de.wikipedia.org/wiki/Turnov, https://en.wikipedia.org/wiki/Turnov; https://cs.wikipedia.org/wiki/Kostel_Narození_Panny_Marie_(Turnov)]

---