| | |
| --- | --- |
| ÖSTERREICH | AUSTRIA |
| Bundesland: Vorarlberg | |
| Bezirk: Feldkirch | |
map →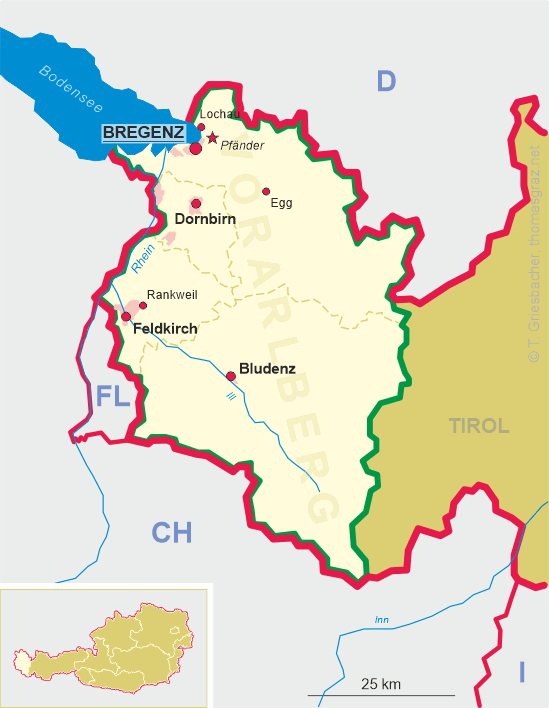 Feldkirch
• lt: Feldkirchas
• lv: Feldkirha
• el: Φέλντκιρχ
• bg, mk, sr: Фелдкирх
• ru: Фельдкирх
• be, uk: Фельдкірх
• be: Фэльдкірх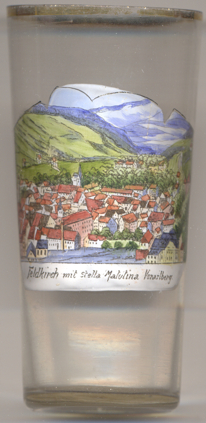 Feldkirch is situated at an elevatin 468 m where the Ill valley opens into the plain of the Alpine Rhine in the southwest of Austria's province of Voralrberg. The municipality is bordering to both Switzerland and Liechtenstein. It has a population of about 33,900 (2019).
A few kilometers north of the town a late Roman settlement with a church, named ecclesia sancti Petri ad Campos was discovered. The name Feldkirichun is related to this church's name and was first mentioned in a document of AD 842. In 1218 it was first mentioned as a town. The last count of Montfort sold the town in 1375 to the dukes of Habsburg; their bailiffs resided in Feldkirch since 1379. In 1405 Feldkirch joined the 'Bund ob them See', a union of towns in the area of lake Constance, which included also Bludenz, Rankweil, Sax, Gaster, Toggenburg and others. Several military actions were undertaken against the overlordships of the Habsburgs, but finally the union was defeated near Bregenz in 1408. In the 20th century, the municipality grew by the incorporation of the neighbouring communities of Levis, Altenstadt, Gisingen, Nofels, Tosters and Tisis.
The Jesuit college

Stella Matutina [foreground right] was a private grammar school founded in 1856. It operated as such until 1979. Since 1977 the building houses the Vorarlberger landeskonservatorium (Vorarlberg Academy of Music).

[https://de.wikipedia.org/wiki/Feldkirch; https://de.wikipedia.org/wiki/Stella_Matutina_(Jesuitenkolleg)]

---