| | |
| --- | --- |
| ČESKÁ REPUBLIKA | CZECH REPUBLIC |
| Královéhradecký kraj | Hradec Králové region |
| Okres: Rychnov nad Kněžnou | |
map →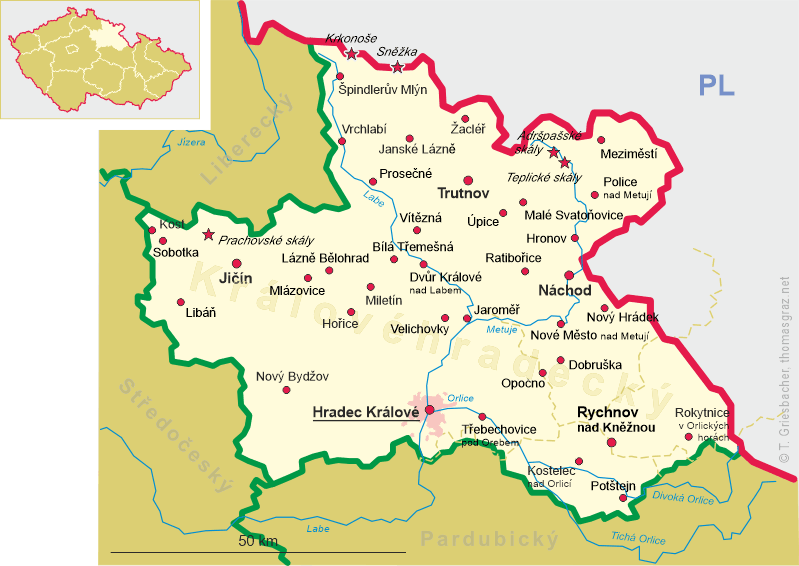 Dobruška
• de: Gutenfeld
• ru, sr: Добрушка
Dobruška is situated at an elevation of 287 m on the Zlatý potok ('golden creek') in the northwest of the district Rychnov nad Kněžnou of the Hradec Králové region of eastern Bohemia. The municipality has a population of about 6,700 (2019).
Fromerly known as Leštno, the first written mention of Dobrusca dates from 1312. In 1364 Dobruška obtained the privileges of a town according to Magdeburg Law. In 1455 it was mentioned as belonging to the domains of Opočno. The following decades were a flowering period for the town. Following a large fire in 1565 the town was rebuilt in Renaissance style. After the Hussite Wars (1419–1436) almost the entire population had converted to the Utraquist faith, and in the early 17th century it was a centre of Protestantism in eastern Bohemia. In the 19th century, Dobruška was a centre of the Czech National Revival, of which the local merchant František Vladislav Hek was an important figure. The Czech writer Alois Jirásek set Hek a literary monument with his five-volume novel F. L. Věk, published sequentially between 1891 and 1906. The regional railway line Opočno – Dobruška opened in 1908.

The

town hall [background] was built in Renaissance style in the 2nd half of the 16th century.
The

Marian Column in the old square in front of the town hall dates from 1736. The statue of the Immaculate Virgin Mary on top of the column originally had been made for the church of the Jesuits in Hradec Králové. The column in flanked by 4 statues of saints: St. Wenceslas, St. John of Nepomuk, St. Francis Xavier and St. Florian.

[https://de.wikipedia.org/wiki/Dobruška, https://en.wikipedia.org/wiki/Dobruška, https://cs.wikipedia.org/wiki/Dobru%C5%A1ka]

---