| | |
| --- | --- |
| ČESKÁ REPUBLIKA | CZECH REPUBLIC |
| Královéhradecký kraj | Hradec Králové region |
| Okres: Rychnov nad Kněžnou | |
map →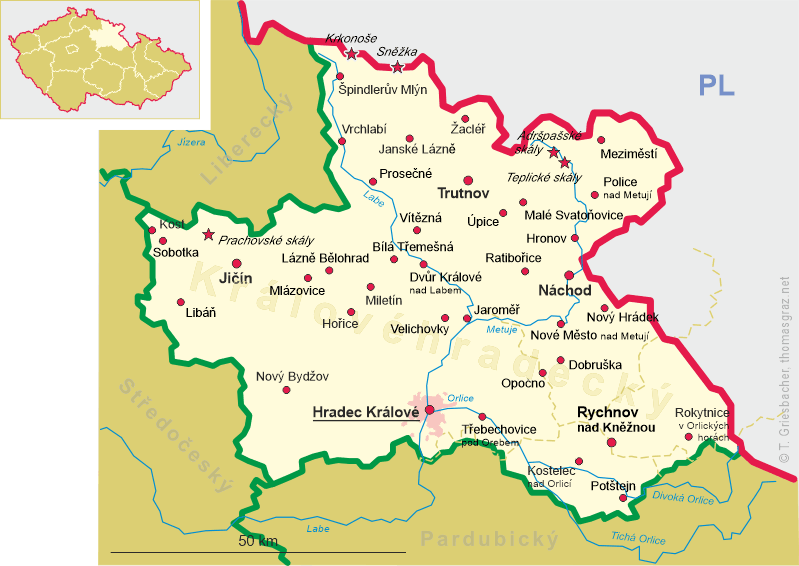 Rychnov nad Kněžnou
• de: Reichenau an der Knieschna
• lv: Richnova pie Knēžnas
• lt: Richnovas prie Knežnos
• sr: Рихнов на Књежној
• mk: Рихнов на Књежноу
• bg: Рихнов над Кнежноу
• ru: Рихнов-над-Кнежноу
• uk: Рихнов-над-Кнєжной
• be: Рыхнаў-над-Кнежнаў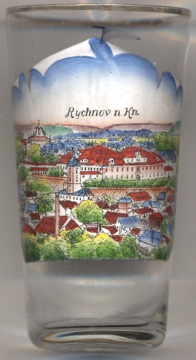 Rychnov nad Kněžnou is situated at an altitude of 320 m in the foothills of the Orlicé hory (Adlergebirge) mountains on the river Kněžná in eastern Bohemia, about 30 km east of Hradec Králové. Rychnov nad Kněžnou is the capital of the district of the same name. The municipality has a population of about 11,000 (2017).
Richenawe was first mentioned in a document dating from 1258. In 1488, the seal and crest of the town were approved by King Vladislav II of Bohemia and Hungary from the Jagiellon dynasty. From the 2nd half of the 15th century on, Rychnov became a centre of the Bohemian Brethren. In 1561, the town obtained the status of a Royal Town by a privilege of Emperor Ferdinand I. From 1577 until 1622 the town was in possession of the Trčka von Lípa (Trčkové z Lípy) and Betengel von Neuenburg families. because of the involvement in the Bohemian Revolt of 1618 their possessions were confiscated in 1622 and were handed over to the counts Libštejnský von Kolowrat in 1640.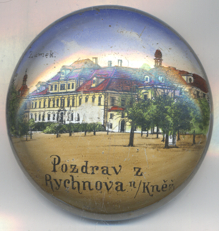 Rychnov castle [left] was erected in Baroque style 1676–1690. In the 18th century the castle was remodeled. After the extinction of the Libštejnský line, the counts Kolowrat auf Burg Krakovec (Kolowrat Krakovský) inherited the domains. During World War II the castle was placed under German receivership. The family was dispossed after the war in 1948. Parts of the possessions, including Rychnov castle were restituted to the family in 1992.
Another glass from this collection is a souvenir from Rychnov na Moravě. Reichenau, the German name of Rychnov nad Kněžnou, is also the name of Reichenau an der Rax in Lower Austria.

[https://de.wikipedia.org/wiki/Rychnov_nad_Kněžnou, https://en.wikipedia.org/wiki/Rychnov_nad_Kněžnou; https://de.wikipedia.org/wiki/Schloss_Rychnov_nad_Kněžnou, https://de.wikipedia.org/wiki/Kolowrat]

---