| | |
| --- | --- |
| ČESKÁ REPUBLIKA | CZECH REPUBLIC |
| Pardubický kraj | Pardubice region |
| Okres: Chrudim | |
map →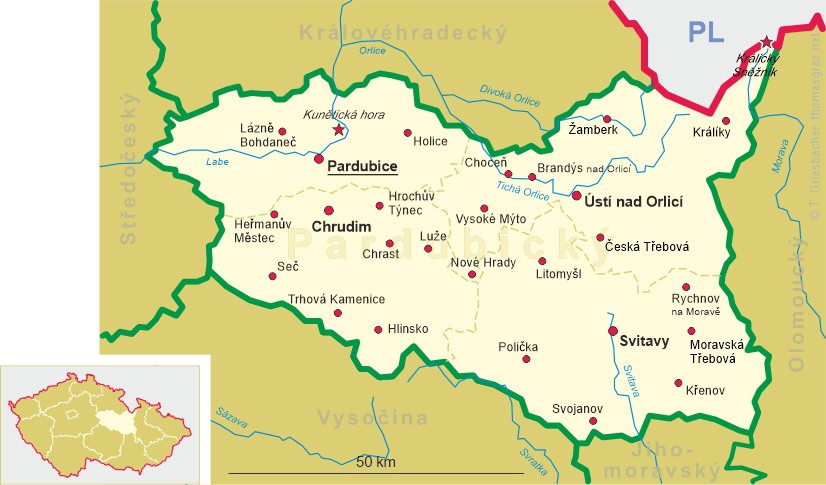 Trhová Kamenice
• de: Markt Kamnitz
• sr: Трхова Камењица

Trhová Kamenice is situated at an elevation of 535 m on the river Chrudimka about 20 km south of the district town Chrudim and about 30 km south of the reion's capital, Pardubice. Trhová Kamenice has a population of about 940 (2019).
The oldest written document that mentions this place is a deed of donation dating from 1242. It is likely that the village was founded by the Benedictine monastery of Vilémov. In the late 14th century iron-working started and for this purpose the surrounding forests were cleared for the production of charcoal and the creation of forest workers' settlements. In 1499 Trhova Kamenice was mentioned as a 'small town' having its own coat of arms; the privileges of a market town had alreay been obtained prior to 1460. After the Thirty Years' War (1618–1648) the town was almost deserted and had to be rebuilt. In modern times, the status of a town was obtained in 1853.
The

church of St. Philip and St. James [background right] had already been mentioned in the 14th century. the present church was rebuilt in Baroque style in 1737–1747.
Another glass in this collection is a souvenir from Kamenice nad Lipou.

[https://de.wikipedia.org/wiki/Trhová_Kamenice]

---