| | |
| --- | --- |
| DEUTSCHLAND | GERMANY |
| Bundesland: Freistaat Sachsen | Saxony |
| Landkreis: Bautzen | |
map →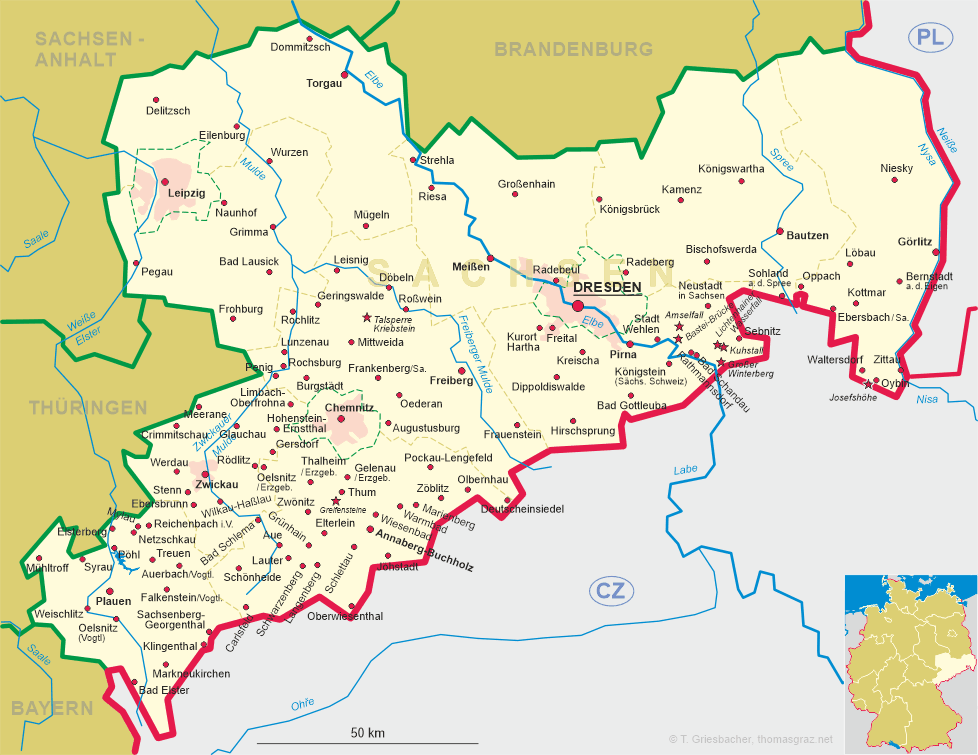 Bischofswerda
• hsb: Biskopicy
• cs, pl: Biskupice
• lv: Bišofsverda
• bg, mk, ru, sr: Бишофсверда
• be, uk: Бішофсверда

Bischofswerda is situated at an elevation of 304 m on the river Wesenitz at the western edge of the Upper Lusatia region of Saxony, about 30 km east of Dresden and about 20 km west of the distict town Bautzen. The municipality has a population of about 10,900 (2019). It is also the seat of the administrative union Bischofswerda, which also includes the municipality of Rammenau.
It is deemed possible that the place was founded already between 970 and 1076. The earliest known written mention, however, dates from 1227. A paris church is documented since 1229. The towns former city walls were built in 1286. The oldest document that mentions Bischofswerda as a town, however, only dates from 1361. Util the 16th century, the town was governed by the bishops of Meißen. The last bishop of Meißen was forced to cede the town to the Electors of Saxony in 1559. From 1952 until 1994 Bischofswerda was the seat of the district of the same name. In 1994, the district was dissolved and its municipalities were reattributed to the districts Bautzen (including Bischofswerda) and Kamenz (which itself in 2008 was merged with the district Bautzen).
The

Christuskirche [left, no. 3973: background left] was built after the large fire of 1813, that had destroyed large parts of the town. It was completed in 1818. Parts of the former, Gothic, church such as the supporting pillars on the south side, were preserved although they are not statically necessary any more.

[https://de.wikipedia.org/wiki/Bischofswerda, https://de.wikipedia.org/wiki/Verwaltungsgemeinschaft_Bischofswerda]

---