map →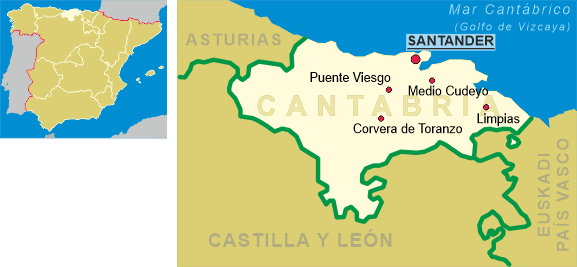 Media Cudeyo
• ru: Медио-Кудейо
• uk: Медіо-Кудейо
Media Cudeyo is situated south of the Bay of Santander in the Spanish Autonomous Region Cantabria. The municipality has a population of about 7,600 (2019) and consists of the localities Anaz, Ceceñas, Heras, Santiago de Cudeyo, Hermosa, San Salvador, San Vitores, Sobremazas, Solares and Valdecilla (administrative centre).
Remains of a medieval castle dating from the 8th to 11th century have been found at Pico del Castillo. Documents referring to Cudeyo date back to at least 1520. Since the 70s of the 18th century , the iron mines located in the Peña Cabarga massif (known since Roman times) have led to the emergence of an industry around mining, establishing several railways that helped transport the extracted material, among them the railway from Santander to Solares, inaugurated in 1892, and later extended to the seaside resort of Liérganes.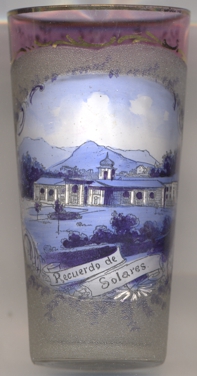 Solares
Solares is one of the loicalities that make up the municipality of Medio Cudeyo. The archaeological site of Pico del Castillo with the remains of an early medieval castle from the 8th century, are located here. The mineral springs in Solares have been first described in 1823.

The picture on glass no. 4017 [left] shows the old

bath house (balneario) of Solares. The waters of the Fuencaliente spring have a temperature of 30°C. The first bathhouse was etsablished in 1827. Years later and due to the success of these thermal treatments, it was expanded with the construction of luxury buildings and in historistic oriental and neomudejar style.

[https://de.wikipedia.org/wiki/Medio_Cudeyo, https://es.wikipedia.org/wiki/Medio_Cudeyo; https://es.wikipedia.org/wiki/Yacimiento_arqueol%C3%B3gico_del_Pico_del_Castillo; https://es.wikipedia.org/wiki/Solares; http://turismo.mediocudeyo.es/web/solares-villa-termal/?lang=en]

---