| | |
| --- | --- |
| ČESKÁ REPUBLIKA | CZECH REPUBLIC |
| Středočeský kraj | Central Bohemia region |
| Okres: Nymburk | |
map →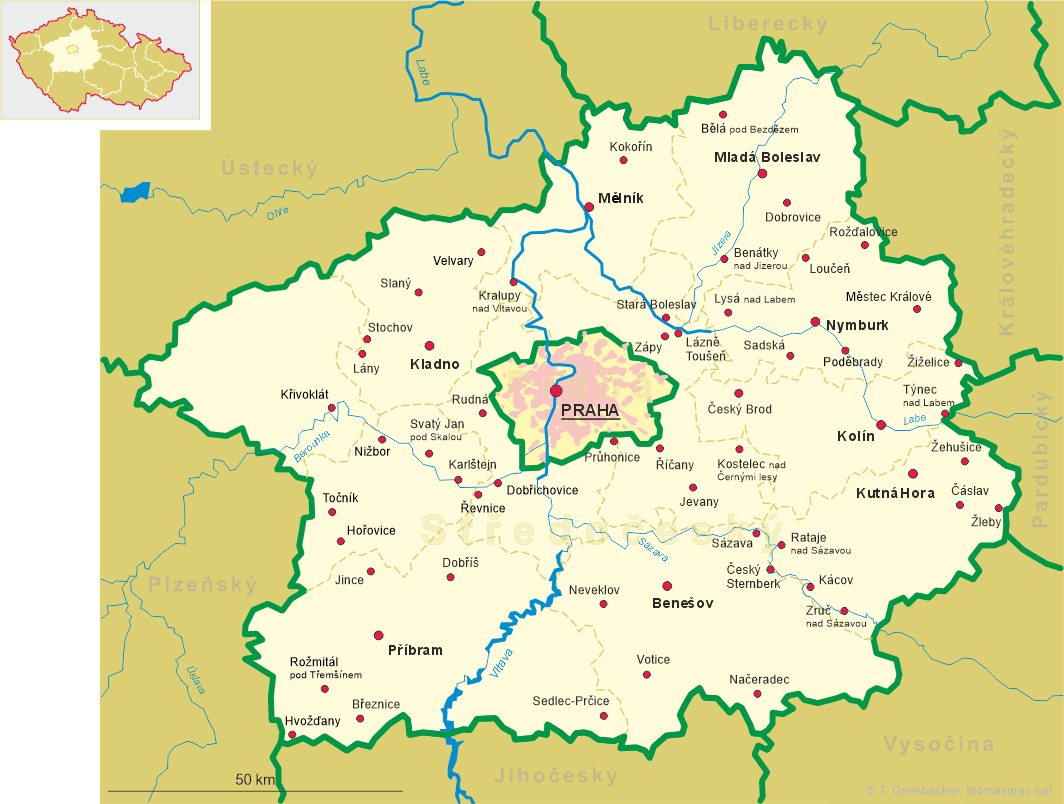 Nymburk
• de: Nimburg, Neuenburg an der Elbe
• lv: Nimburka
• lt: Nimburkas
• el: Νίμπουρκ
• bg, mk, ru, sr, uk: Нимбурк
• uk: Німбурк
Nymburk is situated at an elevation of 193 m on the Labe (Elbe) river in the Central Bohemian region, about 45 km east of Prague. The municipality has a population of about 15,100 (2021).
The town was founded in around 1275 by the Bohemian King Přemysl Otakar II. Throughout the Middle Ages it was one of the most important towns in the kingdom. Nymburk was a strategic town protecting Prague and an important pillar of royal power. The town was surrounded by burnt-brick walls with about fifty towers and two defensive ditches, fed from the Elbe. The Hussite Wars in the 15th century affected the town only slightly and so the town prospered until the beginning of the 17th century. During the Thirty Years' War (1618–1648), Nymburk was burned and looted. The recovery was disrupted by large fires. The turning point in modern history was the introduction of the railway to the town in 1870. Since then, the town has grown, new buildings have been built, the river Elbe has been regulated, a new bridge and a hydroelectric power plant with a lock chamber have been built. The construction started to expand beyond the strip of walls. However, the original medieval floor plan has been completely preserved. The town centre is is protected as an urban monument zone.
The

Marian column or Plague column on Přemyslovců Square [left, no. 4023: far left] was erected in 1717. The column with the statue of Our Lady is surrounded by statues of Saints Wenceslas, Florian, Egid and Joseph of Nazareth.
Glasses in this collection from places with similar names:
Neuenbürg
, Germany (note the spelling with umlaut
'ü'
).
[https://de.wikipedia.org/wiki/Nymburk, https://en.wikipedia.org/wiki/Nymburk; https://de.wikipedia.org/wiki/Mariens%C3%A4ule_(Nymburk)]

---