| | |
| --- | --- |
| ČESKÁ REPUBLIKA | CZECH REPUBLIC |
| Královéhradecký kraj | Hradec Králové region |
| Okres: Trutnov | |
map →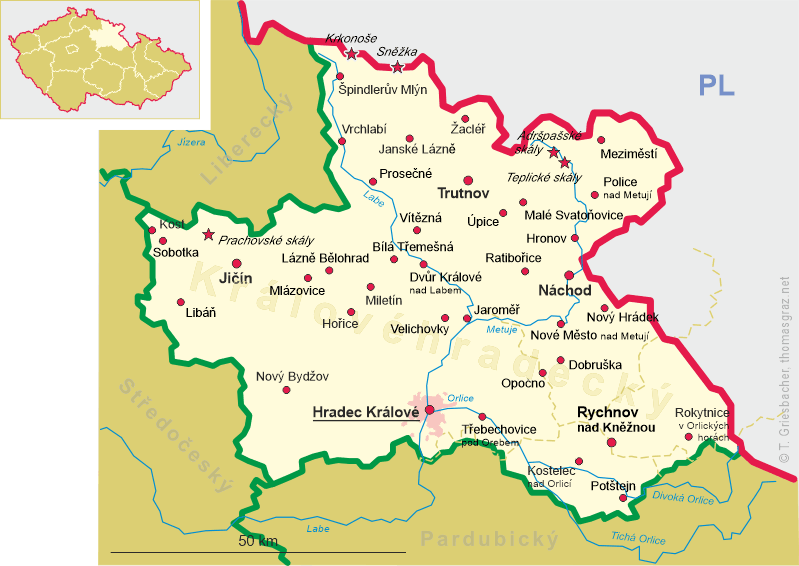 Bílá Třemešná
• de: Weiß Tremeschna, Ahlkirschen
• sr: Била Тремешна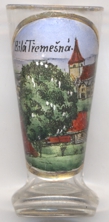 Bílá Třemešná is situated at an elevation of 358 m on the right bank of the upper river Labe (Elbe), about 6 km west of Dvůr Králové nad Labem and about 18 km southwest of the district town, Trutnov. The municipality has a population of about 1,300 (2021).
The settlement was most likely founded around 1238. The Czech name, Třemešná, is derived from the old Czech třěmcha, the bird cherry tree (in German Ahlkirsche). The later addition of the adjective bílá ('white') probably refers to the white sandstone found in he area. The earliest known written document that mentions the place dates from 1270. The railroad from Pardubice (Pardubitz) to Liberec (Reichenberg) was built in 1858 and Bílá Třemešná also was a stop on that line. The river dam Les Království, today a national monument, was built near Bílá Třemešná in 1910–1920. Between 1939 and 1945 during the time of the Nazi occupation of Czechoslovakia, the name was Germanised to Ahlkirschen.
The

church of St. James the Greater (kostel svatého Jakuba Staršího) [background right] was first mentioned in 1384. The original Gothic church was abandoned after the Hussite Wars (1419–1434) and was only rebuilt in Baroque style in 1680–1682. It is protected as a cultural monument of the Czech Republic.
[https://de.wikipedia.org/wiki/B%C3%ADl%C3%A1_T%C5%99eme%C5%A1n%C3%A1; https://de.wikipedia.org/wiki/Talsperre_Les_Kr%C3%A1lovstv%C3%AD; https://cs.wikipedia.org/wiki/Kostel_svat%C3%A9ho_Jakuba_Star%C5%A1%C3%ADho_(B%C3%ADl%C3%A1_T%C5%99eme%C5%A1n%C3%A1)]

---