• bg, mk, ru, sr, uk: Совата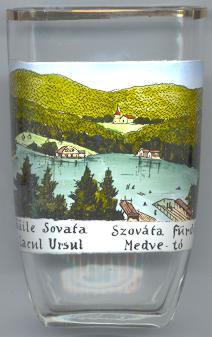 Sovata (Szováta in Hungarian) is situated at an elevation of 475–530 m on the Tânava Mică (Kisküküllő) river in the southwestern foothills of the Gurghiu (Görgényi) mountains of the Eastern Carpathians. The town is located in the Mureș county of central Romania, about 60 km east of the county's capital, Târgu Mureș. According to the 2002 Census the town has a population of 11,614. It has a Székely Hungarian majority of about 90%.
Sovata was first mentioned as a place for cure in a 1597 document. The development to a spa resort, however, only took place after 1850. The town lies in the main salt miming region of the former Principality of Transylvania, which in the Austro-Hungarian monarchy was part of the Kingdom of Hungary.
The resort developed around the lakes of Sovata: The lakes Ursu (Medve-tó, Bear Lake), Aluniș (Magyarós-to, Nut Lake), Verde (Zöld-tó, Green Lake), Negru (Fekete-tó, Black Lake), Roșu (Vörös-tó, Red Lake) have high salt concentrations (4–25%). The water of the lakes is warm due to heliothermal phenomena. Solar heat is accumulated in the water because the warm water is protected by a surface layer of fresh water, which does not mix with the salt water and acts as a thermal insulator.

Lacul Ursu (Medve-tó) (Bear Lake) (46,000 m2, 18.4 m deep) is the largest heliothermal lake in Europe. The water temperature varies between 19–20 °C on the surface, 30–40 °C at a depth of 1 m and 40–60 °C at a depth of 1.5 m.
The resort offers treatment for gynecological, inflammatory and rheumatic diseases, posttraumatic conditions, neurological disorders, and endocrine or cardiovascular diseases.

---