| | |
| --- | --- |
| ČESKÁ REPUBLIKA | CZECH REPUBLIC |
| Královéhradecký kraj | Hradec Králové region |
| Okres: Náchod | |
map →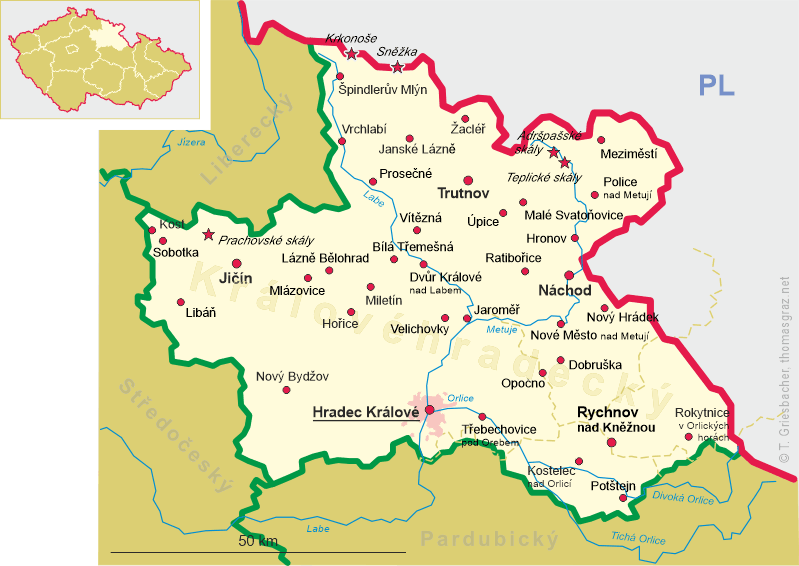 Hronov
• de: Hronow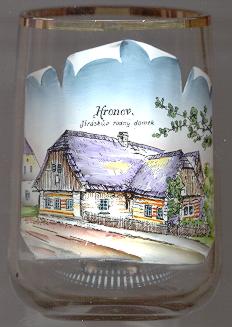 Hronov is situated at an elevation of 364 m in the valley of the river Metuje in the Náchod district of eastern Bohemia. It was first mentioned in a document of 1326.
Hronov has been the birth place of three outstanding Czech artists:
Alois JIRÁSEK (1851–1930) became famous as author of historical novels and plays. The picture on the glass shows the

birth house of Alois Jirásek, built in the late 18th century. The Jirásek theater (built 1930) in the town is the place of origin of Europe's oldest amateur theatre festival (since 1931) known as Jirásek's Hronov.
Josef ČAPEK (1887–1945), writer and painter, became well-known for his cubist paintings and later developped his own playful style. He made numerous cartoons for the German emigrants' newspapers Sozialdemokrat and Simpl, where he denounced the Nazi terror in Germany. After the occupation of Czechoslovakia by Germany in 1939, Čapek was sent to the concentration camp of Bergen-Belsen where he died in 1945. A museum dedicated to the life and work of Josef Čapek and his brother Karel was opened in Malé Svatoňovice in 1949.
Egon HOSTOVSKÝ (1908–1973), the internationally renowned writer, became famous as most distinctive and proliferative author of Czech prose. His best-known books are The Arsonist (1935), for which he was awarded the Czechoslovak State Prize for Literature in 1936, and A House Without a Master (1937). At the time of the German occupation of Czechoslovakia he was on his way to a lecture tour to Brussels; as a result, he continued to Paris, Lisbon, and finally New York. After the war he briefly returned to Czechoslovakia, then went to work in the embassy in Norway. He returned to the United States in 1950 where he lived until his death in 1973. The novels written in emigration were immediately translated into English (often preceding publication in Czech), and established Hostovský as a world author.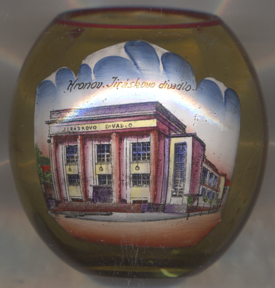 The

municipal theatre (Jiráskovo divadlo) [left] was built in 1928–1930 by the architect Jindřich Freiwald. The theatre is named for the author and playwright Alois Jirásek (see above).

[https://de.wikipedia.org/wiki/Hronov, https://cs.wikipedia.org/wiki/Hronov; http://www.andreas-praefcke.de/carthalia/]

---