| | |
| --- | --- |
| BELGIË / BELGIQUE / BELGIEN | BELGIUM |
Clickable map of Belgium. Navigate using the map or use the list of all locations below.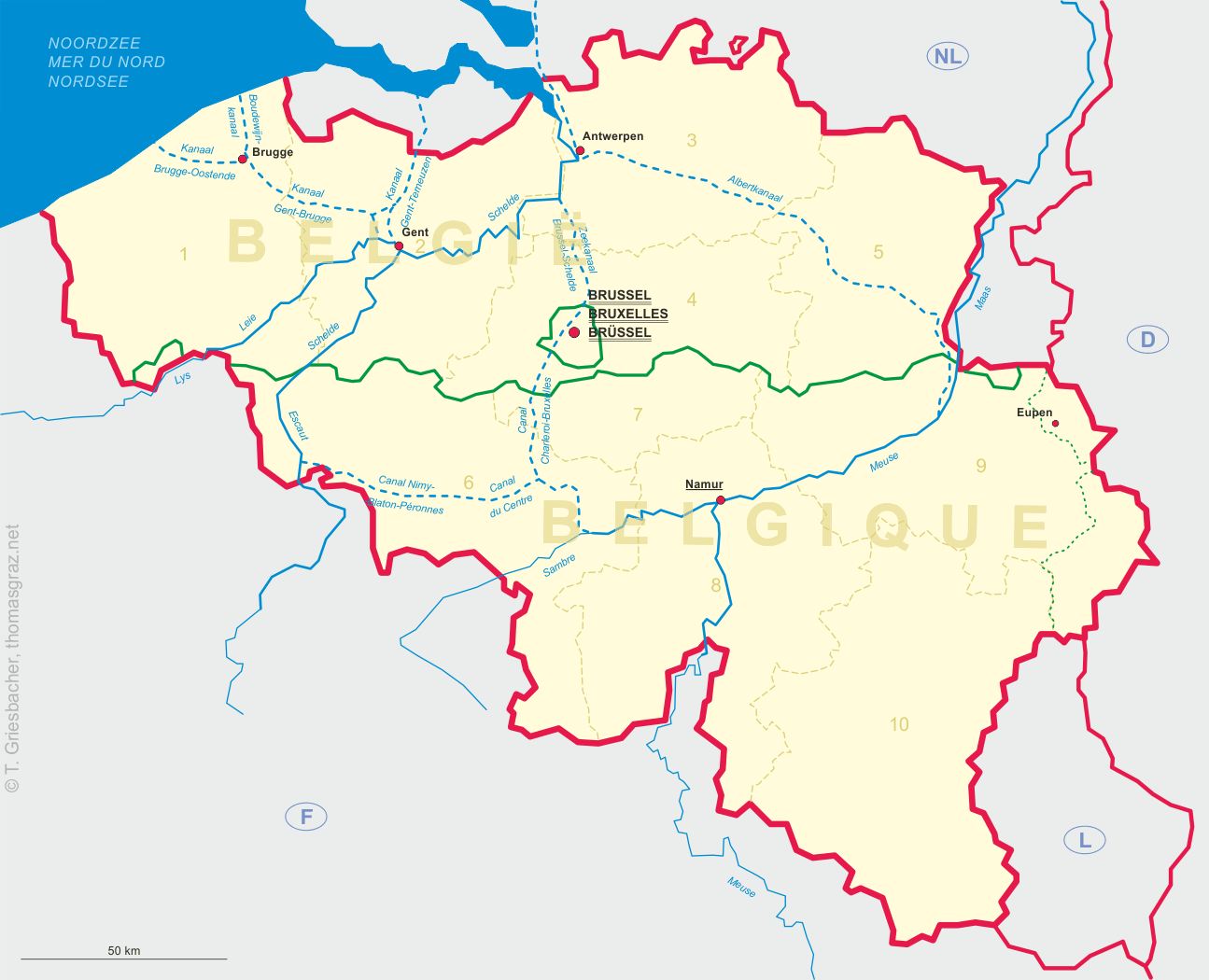 gewest/région/Region: Brussels Hoofdstedelijk Gewest/Region de Bruxelles-Capitale/Region Brüssel-Hauptstadt.
gewest/région/Region: Vlaanderen/Flandre/Flandern:
provincies/provinces/Provinzen: 1: West-Vlaanderen/Flandre-Occidentale/West-Flandern; 2: Oost-Vlaanderen/Flandre-Orientale/Ost-Flandern; 3: Antwerpen/Anvers/Antwerpen; 4: Vlaams-Brabant/Brabant flamand/Flämisch-Brabant; 5: Limburg/Limbourg/Limburg.
région/gewest/Region: Wallonie/Wallonië/Wallonien:
provinces/provincies/Provinzen: 6: Hainaut/Henegouwen/Hennegau; 7: Brabant Wallon/Waals Brabant/Wallonisch-Brabant; 8: Namur/Namen/Namen; 9: Liège/Luik/Lüttich; 10: Luxembourg/Luxemburg/Luxemburg. The dotted green line shows the area of the German-speaking community.
Names are given in the three official languages of Belgium, i.e. Flemish, French and German. This order is used for place names in the regions Brussels and Flanders; place names in the Walloon region are given in French, Flemish and German, except in the German-speaking region where place names are given in German, followed by French and Flemish.
Bruxelles / Brussel / Brüssel