If you came to this page directly and do not see a navigation frame on top, please go to the home page.
| | |
| --- | --- |
| DEUTSCHLAND | GERMANY |
| Bundesland: Rheinland-Pfalz | Rhineland-Palatinate |
| Landkreis: Bad Dürkheim | |
map →
Bad Dürkheim
• sr: Бад Диркхајм
• bg: Бад Дюркхайм
• ru: Бад-Дюркхайм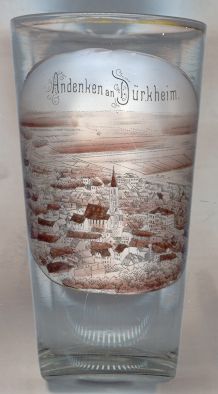 Bad Dürkheim is situated at an elevation of 107–140 m at the foothills of the Pfälzer Wald region. The earliest document mentioning 'Turnesheim' is the Codex Laureshamensis (Lorscher Codex) of AD 778, another document mentioning 'Thuringesheim' dates of AD 946. From 1025 it was in possession of the nearby benedictine abbey Limburg (today in Bad Dürkheim) which gave it as a fief to the counts of Leiningen in 1206. Already in 1360 Dürkheim was mentioned as a town, but lost this status in 1471 when it was conquered by Elector Friedrich the Victorious of the Palatinate. In 1554 the Counts of Leiningen obtained full possession of Dürkheim. During the Palatinate War of Succession Dürkheim was almost completely destroyed in 1689, but was rebuilt and obtained the status of a town again already in 1700. In 1725 it became the residence of the counts (from 1779 on princes) of Leiningen and remained their residence until 1794 when it was conquered by France. Like the rest of the Palatinate it became part of the Kingdom of Bavaria in 1816. The saline springs – already used for he production of salt as early as 1387 – became the basis for therapeutic applications of the saline in the 19th century. In 1847, Dürkheim obtained the official status of a spa town, and in 1904 received the predicate 'Bad'. Today, Bad Dürkheim is one of the most popular spa towns in Germany's state of Rheinland-Pfalz.
The

Schlosskirche [centre], the church of the former residence, was built between around 1300 and 1335. The medieval west tower was heightened in 1863–1866. Restoration works in 1978 aimed at restoring the original Gothic appearance of the church. The church houses the Renaissance burial chapel of the Leiningen counts, dating from 1504–1508.

---