If you came to this page directly and do not see a navigation frame on top, please go to the home page.
| | |
| --- | --- |
| DEUTSCHLAND | GERMANY |
| Bundesland: Baden-Württemberg | |
| Regierungsbezirk: Freiburg | |
| Landkreis: Breisgau-Hochschwarzwald | |
map →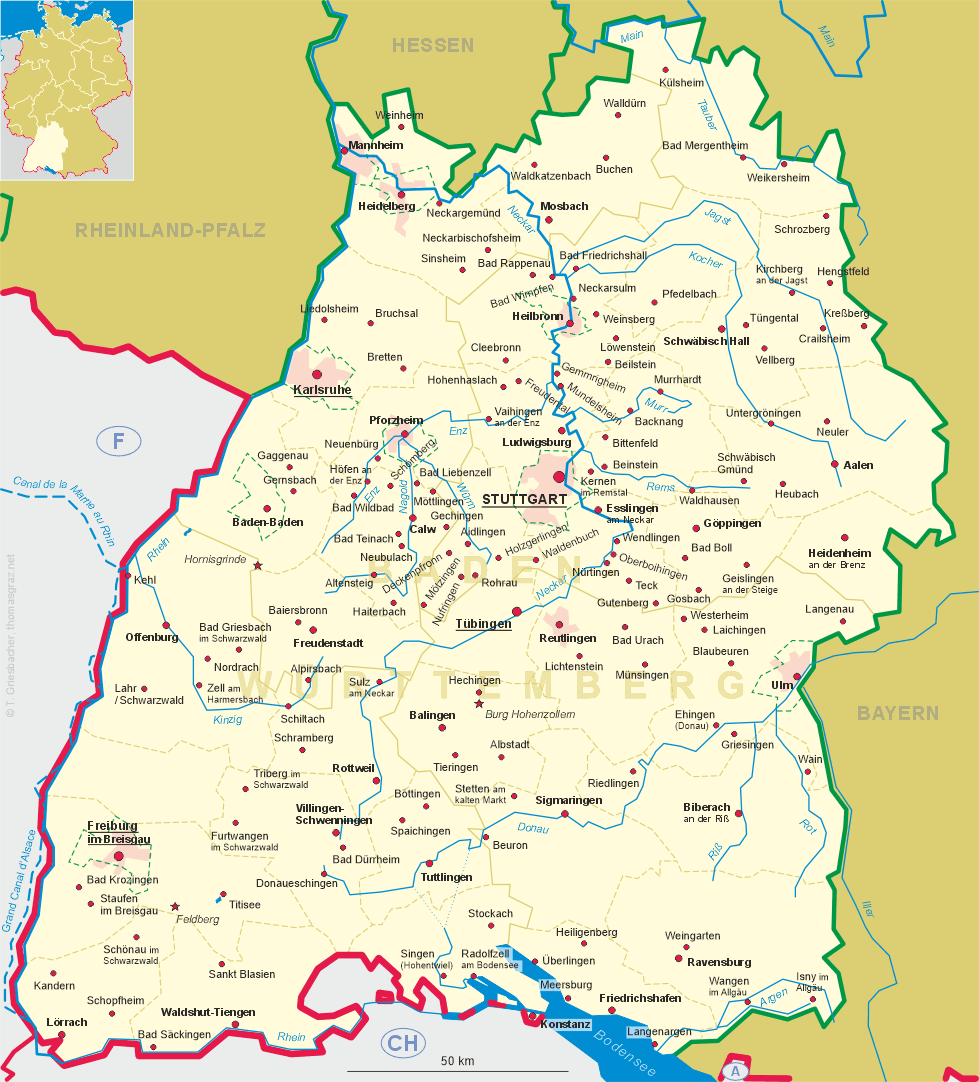 Staufen im Breisgau
• ru: Штауфен-им-Брайсгау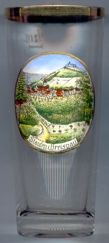 Staufen im Breisgau is situated at an elevation of 288 m at the foots of Schwarzwald (Black Forest) montains where the Neumagen rivers enters the Rhine plain. Staufen has a population of about 7,770 (2005) and forms an administrative union with the neighbouring municipality of Münstertal. Together with Bad Krozingen it forms a so-called 'Mittelzentrum' (a regional centre of medium size) south of Freiburg im Breisgau in southwestern Baden-Württemberg.
The oldest written mention of Staufen is found in the Codex of Lorsch (Codex Laureshamensis) of 1170/1175 which mentions the donation of domains in the villa Staufen in pago Brisigawo around 770 AD. Mining activities in this region became important during the Middle Ages and are documented as early as 1028. The Lord of Staufen (who are not related to the famous dynasty of the Hohenstaufen) were in possession for almost 500 years. The oldest reference to a member of this family dates from 1111. The Lords of Staufen later became officers in the service of the Dukes of Zähringen. When the Zähringer dukes died out in 1128, the lords of Staufen served their successors, the counts of Urach. The village of Staufen began to develop below the castle. In 1323 it was first mentioned as a town (1280 is frequently mentioned as the date of foundation of the town, but this belief is not based on any known documents). The last lord of Staufen died in 1602 and their domains became a fief of the Habsburg Austria. In 1806 (Peace of Pressburg, i.e. Bratislava) Staufen became part of the Grand Duchy of Baden.
The

castle of Staufen [background] dates from the early 12th century and was the seat of the Lords of Staufen. The earliest written mention of the castle is found in a document of 1248. During the 14th century the lords of Staufen came in conflict with the city of Freiburg, which in 1327 and 1337 obtained parts of their castle. The lords of Staufen were conseuently forbidden to act against Freiburg and were even forced to support the former adversary. During the Thirty Years' war (1618–1648) the castle was burnt down by Swedish troops in 1632. Since 1895 the remaining ruins are a property of the municipality of Staufen.
Staufen was the place of death around 1541 of Johann Georg Faust (b.1480, 1481 or 1466 in Helmstadt near Heidelberg, Knittlingen or Roda). Faust became immortal by the book Historia von D. Johann Fausten by Johann Spies, published in 1587, and of course by the plays Faust Part One (1806/1808) and Faust Part Two (1832) by Johann Wolfgang von Goethe.

---