If you came to this page directly and do not see a navigation frame on top, please go to the home page.
| | |
| --- | --- |
| DEUTSCHLAND | GERMANY |
| Bundesland: Freistaat Thüringen | Thuringia |
| Landkreis: Saale-Holzland-Kreis | |
map →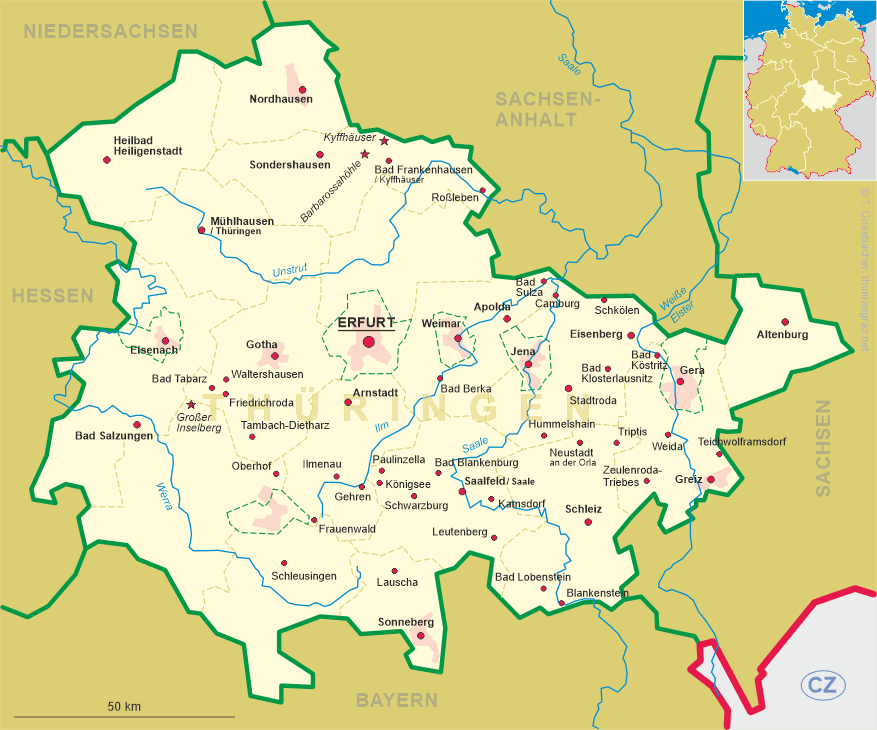 Stadtroda
• alt: Roda
• ru: Штадтрода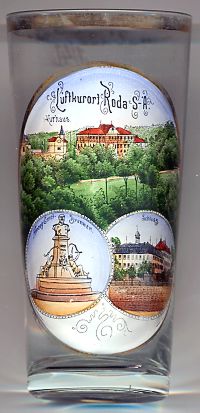 Stadtroda (Roda until 1925) is situated at an elevation of 200 m on the river Roda in the Saale-Holzland district of Thuringia. The municipality has a population of about 6,300 (2006).
The earliest settlement seems to have been founded at this place in the 10th century. The earliest written mention, however, is found in a document of 1247 which refers to a Cistercian nunnery. The nunnery also was the burial place of the lords of Lobdeburg. In 1310 the counts of Schwarzburg granted Roda the privileges of a town. During the Reformation period the nunnery was closed in 1531. After the partition of the Wettin dynasty in 1485 Roda became part of the possessions of Prince Elector Ernst of Saxony. The Ernestine line was partitioned numerous times during the following centuries: In In 1572 it became part of Saxe-Weimar, 1603 Saxe-Altenburg, in 1672 it fell to Saxe-Gotha, in 1680 it became part of Saxe-Eisenberg, in 1707 it became part of Saxe-Gotha-Altenburg and in 1826 of Saxe-Altenburg (see chart of the Wettin dynasty and maps of historical of Thuringia in 1815, 1826 and 1848). In 1852 the municipalities of Roda and Kloster Roda were merged. I 1876 Roda was connected to the railroad system. In 1925 the name of the municipality was changed to Stadtroda.
The top picture on glass no. 2349 shows the

Kurhaus (spa hotel).
The bottom left picture shows the

Herzog-Ernst-Brunnen (Duke Ernst Fountain), named for Duke Ernst I of Saxe-Altenburg (ruled 1853–1908).
The bottom right picture shows a view of the

castle. The earliest mention of a castle at Roda dates from 1500. This, however, was destroyed in 1638 by a large fire which also consumed about half of the entire town. The castle received its present Baroque appearance between 1663 and 1734. Between 1736 and 1780 the castle served as a residence of the dukes of Saxe-Gotha-Altenburg.
According to some sources Roda was the place of birth of the German magician, astrologer and fortuneteller Johann Faust (b.1480, 1481 or 1466). Other sources mention Knittlingen or Helmstadt near Heidelberg. Faust became immortal by the book Historia von D. Johann Fausten by Johann Spies, published in 1587, and of course by the plays Faust Part One (1806/1808) and Faust Part Two (1832) by Johann Wolfgang von Goethe. Faust died around 1541 in or near Staufen im Breisgau.

---