If you came to this page directly and do not see a navigation frame on top, please go to the home page.
| | |
| --- | --- |
| SCHWEIZ / SUISSE / SVIZZERA / SVIZRA | SWITZERLAND |
| Waadt / Vaud / Vaud / Vad |   |
map →
Lausanne
• fr: Lausanne
• de: Losanen
• it, rm: Losanna
• es, pt: Lausana • tr: Lozan • lt, sq: Lozana • lv, pl: Lozanna
• el: Λωζάνη
• be: Лазана, Лязана • bg, mk, sr: Лозана • ru, uk: Лозанна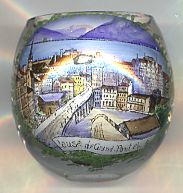 Lausanne is situated at an elevation of 496 m on the northern shore of Lake Geneva. The city is located some 50 km northeast of Geneva. It is the capital of the canton of Vaud and of the district of Lausanne. The municipality has a population of about 129,300 (2007).
The Romans built a military camp, which they called Lousanna, at the site of a Celtic settlement, near the lake where currently are Vidy and Ouchy; on the hill above was a fort called Lausodunon or Lousodunon. After the fall of the Roman Empire insecurity forced the transfer of Lausanne to its current center, a hilly, easier to defend site. The city which emerged from the camp was ruled by the dukes of Savoy and the bishop of Lausanne. Then it came under Berne from 1536 to 1798 and a number of its cultural treasures, including the hanging tapestries in the cathedral, were permanently removed. Lausanne has made a number of requests to recover them. During the Napoleonic Wars, its status changed. In 1803, it became the capital of the newly formed canton of Vaud under which it joined the Swiss Federation. From the 1950s to 1970s a large number of Italians, Spaniards and Portuguese immigrated, settling mostly in the industrial district of Renens and transforming the local diet.
In 2011 Lausanne West (Bussigny-près-Lausanne, Chavannes-près-Renens, Crissier, Ecublens, Lausanne, Prilly, Renens, Saint-Sulpice, Villars-Sainte-Croix) was awarded the Wakker Prize of the Swiss Heritage Society for the development and preservation of its architectural heritage. Other cities that have been awarded this prize and which are depicted on glasses of this collection are: Altdorf (2007), Basel (1996), Bern (1997), Genève (2000), La Chaux-de-Fonds (2011), Montreux (1990), Sankt Gallen (1992), Solothurn (1980), Stein am Rhein (1972), Wil (1984).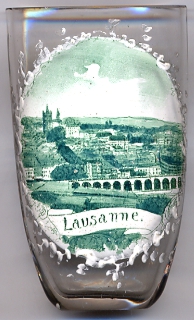 The

Grand Pont [centre foreground] connects Bel-Air to Saint-François by spanning the Flon Valley. Located literally in the heart of the city, it offers remarkable views, particularly of the Cathedral. Built from 1839 to 1844, it formed, along with the Barre Tunnel, one of the two key elements of the new road circling the city, developed by the cantonal engineer Adrien Pichard. The Grand-Pont was originally 180 metres long, reaching 25 metres at its greatest height and using two levels of 5 and 19 arches, respectively. Filling the Flon Valley made the lower level disappear in 1874. This monumental work radically changed the southwest view of the city, drawing out its outer limits. It became the symbol of the modern city and the industrial revolution that was beginning. [http://www.lausanne.ch/view.asp?DocId=28390&Language=E]
The Protestant cathedral

Notre-Dame de Lausanne [centre background] is situated on a hill above the town and domiantes the city. It is a remarkable example of Gothic architecture in Switzerland. Its construction began between 1145 and 1159 and was completed by the middle of the 13th century, at a time when the region (except the city, which remained dependent of the archbishops) was attached to the County of Savoie. The church was consecrated on 20 October 1275 and was dedicated to the Virgin Mary in the presence of Pope Gregory X and the German King Rudolf I of Habsburg. The oldest parts of the construction still date from the Romanesque period, but most parts were built in Gothic style. On 23 July 1440, the church was the place of inthronisation of the antipope Felix V. Upon arrival of the Bernese and the adoption of the Protestant Reformation, the building was dedicated in 1536 to Calvinist worship. In 1874, major restauration works were carried out under the architect Eugène Viollet-le-Duc. [http://fr.wikipedia.org/wiki/Cathédrale_de_Lausanne]

---