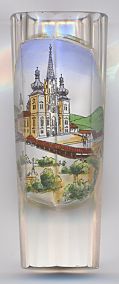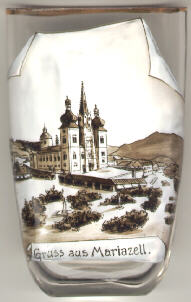 The centre of the town is marked by the

basilica Mariä Geburt (Nativity of Our Lady). The original church must have been built around 1200 by Margrave Heinrich of Moravia. This Romanesque church was transformed in Gothic style in the 14th century especially by King Ludwig (Lajos) I of Hungary. The chancel was built in 1340–1350, the nave and the Gothic tower were built 1359–1393. During the 17th century the church was transformed in Baroque style (1644–1683) by the architect Domenico Sciassia. He added the two towers on both sides of the old gothic tower, added chapels on either side of the nave and pulled down the Gothic chancel to enlarge the church to the east.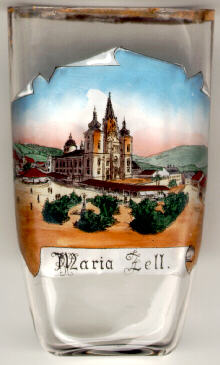 The splendid Baroque high altar made from multicoloured marble 1692–1704 was designed by Johann Bernhard Fischer von Erlach. The altar holds a sculptured crucifixion group of massive silver made in 1720.
The centre for the pilgrimage is the wooden statue of Our Lady dating from the 13th century. The statue is exhibited in a chapel of red marble erected within the eastern part of the central nave about 1653. The statue stands on an altar of massive silver designed by the architect Joseph Emanuel Fischer von Erlach in 1727. The lattice in front of the altar, also made of massive silver, was donated in 1756 by Maria-Theresia of Austria and her husband Emperor Franz I Stephan, and replaced an older silver lattice donated by Emperor Leopold I in 1679. The statue of Our Lady bears the titles 'Magna Mater Austriae' and 'Magna Hungarorum Domina'. From the 16th until the 18th century hundreds of precious garments for the statue were donated to the church. Emperor Joseph II forbade this tradition in 1786 and ordered that all garments and crowns had to be sold. His successor, Emperor Franz II (later Franz I of Austria) lifted the ban in 1797. After a fire in 1827, the arms of the statue had to be replaced. The damaged original of the right arm of Our Lady was, however, not removed but only painted over so that the statue actually has three arms today.

The so-called 'Schatzkammerbild' ('treasure house painting'), a painting of Our Lady, was donated by King Lajos I of Hungary about 1370–1380 and is the second object of veneration in the church.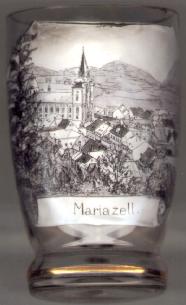 In 1908 Pope Pius X awarded the church the status of a Basilica minor. The basilica was visited by Pope John Paul II in 1983, by Patriarch Bartholomaios I of Constantinople in 2007, and by Pope Benedict XVI also in 2007.
(see also list of other basilicae minores depicted on glasses of this collection)
From 1975 until 1991 the basilica was the temporary burial place of the exiled Hungarian cardinal, József Mindszenty (1892–1975). In 1991, his remains were returned to Hungary and were buried in the cathedral of Esztergom.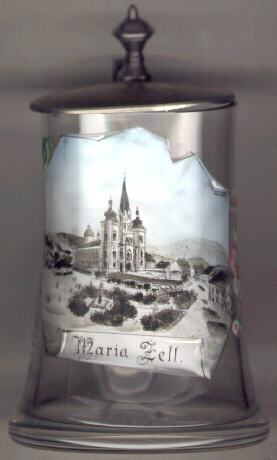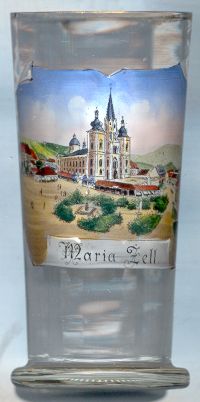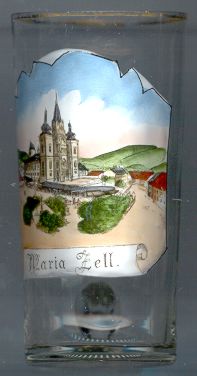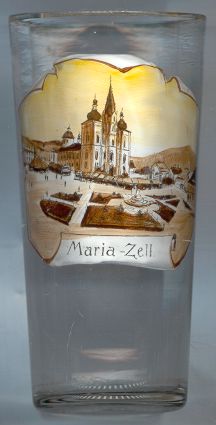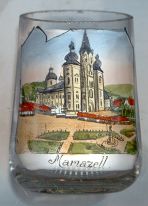 [https://de.wikipedia.org/wiki/Mariazell; https://de.wikipedia.org/wiki/Mariazellerbahn; https://de.wikipedia.org/wiki/Steiermärkische_Gemeindestrukturreform]

---