| | |
| --- | --- |
| ÖSTERREICH | AUSTRIA |
| Bundesland: Steiermark | Styria |
| Bezirk: Bruck-Mürzzuschlag | |
map →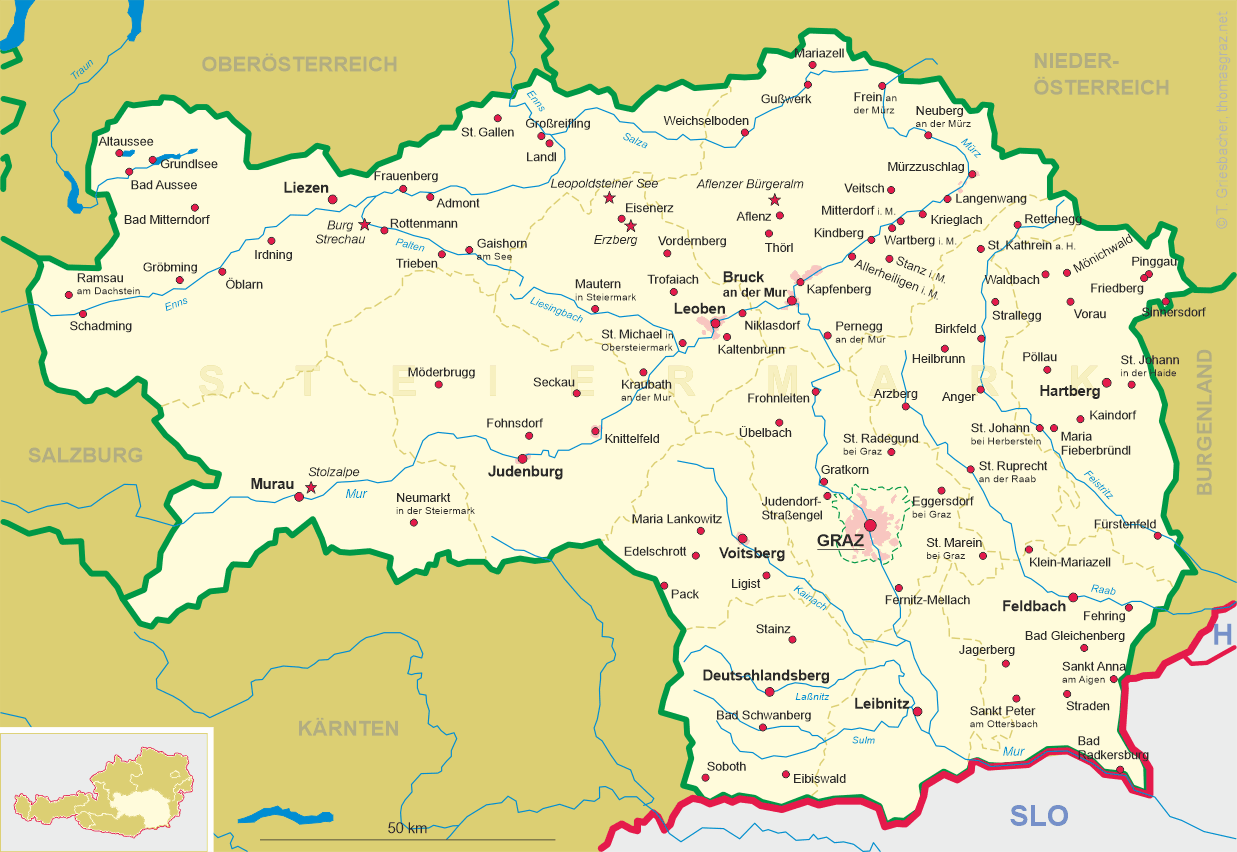 Gußwerk
• alt.: Gusswerk
• lt: Gusverkas
• ru: Гусверк

Gußwerk is situated at an elevation of 747 m in the upper Salza valley of northeastern Styria. It is currently (2014) the largest municipality of Styria in terms of area (285.4 km²), and has a population of 1,544 (2001). The heavily wooded region is a nature preserve ("Wildalpener Salzatal"), which extends into the territory of Gußwerk. The name Gußwerk comes from the iron foundry ('Gusswerk' means cast-iron works), which was founded in 1740. During the 19th century Gußwerk was especially known for its decoratiev cast iron. The municipality of Gußwerk provides about three quarters of Vienna's drinking water via the 1st and 2nd Vienna springwater pipelines (1. und 2. Wiener Hochquellenleitung), constructed in 1870–1873 and 1900–1910, respectively). Gußwerk, together with the municipalities of Halltal and Sankt Sebastian, was incorporated into the municipality of Mariazell on 1 January 2015.
The glass is a souvenir for the 60th anniversary of the

Konsumverein (buyers' club) founded in1870.
A note on the spelling of the name Gußwerk: The glass is labelled 'Gusswerk', which corresponds to the German orthography of the time (1930). After that, the spelling changed to 'Gußwerk' ('ß' was used instead of 'ss' at the end of words or syllables [as in 'Gußwerk'], and at the beginning syllables if it was preceded by a long vowel). The most recent reform of the German orthography (1996) in Germany and Austria (Switzerland has abolished the use of 'ß' alltogether long before) aimed at simplifying some of the tricky rules of German orthography. The word 'Gusswerk' (cast iron works) is again spelled with 'ss' ('ss' is now always used after short vowels, whereas 'ß' is used always after long vowels or diphtongs). The name of the municipality, for the time being, still follows the old orthography ('Gußwerk') but is likely to change also to 'Gusswerk' at some time in the future.

---