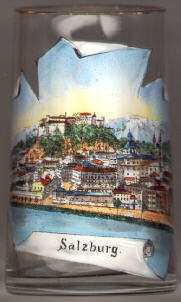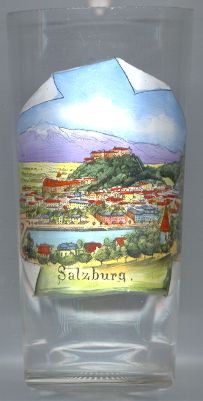 Salzburg, the capital of Austria's federal state of the same name, is situated at an elevation of 424 m on the river Salzach. The earliest human traces were found on the hills surrounding the historic town centre. In Roman times it was the site of a settlement called Iuvavum, which around AD 45 obtained the status of a 'municipium'. During the Migrations Period (5th to 6th centuries) the settlement became deserted and only a few inhabitants were left when the Bavarian duke Theodo gave the area to St. Rupert in 696. In 739 the place became a bishopric, which was first mentioned as Salzburg in 755. In 798 the bishops were elvated to archbishops. Since then, almost the intire history of Salzburg was influenced by its status as the centre of an ecclesiastical state.

In the mid-12th century the archbishops started to exploit the salt mines on the Dürrnberg at Hallein, which became a major source of income and furthered the power of Salzburg. In 1287 Salzburg was chartered as a city. Until the 17th century the town flourished on trading. Beginning in about 1600 the archbishops remodelled the city as a splendid Baroque residence town. At the end of the 17th century, the archbishops of Salzburg gained the ecclesiastical title of "Primus Germaniae", i.e. they became the highest-ranking bishops of all the German countries. Until 1803 the territories of Salzburg were an independent state rules by the sovereign archbishops.

After the secularization of 1803 the country at first was awarded to Ferdinand III, the former Grand Duke of Tuscany, who obtained the title of Elector of Salzburg. In 1806 Salzburg became part of the Austrian countries while Leopold became Elector and then Grand Duke of Würzburg. In 1809/1810 Salzburg was occupied by French troops, and in 1810 the country came under Bavarian administation. After the Congress of Vienna in 1815 Salzburg finally was awarded to Austria and became an administrative part of the Archduchy of Austria 'ob der Enns' (Upper Austria) in 1816. Since all decision making from then on was made in the Upper Austrian capital Linz, Salzburg was degraded to a mere provincial town. It took until 1850 that the Salzburg region became an own Crown Land (Duchy of Salzburg) within the Austrian Monarchy. The city of Salzburg then became the administrative seat again in 1861.

Today Salzburg is of course most famous for its role as a cultural centre with its festivals. The first Salzburg festival was held in 1920. In 1996 the historic old town of Salzburg was awarded the title as a World Cultural Heritage by the UNESCO. (see also list of other UNESCO heritage sites depicted on glasses of this collection)

The most famous native of Salzburg of course is Wolfgang Amadeus MOZART (1756–1791), one of the foremost composers of 'Viennese Classic' period.