| | |
| --- | --- |
| DEUTSCHLAND | GERMANY |
| Bundesland: Freistaat Bayern | Bavaria |
| Regierungsbezirk: Unterfranken | |
| Landkreis: Rhön-Grabfeld | |
map →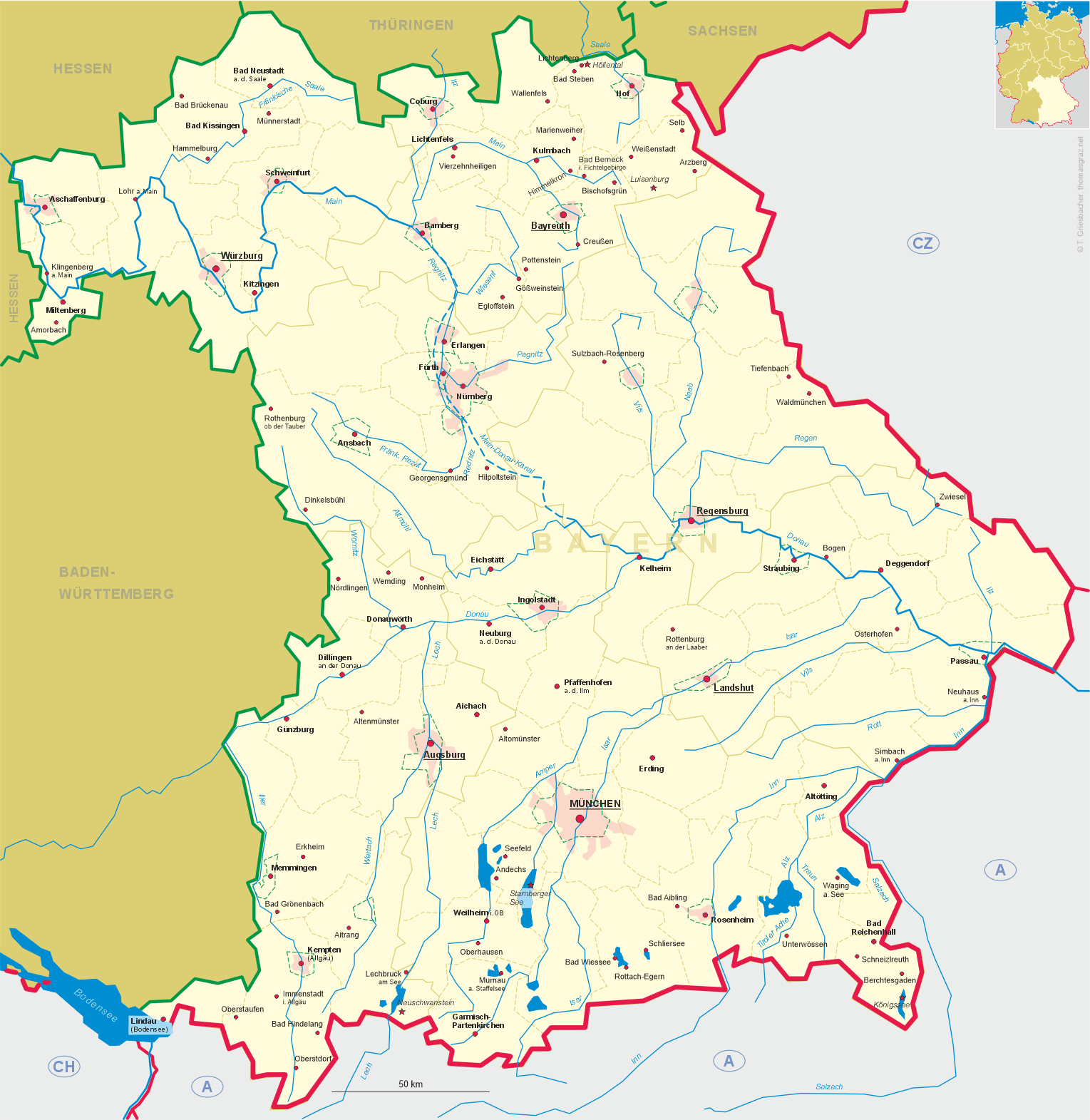 Bad Neustadt a. d. Saale
• lt: Bad Noištatas prie Zalės
• ru: Бад-Нойштадт-ан-дер-Зале, Бад-Нойштадт-на-Заале
• sr: Бад Нојштат ан дер Зале

Bad Neustadt an der Saale (official name: Bad Neustadt a. d. Saale) is situated at an elevation of 234 m on the river Fränkische Saale near the Rhön Mountains in northern Bavaria. Bad Neustadt is the district town of the Rhön-Grabfeld district and has a population of about 15,800 (2006). Bad Neuhaus was incorporated into Neustadt in 1934; Brendlorenzen, Dürrnhof, Herschfeld, Lebenhan, Löhrieth and Mühlbach were incorporated into Bad Neustadt between 1972 and 1978.
The church St. Martin in Brend (Brendlorenzen; today part of the town Bad Neustadt) was first mentioned in 742 when the bishopric of Würzburg was founded. The church was later renamed St. Johannes der Täufer (Saint John the Baptist) as it became a baptistery. In 790 Charlemagne founded the palatinate (residence) Salz in the territory of Bad Neustadt; its exact location, however, is not known. A place called Oberselz was first mentioned in 878. Neustadt was first mentioned as nova civitas in a document of the bishop of Würzburg in the year 1232. After the secularisation of 1803, Neustadt became part of the Grand Duchy of Würzburg, which, in 1814 became part of Bavaria. In 1934 the spa town of Bad Neuhaus was incorporated into Neustadt. Since then, the name of the municipality includes the prefix 'Bad' (spa).
The castle

Salzburg [left] on a hill above Bad Neustadt's town district Neuhaus was founded in the 12th century. The castle was never destroyed but often renovated so the architecture has elements in Romanesque, Gothic and Renaissance style. The huge complex comprises seven fomerly independent small castles located within one single circular wall and covers an area of about one hectare.
Further places called Neustadt (or similar), of which glasses are in this collection, are:
in Austria: Wiener Neustadt;
in the Czech Republic: Nové Město na Moravě (previous name in German: Neustadtl) and Nové Město nad Metují (previous name in German: Neustadt an der Mettau);
in Germany: Neustadt an der Orla, Neustadt an der Weinstraße, Neustadt in Holstein and Neustadt in Sachsen;
in Hungary: Sátoraljaújhely (previous name in German: Neustadt am Zeltberg);
in Poland: Prudnik (previous names in German: Neustadt in Oberschlesien or Polnisch Neustadt);
in Romania: Baia Mare (previous names in German: Groß-Neustadt or Neustadt am Frauenbach).

The name of castle Salzburg is unrelated to the city of Salzburg, Austria.

---