| | |
| --- | --- |
| SLOVENIJA | SLOVENIA |
| regija: Savinjska | |
map →
Celje
• lt: Celė
• lv: Ceļe
• hu: Cille
• fr: Cilley
• de: Cilli
• el: Τσέλιε
• bg, ru: Целе
• uk: Целє
• mk: Целје
• sr: Цеље
• be: Цэле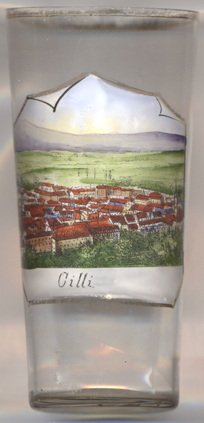 The earliest traces of human settlements that were found in the area of Celje date from Celtic times (Kelleia). This settlement on the bank of the river Savinja was conquered by the Romans under Emperor Claudius. Celeia was the most important town of the Roman province of Noreia and sometimes was called 'Troia secunda', the second Troy. Important roads connected the town to Poetovium (today Ptuj) and Emona (today Ljubljana). However, the town was destroyed by Attlia the Hun in AD 451. Only about 700 years later a new settlement was founded on the ruins of the Roman town in the 12th century. Under the rule of the family of the Counts of Cilli (the German name for Celje) the town became an important trading place. In 1436 the Count of Cilli were elevated to the rank of Prince, who supported the German Emperor Sigismund of Luxembourg against the Habsburg family. Celje obtained the official status of a town in 1451. In 1456, the last male member of the family, Ulrich II was assassinated and the estates were taken over by the Habsburgs. Celje remained a provincial trading town until the mid-19th century when the opening of the railway line from Vienna to Graz, Maribor, Ljubljana and Trieste brought a boost for the development of the town which also became very popular as a holiday resort.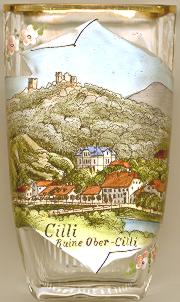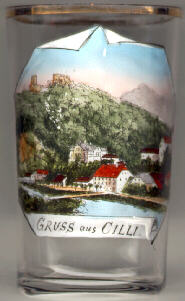 High on a hill above the town the ruins of

Celje castle [left, no. 528 and right, no. 243: both background top] are a landmark of Celje. During the early 13th century the Counts of Cilli enlarged the castle several times. Its dimensions (more than 230 m in length and 60 m in width) made it one of the most impressive fortresses in the southern Alps.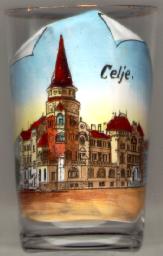 The

Celjski dom [left, no. 937 and right, no. 515] (Celje Hall, old name Nemška Hiša, in German: Deutsches Haus, i.e. German Hall) built in 1907 in Neo-Gothic style on the square Krekov trg is one of many splendid buildings from the end of the 19th century and the beginning of the 20th century. The labeling on the glass "Bismarckplatz" refers to the previous German name of the square, named for Otto von Bismarck, Minister President of Prussia and first Chancellor of the German Empire (see also list of other Bismarck monuments depicted on glasses of this collection).

Kapucinski most (Capuchins Bridge) [left, no. 2907: foreground] was a wooden pedestrian bridge across the river Savinja. The bridge was destroyed in September 1933 by a severe flood of the Savinja.
[http://www.knjiznica-celje.si/raziskovalne/4201003880.pdf]

Stolnica svetega Danijela (the cathedral of St. Daniel) [left, no. 2907: background right] goes back to a small church built in the 12th century. This was replaced in 1306 by today's church and served as church of an abbey located at the edge of the medieval city. The vaulted ceiling was created from 1376 onward, and the Gothic chapel of Our Lady of Sorrows was added in 1413. Several remodelings took place during the ensuing centuries. The present, Gothic revival appearance of the church was created in 1858. The church is the seat of the diocese of Celje, created in 2006 by Pope Benedict XVI out of parts of the archdiocese of Maribor.
[https://de.wikipedia.org/wiki/Kathedrale_von_Celje, https://de.wikipedia.org/wiki/Bistum_Celje]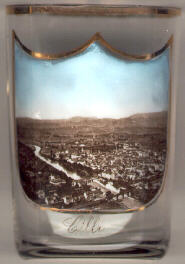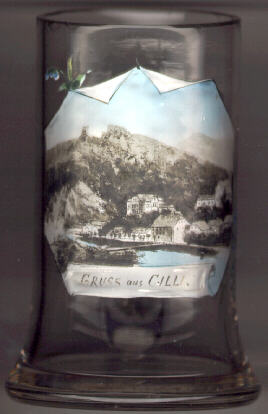 ---