| | |
| --- | --- |
| ÖSTERREICH | AUSTRIA |
| Bundesland: Oberösterreich | Upper Austria |
| Bezirk: Steyr-Land | |
map →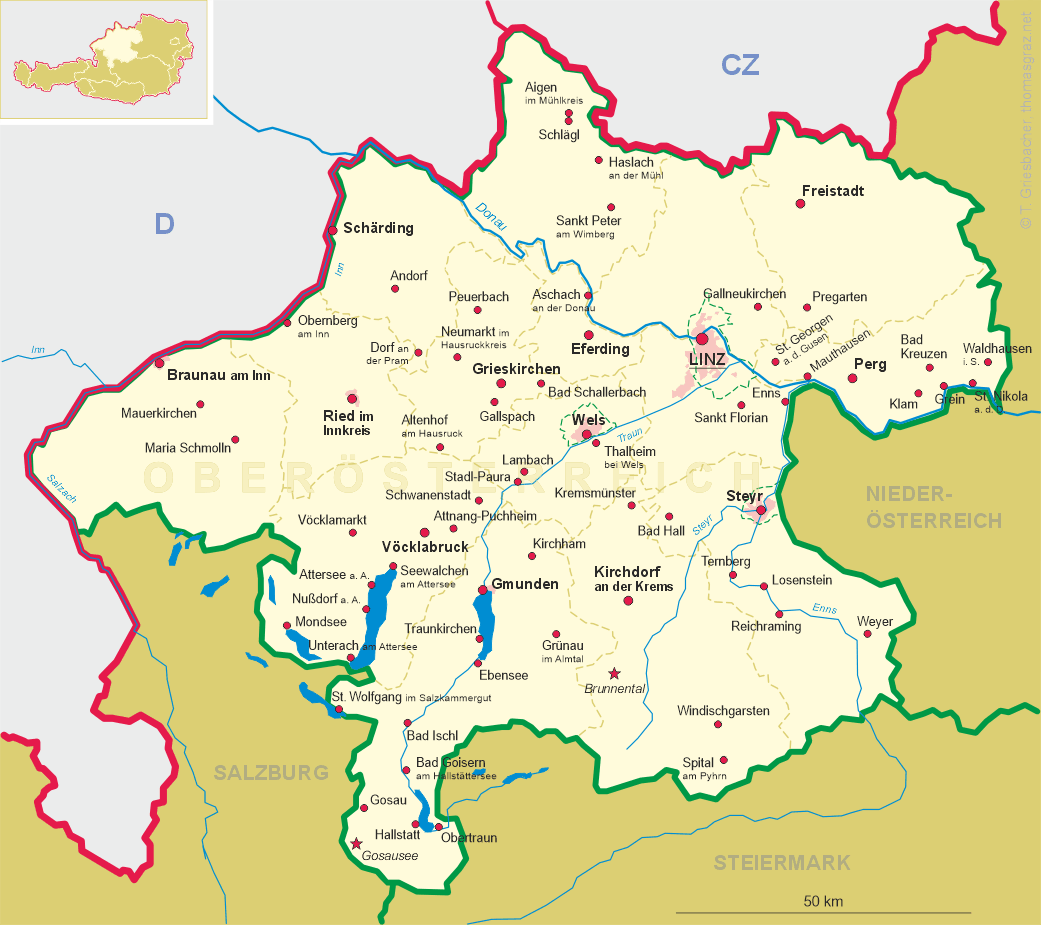 Bad Hall
• lt: Bad Halas
• ru: Бад-Халль
The name of Bad Hall is derived from the Thracian word hal for salt. It was already used both for the place and the saline springs by the Illyrians who settled in this area around 1100 BC. Around 400 BC the area was inhabited by Celts. The Celtic kingdom of Noricum (2nd century BC) was conquered by the Romans in 16/15 BC Coins from the time of Emperor Antoninus Pius (138-161 AD) prove the utilization of the saline by the Romans. In 777 Duke Tassilo III of Bavaria gave the area and the springs to the newly founded monastery of Kremsmünster. Kremsmünster and other monasteries used the saline to meet their demand of salt until the 13th century. After the closure of the salterns, the water was still used by the local people as medicine for the treatment of goitres and chronic inflammations. Water and 'goitre bread' of Hall even were sold in Styria (where goitres were endemic due to iodine deficiency). Hall became a market town prior to 1230.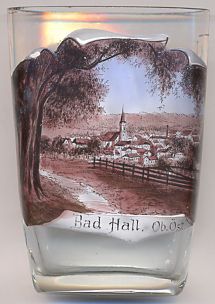 The development of Hall as a health resort began in the 19th century when the iodine content of the water was discovered. At first only privately owned baths existed. However, the spa only became successful when it was taken over by the provincial government in 1855. The predicate 'Bad' was granted in 1876.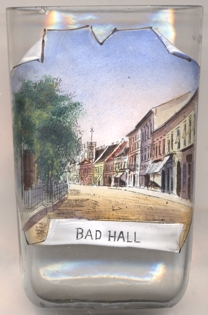 The picture on glass no. 4207 [left] shows a view of the

main square (Hauptplatz) of Bad Hall. The building with the reactangular turret depicted in the background is the

Town hall, built in the mid-19th century, after the previous building had been demolished in 1855 to make way for the creation of Eduard-Bach-Straße.
[https://de.wikipedia.org/wiki/Liste_der_denkmalgesch%C3%BCtzten_Objekte_in_Bad_Hall, https://docplayer.org/166509944-Informationen-sehenswuerdigkeiten-gastronomie-veranstaltungen-im-gaestezentrum-bad-hall-von-august-bis-november-2019.html]


The

Catholic parish church zum Heiligen Erlöser (Holy Saviour) [left] was built in 1869–1888 in Gothic revival style by the architect Otto Schirmer. Its spire has a height of 60 metres. A century later, in 1985–1988, the church was renovated because the spire was in danger of collapsing due to its weak foundations. [http://www.bergfex.at/sommer/bad-hall/highlights/5423-kath-stadtpfarrkirche/]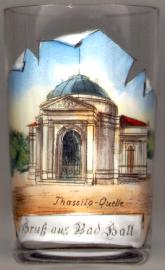 The

Thassilo-Quelltempel [left] enclosing the old saline spring was erected in 1855.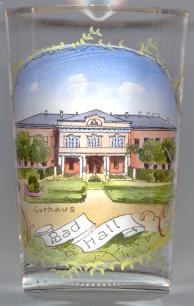 Centre of the resort was the

Kurhaus [right], which was erected in 1853–1855 in Neoclassicist style.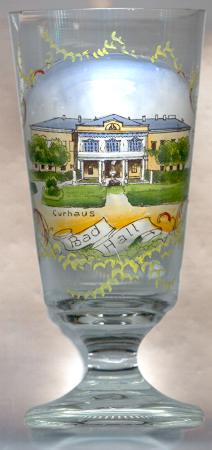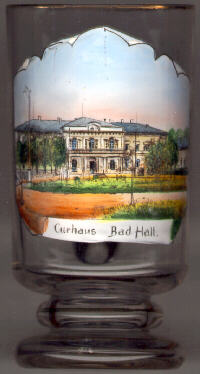 Place names that include the syllable
hal(l)
in (especially in the southern part of) the German-speaking area usually are found at places that developped in connection with salt mining, extraction or processing. Items in this collection that were souvenirs from such places are from:
Bad Hall
, Upper Austria, Austria,
Bad Friedrichshall
, Baden-Württemberg, Germany (modern name creation),
Hall in Tirol
, Tyrol, Austria,
Halle (Saale)
, Saxony-Anhalt, Germany (connection with salt disputed),
Hallein
, Salzburg, Austria,
Hallstatt
, Upper Austria, Austria,
Schwäbisch Hall
, Baden-Württemberg, Germany.
---