| | |
| --- | --- |
| ČESKÁ REPUBLIKA | CZECH REPUBLIC |
| Zlínský kraj | Zlín region |
| Okres: Uherské Hradiště | |
map →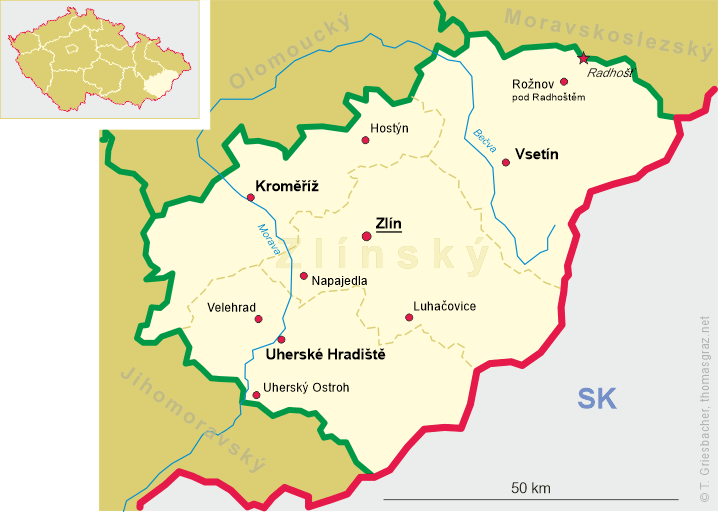 Velehrad
• de: Welehrad
• sr: Велеград
• bg, ru, uk: Велехрад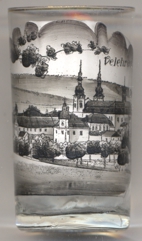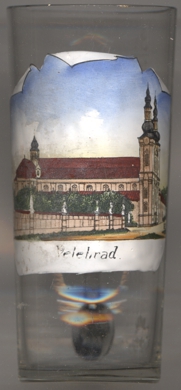 Velehrad is situated at an elevation of 219 m in the valley of the Salaska river about 7 km northwest of the district town Uherské Hradiště. Benedictine monks lived here already in the 11th century. The Cistercian monastery was founded around 1205. During the Hussite Wars, the monks had to withdraw to Uherské Hradiště. The monastery was reopened in 1650, but was closed again in 1748. The former abbey church was taken over by the Jesuit order in 1891.
The former

monastery church Assumption of Our Lady and Saints Cyril and Methodius goes back to the first monastery church which had been consecrated in 1228. The former Romanesque church was rebuilt in magnificent Baroque style in 1681–1769. The church received the status of a Basilica minor in 1928. Pope John Paul II visited Velehrad on 22nd of April, 1990.
(see also list of other basilicae minores depicted on glasses of this collection)
The small

church of the Epiphany (kostel Zjevení Páně), also called 'Cyrilka' [near left, no. 3115: foreground right] is located next to the basilica. The chapel was founded in gthe 13th century. After the destructionsthe Hussite Wars (1421), the chapel was destroyed and at first served visitors to Velehrad who were not allowd to enter the monastery precincts. Over times, the chapel began to serve as parish church. In 1784 it became the cemetary chapel of the monastery. When the monastery cemetery was moved to a new location, the chapel came in private hands and was used only for storage. In 1863, the chapel was bought by the archbishop of Olomouc and was restored. Since then it is dedicated to the Epiphany (before that it had been dedicated to the Body and Blood of Christ). Since 1929 it is used as a liturgical place for the Orthodox rite. In 2008, the Cyrilka chapel is listed as a national cultural monument.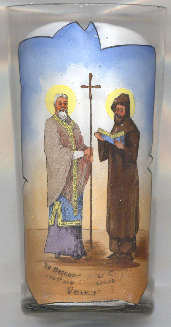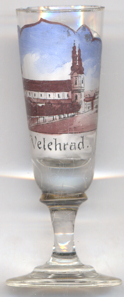 Glass no. 3950 [left] depicts

Saints Cyril and Methodius. Cyril (born Constantine, 826–869) and Methodius (815–885) were two brothers and Byzantine Christian theologians and missionaries. For their work evangelizing the Slavs, they are known as the "Apostles to the Slavs". They are credited with devising the Glagolitic alphabet, the first alphabet used to transcribe Old Church Slavonic. After their deaths, their pupils continued their missionary work among other Slavs. Both brothers are venerated in the Orthodox Church as saints with the title of "equal-to-apostles". In 1880, Pope Leo XIII introduced their feast into the calendar of the Roman Catholic Church. In 1980, Pope John Paul II declared them co-patron saints of Europe, together with Benedict of Nursia. According to the legend, Saint Methodius died at Velehrad in 885 AD.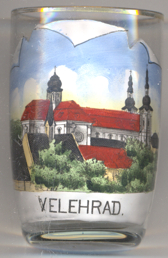 [https://cs.wikipedia.org/wiki/Kostel_Zjevení Páně_(Velehrad); https://en.wikipedia.org/wiki/Saints_Cyril_and_Methodius]

---