| | |
| --- | --- |
| ÖSTERREICH | AUSTRIA |
| Bundesland: Steiermark | Styria |
| Bezirk: Leibnitz | |
map →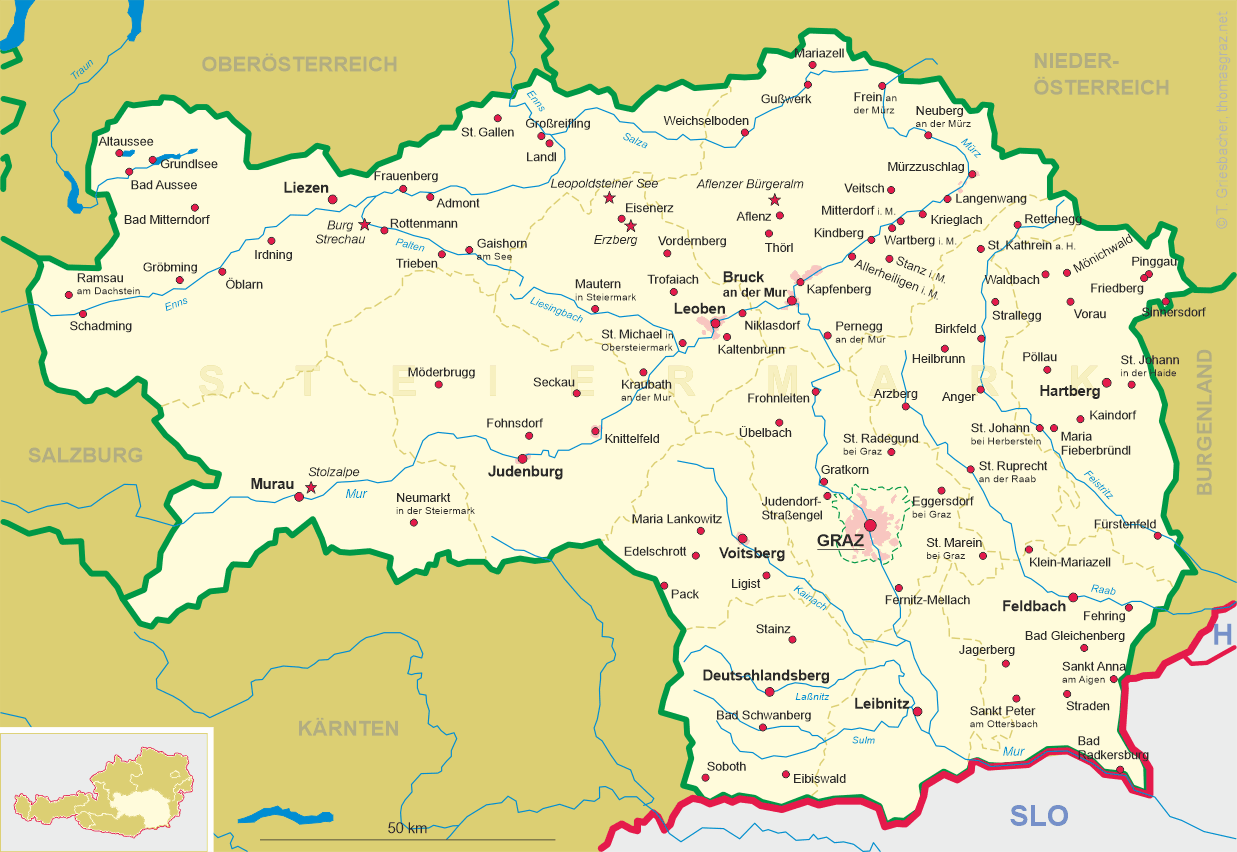 Leibnitz
• lt: Leibnicas
• sl: Lipnica
• ru: Лайбниц
• sr: Лајбниц
Leibnitz was first mentioned as Lipnizza in 970 but the area had been a densely populated area more than 2000 years earlier. Traces of an Illyrian settlement of about 2200 years ago has been found on the Frauenberg. The Roman town of Flavia Solva near Leibnitz was founded in the 1st/2nd century AD and was an important trading place until it was abandoned in the time of the Migration of Peoples in 405/406. From 860 onward, the area was in possession of the Archdiocese of Salzburg. Today's town was founded as a fortified village in the 13th century. This town was destroyed by the Hungarians in 1479 and again by the Turks in 1532. Large fires in 1704 und 1829 were followed by restoration of the town.
The

Rathaus (Town Hall) [right, with tower] was built in 1876 and obtained its present appearance in 1914.
The Frauenberg has always been used as a place for worship throughout the centuries. Two Roman temples from the 1st and 2nd century (Isis Noreia and Mars Latobius) have been found in 1951/52. The

pilgrimage church Mariä Himmelfahrt (Ascension of Our Lady) [background] on the Frauenberg developed out of a chapel of 1170 and later was enlarged several times. The church obtained its current appearance in Late Baroque style in 1766.
Another, famous, pilgrimage church known as Frauenberg is located in
Frauenberg
in northern Styria.
Frauenberg
is also the former German name of
Hluboká nad Vltavou
in southern Bohemia, Czech Republic.
---