| | |
| --- | --- |
| ÖSTERREICH | AUSTRIA |
| Bundesland: Niederösterreich | Lower Austria |
| Bezirk: Scheibbs | |
map →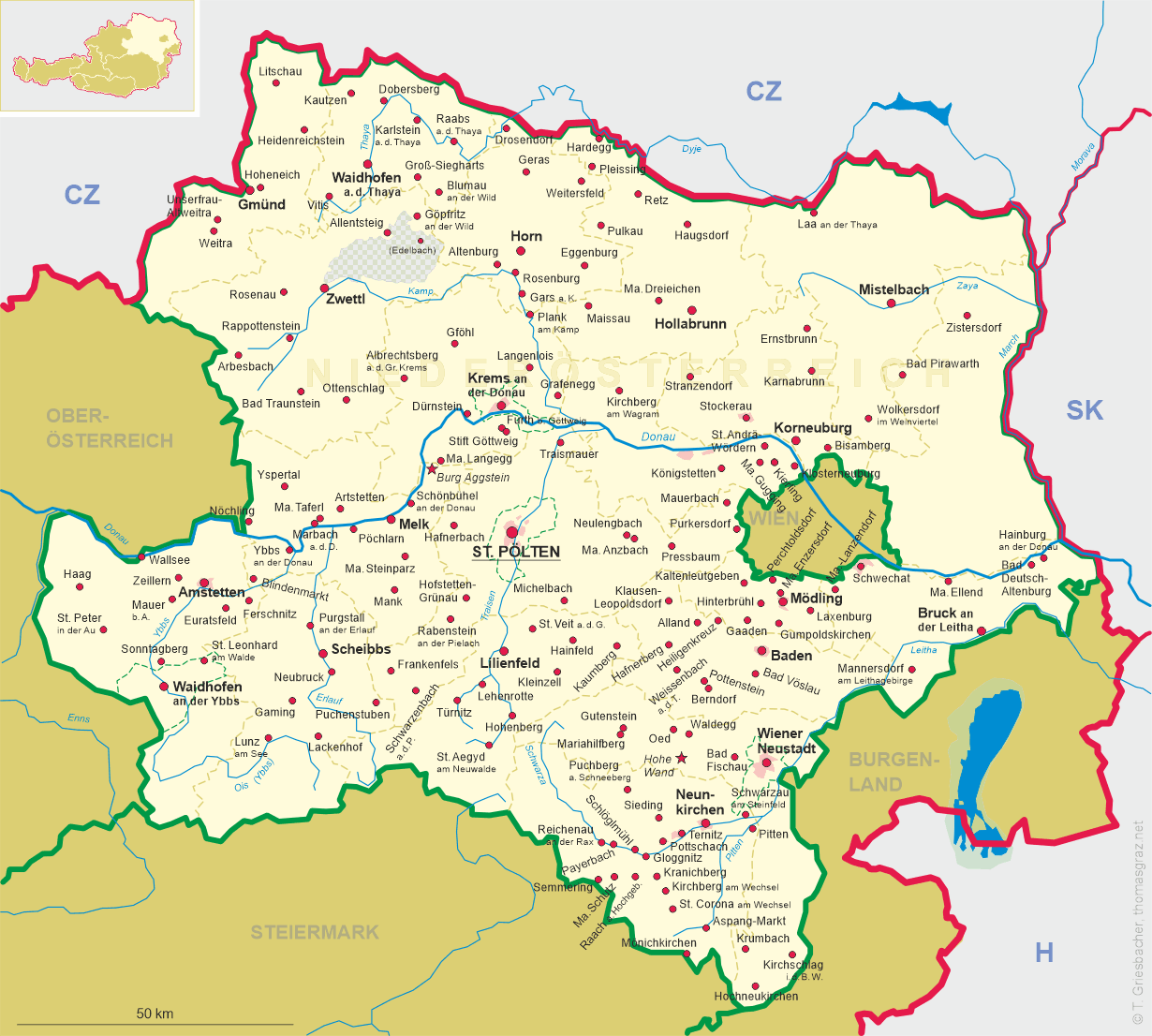 Purgstall an der Erlauf
• lt: Purgštalis prie Erlaufo
• ru: Пургшталль-ан-дер-Эрлауф
Purgstall an der Erlauf is situated at an elevation of 299 m on the river Erlauf in the Scheibbs district of Lower Austria.
The castle of Purgstall, which had been founded in the 10th or 11th century, was first mentioned in a document of 1120. In 1360 Purgstall received the privilege for holding markets and since 1370 Purgstall has the formal status of a market town. The village of Wyden on the right bank of the river (and also the site of the parish church) became part of Purgstall in 1390. Between 1448 and 1773 the town had a privilege for trading in iron and food products.
The

parish church Sankt Petrus [left] goes back to a first church that was erected in the 14th century. Remains of that building are the lower parts of the tower and the northern gate, which had been the main gate of that church. The present church was built in 1418–1450 in late Gothic style. The choir was rebuilt in Baroque style in 1712–1719, possibly by the famous architect Jakob Prandtauer. The splendid Baroque altars and the organ date from the second half of the 18th century. The three gates of the church received porticos in 1848. The chapel of the Holy Sepulchre was added in 1871.
The

Ötscher [right, no. 2890: background], at 1,893 metres, is a prominent peak in south-western Lower Austria. Its name has Slavic roots and translates approximately as a diminutive of "father". The Ötscher area belongs to the Ybbstal Alps, which are part of the Northern Limestone Alps. The boundary between the districts of Lilienfeld and Scheibbs lies directly on its peak.
[https://en.wikipedia.org/wiki/Ötscher]

---