| | |
| --- | --- |
| ÖSTERREICH | AUSTRIA |
| Bundesland: Niederösterreich | Lower Austria |
| Bezirk: Lilienfeld | |
map →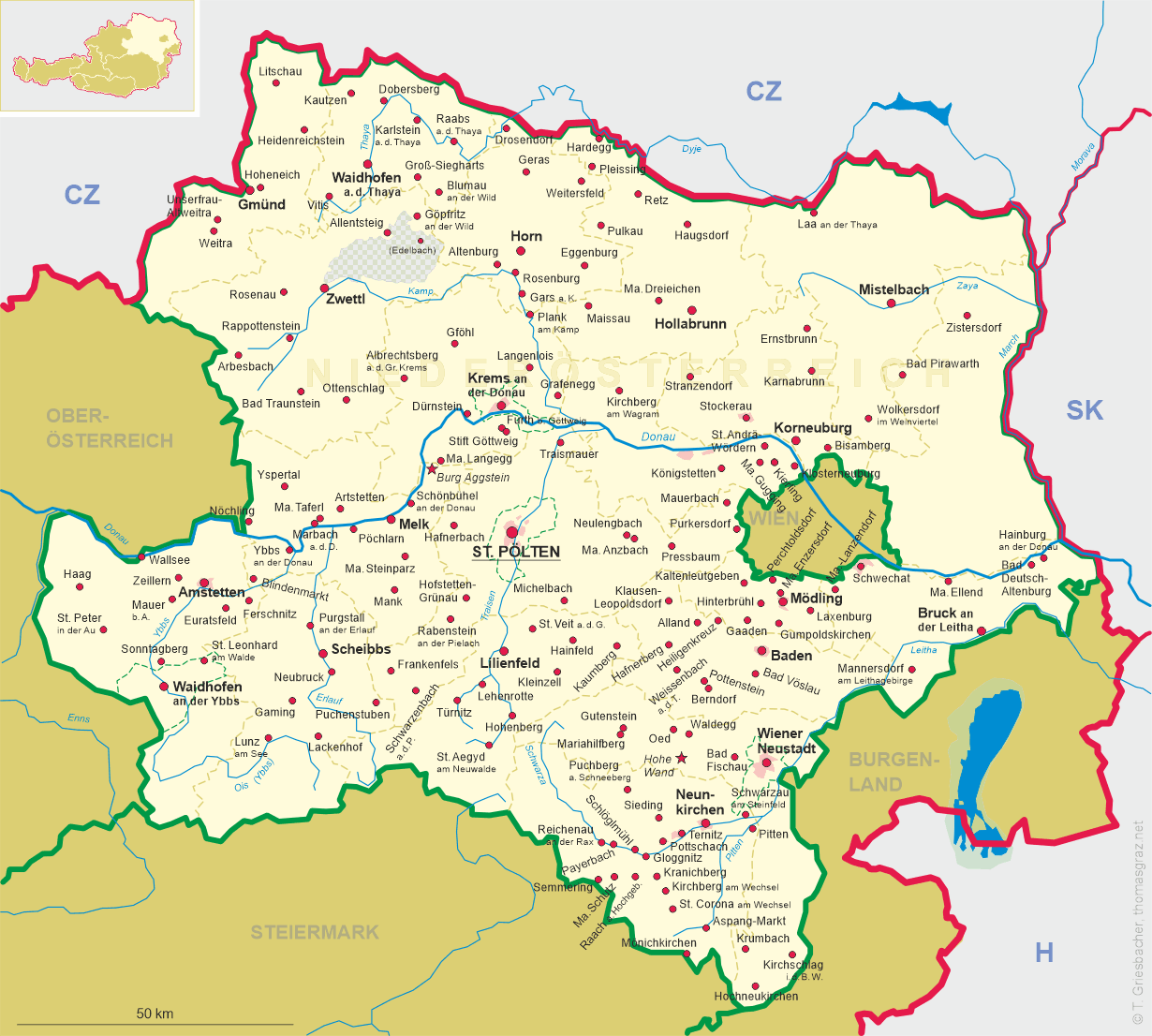 Lilienfeld
• lt: Lilienfeldas
• ru: Лилиенфельд
• sr: Лилијенфелд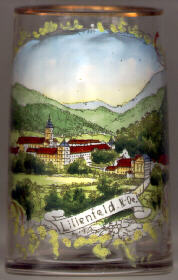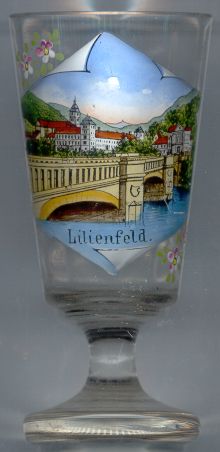 The

cistercian monastery of Lilienfeld [left] was founded between 1202 and 1206 by the Babenberg Duke Leopold VI (the Glorious) of Austria. The first monks came from the cistercian monastery at Heiligenkreuz. A reliquiary with a particle of the Holy Cross, which was given to the monastery by Leopold in 1219, is still exhibited every year. Lilienfeld soon gained importance as it was situated on the popular pilgrimage route 'Via Sacra' from Vienna via Perchtoldsdorf, Brunn am Gebirge, Maria Enzersdorf, Hinterbrühl, Gaaden, Sulz im Wienerwald, Heiligenkreuz, Mayerling, Alland, Nöstach, Hafnerberg, Hocheck, Altenmarkt an der Triesting, Kleinmariazell/Altenmarkt, Thenneberg, Kaumberg, Hainfeld, Rohrbach an der Gölsen, Sankt Veit an der Gölsen, Marktl, Lilienfeld, Türnitz, Siebenbrunn, Annaberg, Joachimsberg, Sankt Sebastian to Mariazell.
The Romanesque and Gothic

monastery church Mariä Himmelfahrt (Assumption of Our Lady) dates from the 13th century. The interior was decorated in baroque style during the 17th century. The monastery was closed in 1789 by Emperor Joseph II but was reopened only one year later by his successor Emperor Leopold II. Buried in the church are: Leopold VI, his daughter Margarethe, wife (1225) of Emperor Heinrich VII and after his death (1242) wife of King Ottokar II of Bohemia (1252, divorced 1261), and Cimburgis of Masovia, wife of Duke Ernst (the Iron) of Styria and mother of Emperor Friedrich III. The church received the papal title of a Basilica minor in 1976.
Other places which claim one of the many reliquiaries of particles of the Holy Crucifix and of which there are glasses in this collection are the Cistercian abbey of Heiligenkreuz, the former monastery Heilig Kreuz in Donauwörth and the cathedral of Limburg a. d. Lahn.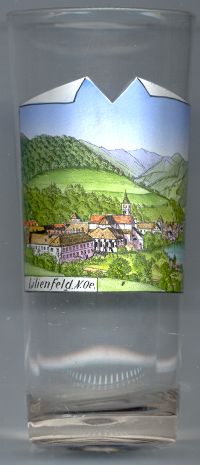 Matthias ZDARSKY (born 1856 in Kožichovice near Třebíč, died 1940 in St. Pölten) developed his skiing technique (the 'Lilienfeld technique') and a novel ski binding (the 'Lilienfeld binding') which enabled racers to do slalom and downhill races here in Lilienfeld. His book "Alpine Skifahrtechnik" was published in 1897 and was reprinted in 17 editions until 1925. The world's first slalom race (24 competitors) took place on the Muckenkogel at Lilienfeld on March 19, 1905.

---