| | |
| --- | --- |
| ČESKÁ REPUBLIKA | CZECH REPUBLIC |
| Pardubický kraj | Pardubice region |
| Okres: Chrudim | |
map →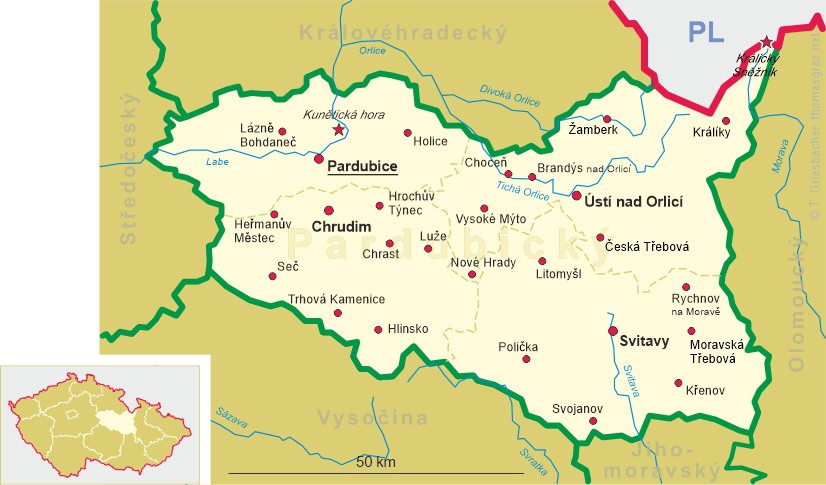 Luže
• de: Lusche
• ru, sr: Луже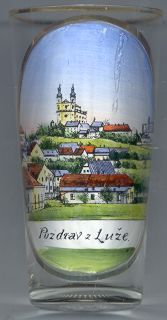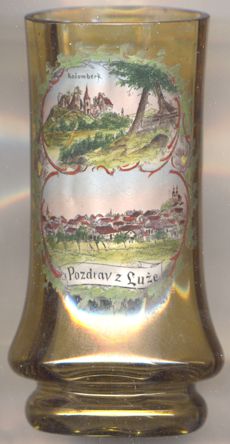 Luže is situated at an elevation of 39 m on the dividing line between the fertile lowlands of the Labe (Elbe) river and the Bohemian-Moravian highlands, about 22 km east of Chrudim and 11 km southwest of Vysoké Mýto (Hohenmauth).
According to later documents, Luza was founded in 1250 in the vicinity of the older settlement of Kamenicza, which itself has been mentioned as early as the beginning of the 12th century. The first direct mention is found in a document of 1349 when its church was assigned to the newly founded bishopric of Litomyšl (Leitomischl). In 2007 the municipality gained the status of a town.
The

pilgrimage church of Our Lady [left] was built in 1690–1696 on the basalt hill Chlumek (379 m) above the town. The early Baroque project was executed by the Italian architect Giovanni Battista Alliprandi according to plans of Paul Ignaz Bayer.
The ruins of

Košumberk castle (German: Koschumberg, Rossumberg, older also Roßenburg) [right, no. 3986: top picture] are located above the Novohradka valley near the village of Košumberk, which belongs to the town of Luže. The castle was probably founded after 1310. Beginning in 1573, the castle was rebuilt in Renaissance style. Since the end of the 17th century the castle was owned by the Jesuits who lived in a newly built residence in Chlumek (part of Košumberk/Luže). After the dissolution of the Jesuit order in 1773, the castle fell into disrepair; the gatehouse has been preserved and, thanks to extensive restoration work, has been converted into a castle museum.
Note: in the labeling on glass no. 3986 the name of the castle is incorrectly spelled Kožumberk instead of correctly Košumberk.

[https://de.wikipedia.org/wiki/Lu%C5%BEe; https://de.wikipedia.org/wiki/Burg_Ko%C5%A1umberk, https://de.wikipedia.org/wiki/Ko%C5%A1umberk]

---