| | |
| --- | --- |
| ÖSTERREICH | AUSTRIA |
| Bundesland: Oberösterreich | Upper Austria |
| Bezirk: Braunau am Inn | |
map →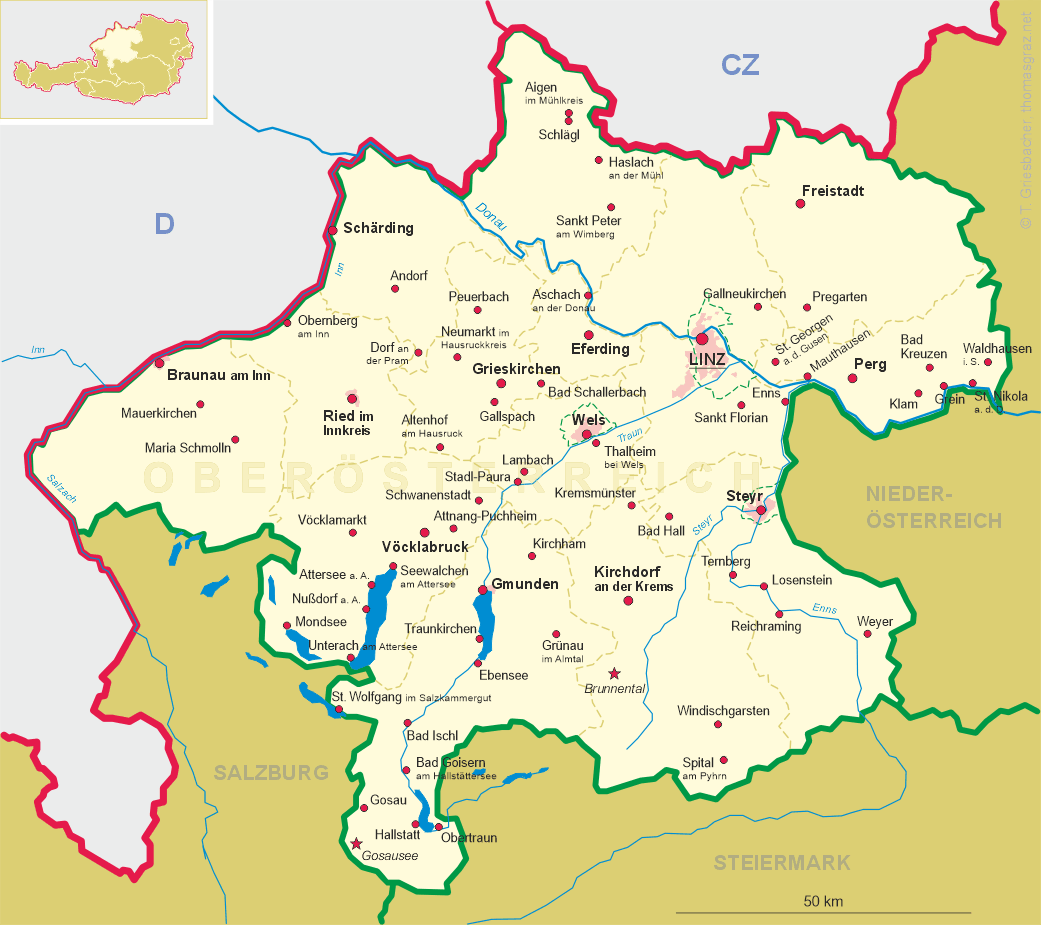 Braunau am Inn
• et: Braunau Inni ääres
• sk: Braunau na Inne
• cs: Braunau na Innu, Brunov
• lt: Braunau prie Ino
• bg, mk: Браунау на Ин
• ru: Браунау-на-Инне
• uk: Браунау-на-Инні
• sr: Браунау на Ину
• be: Браунаў-на-Ине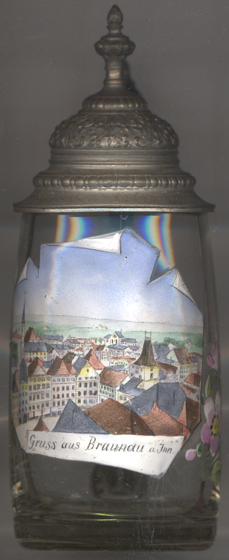 Braunau am Inn is situated at an elevation of 348 m on the right bank of the river Inn, opposite of Simbach in Bavaria (Germany). The name Prounaw was first mentioned in 1110, but Ranshofen, today a borrough of Braunau, had already been mentioned in a document of AD 788 (Rantesdorf). For several centuries, Ranshofen was far more important than Braunau. During the 9th century AD, Ranshofen even was an Imperial residence: documents of King Ludwig 'the German' (840–876) and Emperor Karl III (876–887) were issued here. Braunau itself was first mentioned as a town in 1260. During the 14th, 15th and 16th century, the importance of Braunau as a trading town grew steadily; several privileges secured its economic life. After the (2nd) Bavarian War of Succession in 1778/79 the Innviertel region including Braunau became part of Austria and except a period of Bavarian administration between 1809 and 1814 remained there. In 1938, Braunau and Ranshofen were merged.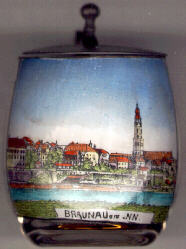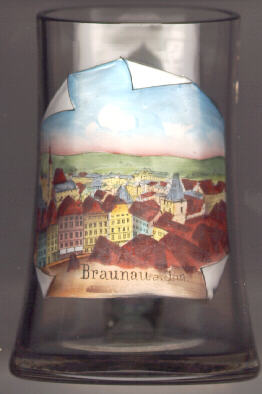 The first chapel dedicated to St. Stephen was consecrated in 1138. The construction of the present

parish church Sankt Stephan [left] began in 1439, the church was consecrated in 1466. The church is one of the finest examples of Late Gothic style in Austria. The construction of the spire started in 1492, the top part and the characteristic roof were added in 1752. The spire is the fifth-highest (96 m) church tower in Austria, only surpassed in height by those of St. Stephen's cathedral in Vienna (137 m), the New Cathedral in Linz (134 m), the Herz-Jesu-Kirche in Graz (110 m) and the Votivkirche in Vienna (99 m).
The

Stadttorturm (Town Gate Tower) [right, no. 255: centre right] was erected in 1520. The shape of the roof was altered several times throughout its history. The present-day roof, created in 1966, is thought to closely resemble the one of 1520.
The

Spitalkirche [right, no. 255: background left] was built in 1417–1432 for the Heilig-Geist-Spital (Holy Spirit Hospital) that had been founded by a private donation in 1416.
Braunau's perhaps most beloved figure is Hanns Staininger (or Steininger; died 1567), town captain of Braunau. He was famous for his enormous beard which reached a length of 2 meters. A popular story tells that during the large fire of 1567, Staininger forgot to pick up his beard and fell down the stairs of his home which caused his death. After his death, the beard was taken off and was kept in his family until 1911 when it was donated to the city of Braunau. The beard is exhibited in the district museum of Braunau.
People unfamiliar with the rich history of the town unfortunately only think of Braunau as the place where Adolf Hitler was born in 1889.

---