| | |
| --- | --- |
| DEUTSCHLAND | GERMANY |
| Bundesland: Freistaat Bayern | Bavaria |
| Regierungsbezirk: Oberbayern | |
| Landkreis: Rottal-Inn | |
map →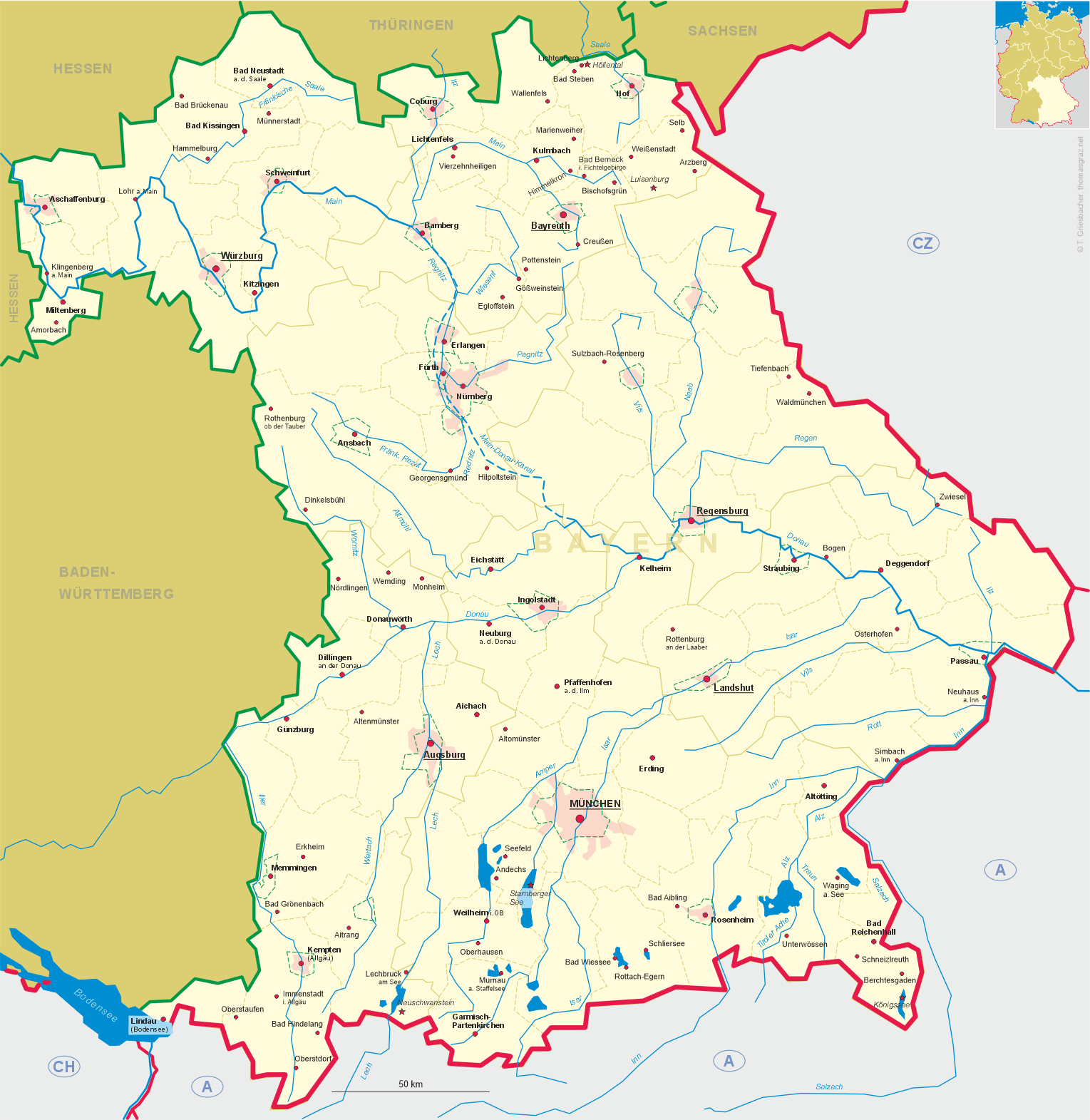 Simbach a. Inn
• alt.: Simbach am Inn
• sr: Симбах ам Ин
• ru: Симбах-ам-Инн
• uk: Сімбах-ам-Инн
Simbach am Inn (officially: Simbach a. Inn) is situated at an elevation of 345 m on the left bank of the river Inn, opposite the Austrian town Braunau am Inn. The municipality has a population of about 10,100 (2021).
Sunninpach was first mentioned in a written document dating from 927. The counts Toerring obtained the domains in 1646. During the War of the Austrian Succession, in 1743, Simbach was almost completely destroyed. When in 1779 the Innviertel region (east of the Inn) was awarded to Austria in the Peace of Teschen (today Cieszyn, PL, and Český Těšín, CZ), Simbach began to develop as a border town. The most important factor for the development of Simbach in the 19th century was the opening in 1870/1871 of the railway line from Munich via Simbach, Braunau and Linz to Vienna. In 1951 Simbach obtained the official status of a town. In 1972 the district Rottal (renamed Rottal-Inn in 1973) was created by merging the former districts of Pfarrkirchen (with Simbach) and Eggenfelden (minus five municipalities) and two municipalities of the formed district Griesbach.
The building depicted on glass no. 4307 [left] is labeled

Englisches Institut, today Institut Marienhöhe. It was a girls' school, home and convent of the Congregatio Jesu, in German commonly known as 'Englische Fräulein', i.e. 'English Ladies'. The imposing building opened in 1909. At the best of times, 600 schoolgirls were taught here not only by Maria Ward sisters, but also by secular teachers. The women's college closed in 1972, the girls' high school in 1987, and the secondary school in 1989. Until 2003 a Montessori school was housed in the institute. In 2008, the vocational school was the last to close its doors. Today, Marienhöhe is entirely at the service of the fellow sisters in need of care.

[https://de.wikipedia.org/wiki/Simbach_am_Inn; https://de.wikipedia.org/wiki/Landkreis_Rottal-Inn, https://de.wikipedia.org/wiki/Landkreis_Pfarrkirchen; https://www.niederbayern-wiki.de/wiki/Institut_Marienh%C3%B6he]

---