| | |
| --- | --- |
| UNITED STATES OF AMERICA | |
| COLORADO | |
| El Paso County | |
map →
Pikes Peak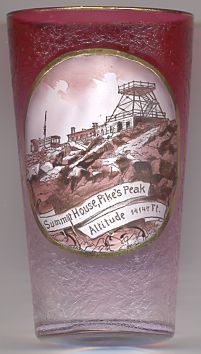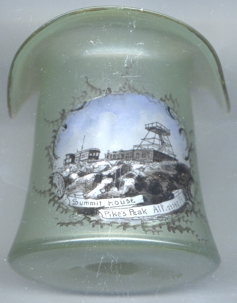 Pikes Peak (14,110 ft or 4,300 m) was discovered by Lt. Zebulon Montgomery Pike in 1806. He originally named the mountain Grand Peak, but cartographers labeled it Pike's Peak on their maps. In 1891 the U.S. Board of Geographic Names recommended an end to using possessive forms in place names; since then, the spelling of the name is Pikes Peak, which was confirmed by Colorado legislature in 1975. It took until 1820 that the first man reached the summit, the first woman climbed the mountain in 1858. Katherine Lee Bates, a Massachusetts author and teacher, was so inspired by the view from Pikes Peak that she wrote the lyrics to "America the Beautiful" in 1893.
The

Pikes Peak cog railway [left] was built in 1891 and is still in operation. The Pikes Peak toll road was completed in 1916. The Pikes Peak Hill climb, an automobile and motorcycle race, takes place every Fourth of July. The Pikes Peak Marathon up and down Barr Trail (13 miles ascending 7,500 vertical feet to the summit) takes place each August.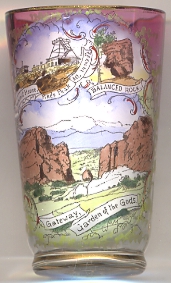 Tumbler no. B029 [below] is a souvenir from Colorado Springs and shows a view of Pikes Peak on one of its three landscape pictures. The other two pictures of this tumbler show views of two other natural sights in the vicinity: Garden of the Gods and Seven Falls.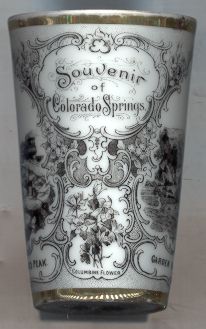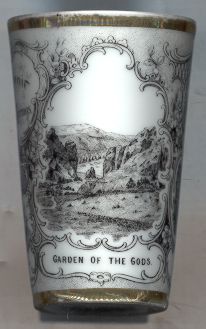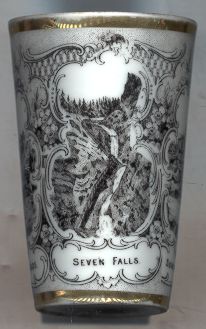 ---