| | |
| --- | --- |
| UNITED STATES OF AMERICA | |
| COLORADO | |
| El Paso County | |
map →
Colorado Springs
• lt: Kolorado Springsas
• lv: Kolorādospringsa
• el: Κολοράντο Σπρίνγκς
• be: Каларада-Спрынгс
• bg, mk, sr: Колорадо Спрингс
• ru, uk: Колорадо-Спрингс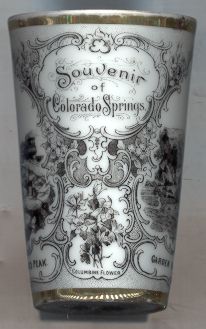 Colorado Springs is situated at an elevation of 6,035 ft (1,840 m) in El Paso County. Colorado Springs was founded in 1871 because of its scenic surroundings. It became especially oppular with British visitors and even received the nickname 'Little London'. Gold was found in nearby Cripple Creek in 1891 and remained an important factor for Colorado Spring's economy until 1917 when the United States went for silver for its coinage. Aftert hat the town again emphasized on tourism. The military presence began in 1942 with the opening of Fort Carson. The US Air Force chose Colorado Springs for its Academy in the 1950s. During the following 30 years, the Peterson, Cheyenne Mountains and Falcon Air Bases were opened. Colorado Spring also is the seat of the North American Aerospace Command Center (NORAD). With a oppulation of about 320,000 it is the largest community of El Paso County and also is the county seat.
The small picture on the tumbler shows the

Rocky Mountain Columbine (Aquilegia caerulea), the state flower of Colorado. The flower was discovered in 1820 on Pikes Peak. In 1891, 22,316 students voted for a state flower. The Columbine came out first with 14,472 votes. The flower was legally adopted in 1899. In 1925, the government of Colorado made it the duty of all citizens to protect this rare species. An attempt in 1964 to replace the Columbine by the Carnation was unsuccessful. The song "Where the Columbines Grow" was adopted as the official state song by an act of the General Assembly in 1915.
The remaining three pictures on tumbler no. B029 show views of several natural sights in the vicinity of Colorado Springs: Garden of the Gods, Seven Falls and Pikes Peak.

---