| | |
| --- | --- |
| ČESKÁ REPUBLIKA | CZECH REPUBLIC |
| Královéhradecký kraj | Hradec Králové region |
| Okres: Jičín | |
map →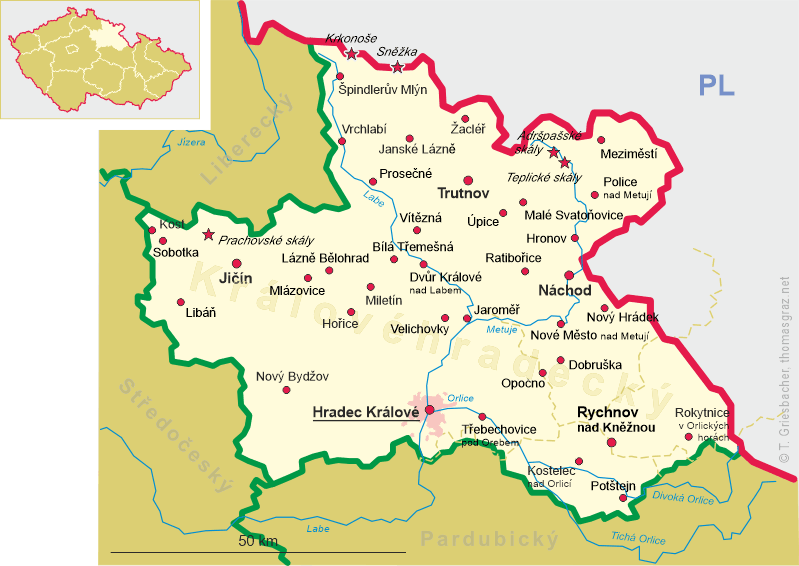 Hořice
• alt: Hořice v Podkrkonoší
• de: Horschitz
Hořice is situated at an elevation of 316 m in the Jičín district of eastern Bohemia (region Hradec Králové). Hořice has a population of about 9,000 (2006).
The place was first mentioned in 1143 in the document of foundation of the Strahov monastery (Prague). In 1365 it obtained the status of a market town and since 1385 it had its own official seal. With the abolition of patrimonial ownership, Hořice became an independent city and the administrative centre of a district of the same name. In 1960 the district (okres) Hořice was dissolved and was incorporated into the district Jičín.
The Baroque

church of the Nativity of Our Lady (Kostel Narození Panny Marie) [background right] was built 1741–1748 by Kilian Ignaz Dientzenhofer.
Hořické trubičky (Hořice Tubes) are a biscuit specialty which is produced exclusively in this place. Since 2007 they are the seventh Czech produce with protected designation of origin defined according to European Union Law.
Several places in the Czech Republic are named Hořice. For distinction, this place is frequently, although not officially, called Hořice v Podkrkonoší ('H. in the region below the Giant Mountains'). Another glass in this collection is from Hořice na Šumavě (South Bohemia).

---