| | |
| --- | --- |
| ROMÂNIA | ROMANIA |
| județ Brașov | Brașov County |
map →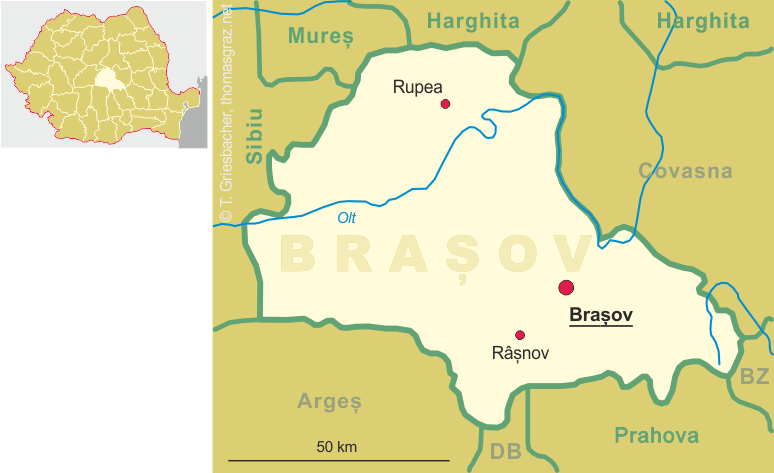 Brașov
• alt: Orașul Stalin
• dk: Brasov
• cs: Brašov
• lv: Brašova
• lt: Brašovas
• hu: Brassó
• pl: Braszów
• de: Kronstadt
• el: Μπρασόβ
• be: Брашаў
• bg, mk, ru, sr, uk: Брашов

Brașov is situated at an elevation of 600 m in the Transylvania region of central Romania. The city is the administrative centre of the Brașov county. At a population of about 284,500 (2002) it is Romania's 7th-largest city, after București, Cluj-Napoca, Timișoara, Iași, Craiova and Galați.
The recorded history of Brașov began in 1211 when King Andrew (András) II of Hungary called the Order of the Teutonic Knights into southeastern Transylvania in order to guard the border of the country. They founded a fortified settlement which was called Kronstadt by the German settlers (the so-called Transilvanian Saxons). In 1225 the Teutonic Knights were expelled from Transylvania by Andrew II but the Saxon towns continued to enjoy their privileges. The town became the centre of Protestantism and was the most important trading place in the Principality of Transylvania. With the dissolution of the Austro-Hungarian Monarchy after World War II, Brașov like the rest of Transylvania became part of Romania. Between 1950 and 1960 the town was called Orașul Stalin (Stalin City) in honor of Josef Stalin, the Soviet dictator (see also Stalinogr&oacuted / Katowice in Poland).
The

old town hall (Casa Primăriei) [left] was built in 1420 when the town was enlarged and the original fortifications were torn down. The tower of the building is 60 m in height. Later additions were made in Baroque style. Today the building is used as the historical and art museum of Brașov.

---