| | |
| --- | --- |
| ÖSTERREICH | AUSTRIA |
| Bundesland: Oberösterreich | Upper Austria |
| Bezirk: Rohrbach | |
map →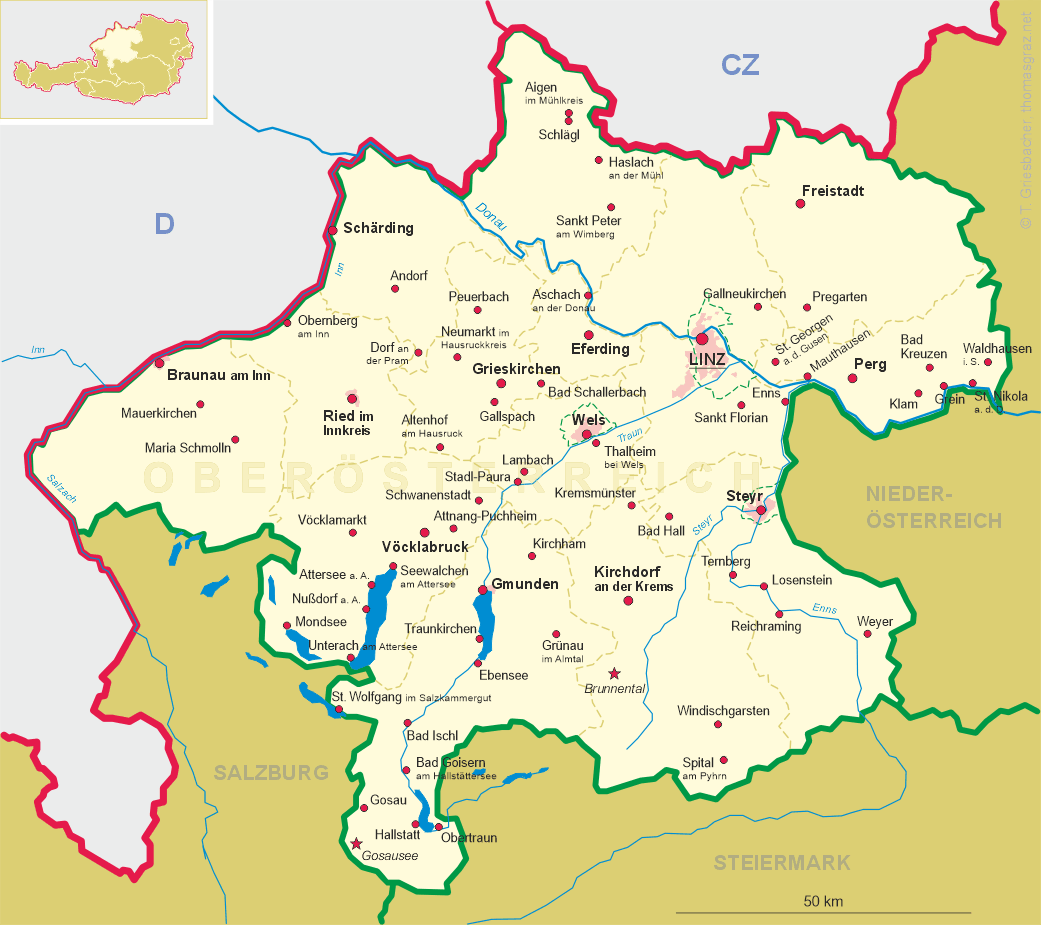 Haslach an der Mühl
• lt: Hazlachas (Miulis)
• bg: Гаслах-на-Мюле
Haslach an der Mühl is situated at an elevation of 530 m at the confluence of the rivers Große Mühl and Steinerne Mühl in the southern foothills of the Böhmerwald (Bohemian Forest) region in the Rohrbach district of Upper Austria. The municipality has a population of about 2,600 (2005).
Archeological finds demonstrate the presence of humans already during the Stine Age. The cultivation of the upper Mühlviertel region began when the area between the rivers Ilz and Rodl had been donated by Emperor Heinrich II to the nunnery Niedernburg near Passau in 1016. The earliest document mentioning Haslach is a contract closed 1231, wherein the lords of Rosenberg (Rožmberk nad Vltavou) ceded the fiefs south of the river Steinerne Mühl to the bishop of Passau. In 1341 the lords of Rosenberg purchased the market town. The parish of Haslach was founded in 1435 and was incorporated into the monastery of Sankt Florian. After the town had been devastated by the Hussites in 1427 and 1469, Wok of Rosenberg restored the fortifications between 1483 and 1487. In 1599 Peter Wok of Rosenberg sold Haslach to Leopold, Archduke of Austria (then bishop of Passau, after 1619 as Leopold V regent of Austria-Tyrol). In 1663 the monastery of Schlägl purchased the town from Passau. With the opening in 1888 of the Mühlkreisbahn (leading from Linz-Urfahr to Schlägl and Aigen im Mühlkreis), Haslach was connected to the railroad system.
The

parish church Sankt Nikolaus [background right] is the most prominent late gothic church of the upper Mühlviertel region. The presbytery was completed around 1350, the nave was constructed around 1480. The interior decorations from the Baroque period were removed in te late 19th century and were replaced by Gothic revival decorations. The church tower, which stands separate from the church, once was part of the town's fortifications.

---