| | |
| --- | --- |
| ČESKÁ REPUBLIKA | CZECH REPUBLIC |
| Liberecký kraj | Liberec region |
| Okres: Semily | |
map →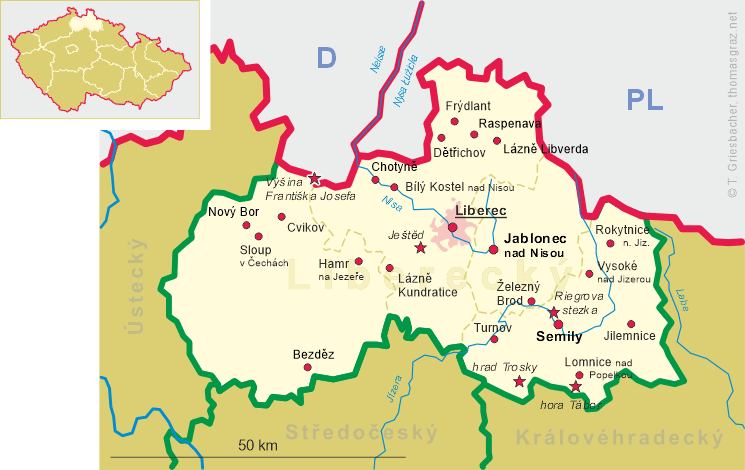 Jilemnice
• de: Starkenbach
• ru: Йилемнице
• sr: Јилемњице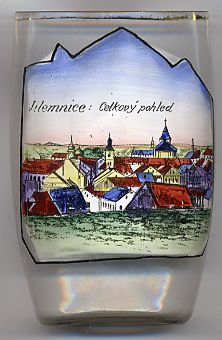 Jilemnice (in German: Starkenbach) is situated at an elevation of 451 m in the Semily district of northern Bohemia. Jilemnice has a population of about 5,800 (2004).
Jilemnice was first mentioned in the 14th century. The railroad from Jilemnice to Rokytnice nad Jizerou (Rochlitz an der Iser) was opened in 1899.
The

church of St. Lawrence (kostel sv. Vavřince) [background right] was built in 1729–1736 in Baroque style. The original roofs were destroyed by a fire in 1838. Treasures of the church are a Gothic statue of the Virgin Mary from the beginning of the 13th century and a pewter baptismal font from 1545. The calvary, pulpit and a relief depicting the murder of St. John of Nepomuk date from the second quarter of the 18th century. The organ was created in 1788 and is a work of an organ-builder from Králíky.
The

town hall [centre] was built in Classical style in 1789 and was enlarged in 1851. The roof was lowered in 1819 and a small tower with a clock was added.

---