| | |
| --- | --- |
| ÖSTERREICH | AUSTRIA |
| Bundesland: Steiermark | Styria |
| Bezirk: Murtal | |
map →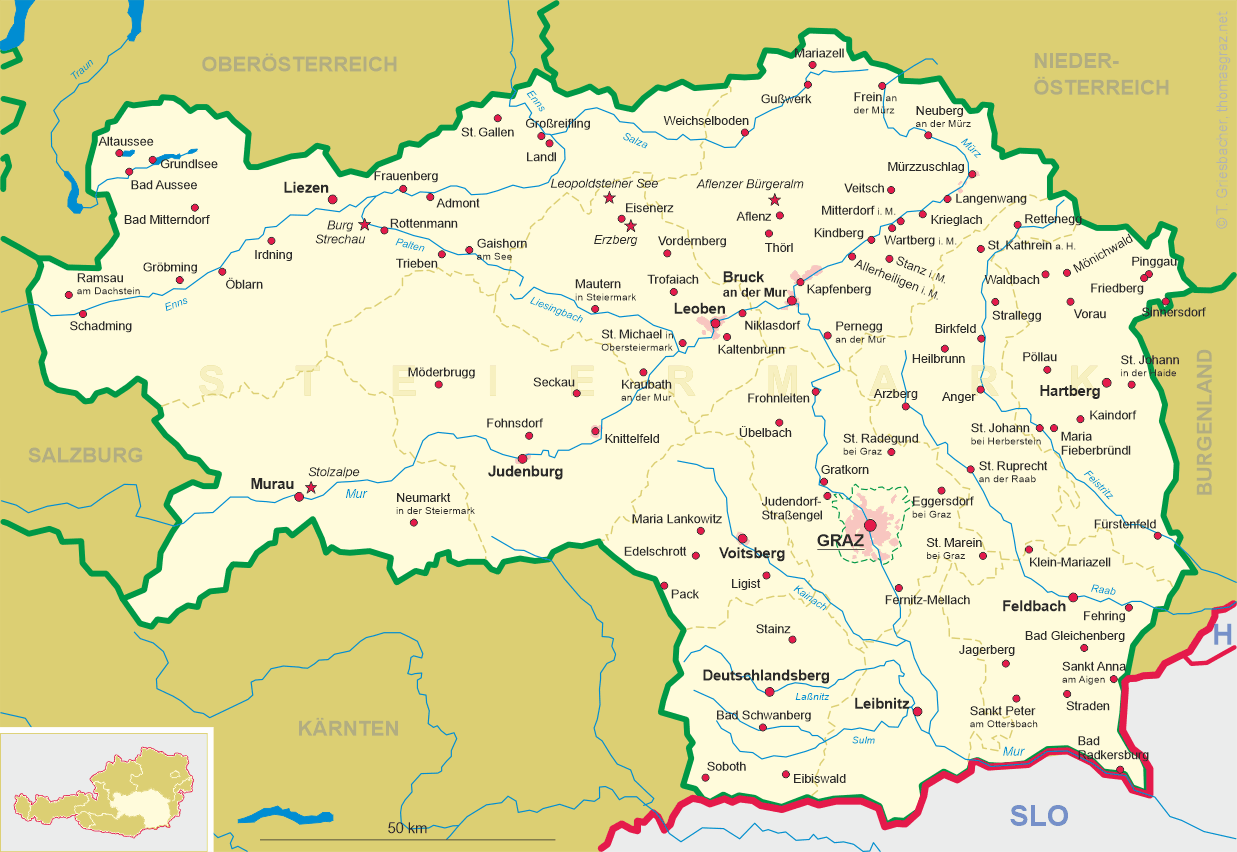 Seckau
• lt: Zekau
• ru: Зеккау


Seckau is situated at an elevation of 843 m in the southern foothills of the Seckauer Alpen in Upper Styria. the municipality has a population of about 1,300 (2008).
Celtic tribes settled the Alpine areas around 400 BC; however, no traces of these settlers, as well as of later Roman sttlers, were found in the local region. The area was christianized in the 9th century. The oldest written mention of Seccowe is found in a document dating from 1142 which was issued by Archbishop Konrad I of Salzburg. A popular explanation of the name derives it from the Latin word secare (to cut) which supposedly referes to the clearing of the woods. Scientific opiions, however, derive the name from the Slavic word zegova, referring to a place cleared of wood by fire. On the occasion of his visit in 1660, Emperor Leopold I granted Seckau the privilages of a market town.
The

monastery [left] was founded in 1142 when the Augustine canons' monastery of Sankt Marein bei Knittelfeld, which had been founded only two years before, was moved to Seckau. A few years later, another monastery, a canons' nunnery, was founded. In 1218, Seckau became the seat of the newly founded bishopric of Seckau, a suffragan bishopric of Salzburg. At that time, the bishopric only covered a minor part of what today is the diocese of Graz-Seckau, it only consisted of 13 parishes which not even formed a contiguous area. The nunnery was closed in 1491 while the monastery lasted until 1782. The seat of the diocese was moved to Graz in 1786. With the incorporation of the diocese of Leoben in 1859, the diocese finally was more or less coextensive to the contemporary province of Styria because at the same time, the diocese of Lavant (with its seat at Sankt Paul im Lavanttal) was moved to Maribor to cover those parts of the duchy of Styria which had a population of which a majority was Slovene (Lower Styria); the diocese was renamed Graz-Seckau only in 1963. The monastery was reopened in 1883 by Benedictine monks from Beuron. The Benedictines also founded a Grammar School which still operates today. The north tower of the church collapsed in 1885 and both towers were rebuilt in 1891–1893. The monastery was dissolved by the Nazis in 1940, but was reopened in 1945. The monastery is one of the most important examples of Romanesque style in Austria. Since the 12th century it is also a pilgrimage site. Major treasures of the church and monastery are the bishops' chapel from the 14th century, the mausoleum of Archduke Karl II of Inner Austria in Late Renaissance style, the sacraments' chapel, the Imperial Hall, the Homage Hall, and the Angels Chapel with modern frescoes by Herbert Boeckl.
The

Plague Column in Zellenplatz [right] was created in 1715.

---