| | |
| --- | --- |
| ÖSTERREICH | AUSTRIA |
| Bundesland: Salzburg | |
| Bezirk: Sankt Johann im Pongau | |
map →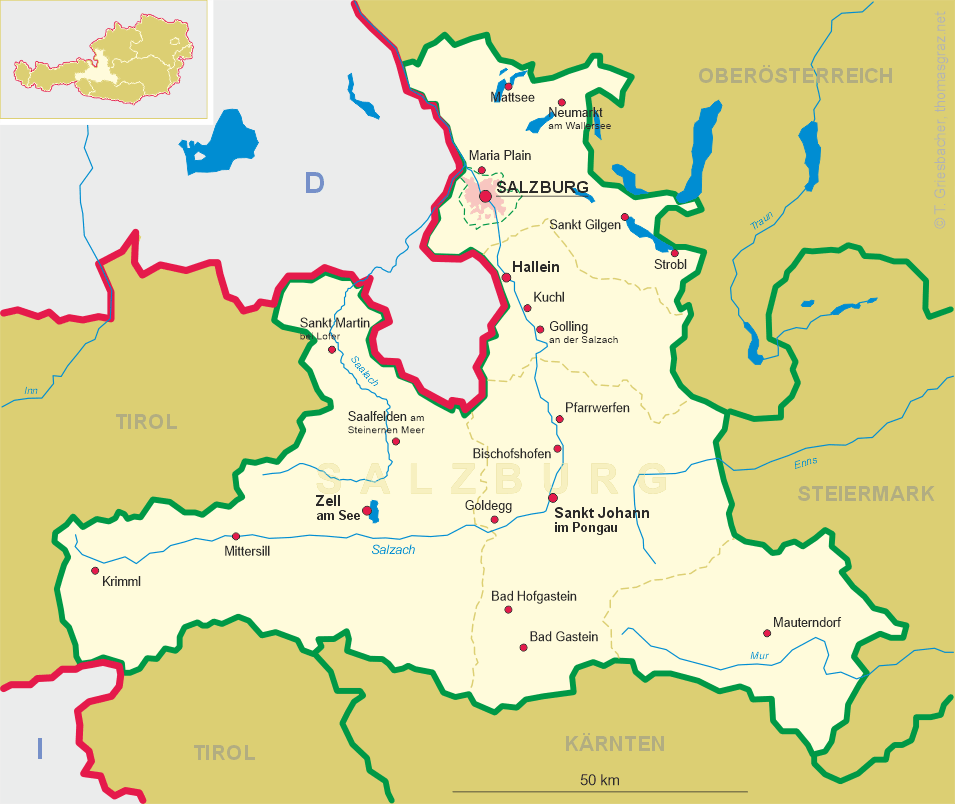 Bischofshofen
• lt: Bišofshofenas
• lv: Bišofshofene
• bg, ru, sr: Бишофсхофен
• uk: Бішофсгофен
Bischofshofen is situated at an elevation of 544 m on the river Salzach in the Pongau region (district Sankt Johann im Pongau) in Salzburg. Around AD 711/712 Saint Rupert built a small monastery, the Cella Maximiliana, above the assumed tomb of St. Maximilian. In 750 and 788 the place was first mentioned as Pongawi and Pongo, which later became the name for the whole region, the Pongau. Already during the mid-8th century the first wooden chapel was replaced by a stone church. The next monastery that was built around 900 but was torn down when the Gothic parish church was built. The convent was converted to an Augustinian Canons monastery in the 12th century. In 1216, the area came into possession of the bishops of Chiemsee. The name Bischofshofen appeared for the first time in 1217.
The

parish church Sankt Maximilian [centre left] goes back to the monastery church of the 11th century. The present-day church was essentially built during the 14th and 15th century. Its greatest treasure is the so-called 'Rupertikreuz' in the churchyard. The maplewood cross is covered by gilded copper plates. Nine of the originally 38 glass gemstones are still preserved. It dates from the 7th/8th century and is likely of Irish origin. St. Rupert (Hruodpert, Ruodpert; ca.650–718) was the first bishop of Salzburg and today is the patron saint of the archdiocese and the province.
The

Frauenkirche (Lady Church) [background centre] was completed in 1457 in Gothic style. The foundations of the church date back to the 11th century. Next to it, the Romanesque

church of Sankt Georg houses a series of frescos from around 1230.
The mountain in the background of the picture is the

Hochkönig (2,941 m), the highest massif of the Berchtesgadenner Alpen. The Hochkönig summit is one of the most prominent summits of the Alps. With its topographic prominence of 2,181 m it is surpassed only by Mont Blanc (depicted on a glass in this collection from Geneva), Großglockner, Finsteraarhorn, Wildspitze and Piz Bernina. The Hochkönig was first conquered in 1826 by Peter Carl Thurnwieser.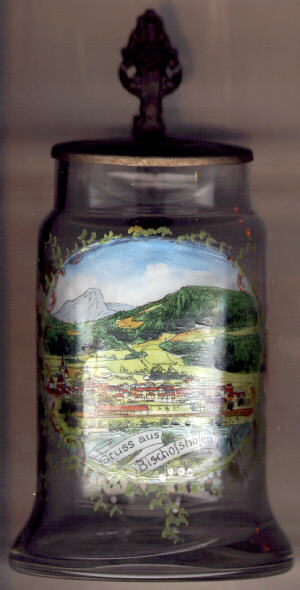 ---