| | |
| --- | --- |
| FRANCE | FRANCE |
| région: Bourgogne-Franche-Comté | |
| département: 21, Côte-d'Or | |
map →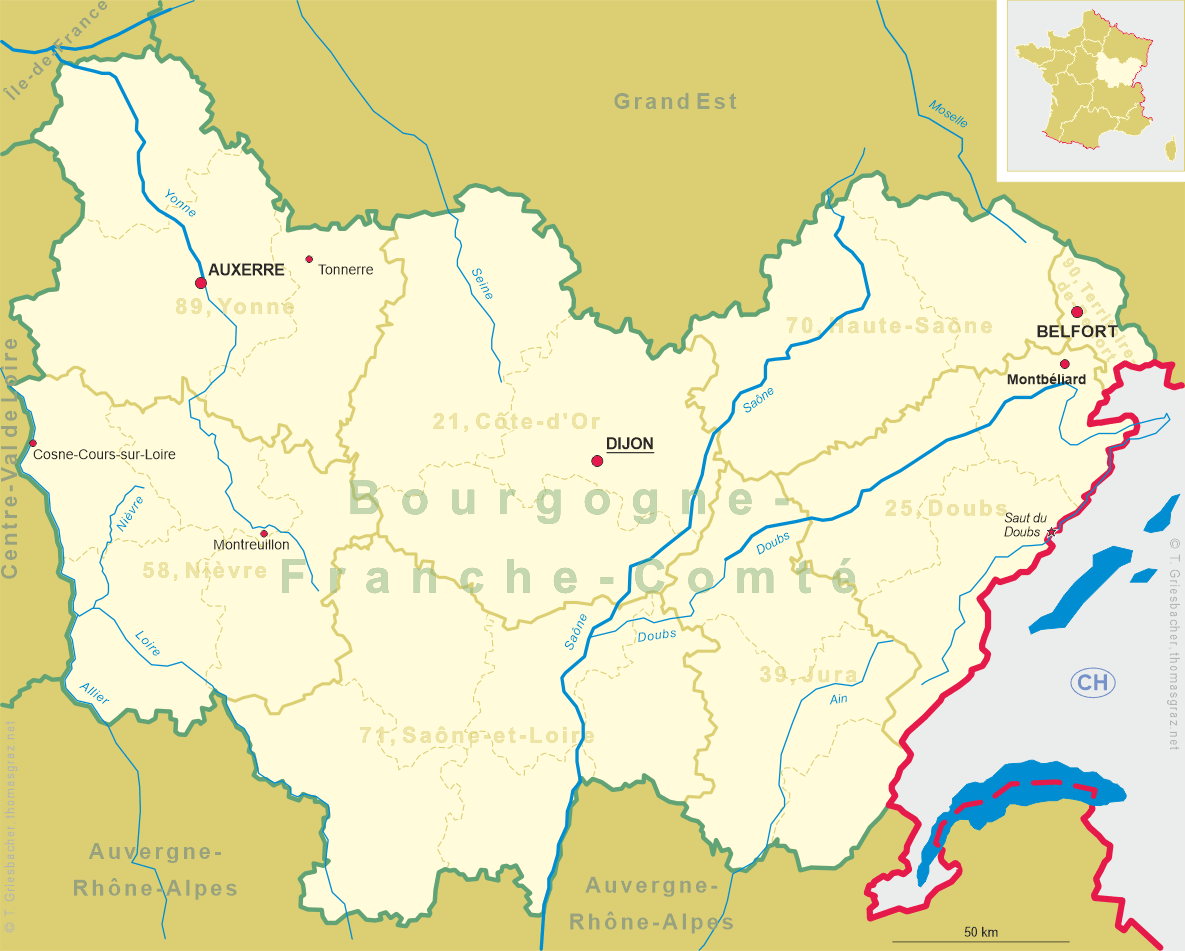 Dijon
• it: Digione
• es: Dijón
• de: Dision
• lv: Dižona
• lt: Dižonas
• el: Ντιζόν
• bg, mk, ru, sr: Дижон
• uk: Діжон
• be: Дыжон
Dijon is situated at an elevation of 245 m at the heart of a plain drained by two converging rivers: the Suzon, which crosses it mostly underground from north to south, and the Ouche, south of town. To the west is the côte of vineyards that gives the département, Côte-d'Or, its name. Dijon lies 310 km southeast of Paris, 190 km northwest of Geneva, and 190 km north of Lyon. Dijon capital of the département Côte-d'Or and of the région Bourgogne-Franche-Comté. The city has a population of about 151,200 (2010).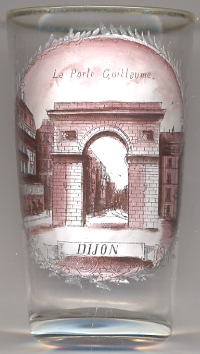 Dijon began as a Roman settlement called Divio, which may mean sacred fountain, located on the road from Lyon to Paris. Saint Benignus, the city's patron saint, is said to have introduced Christianity to the area before being martyred. In 500 the Franks under Clovis I defeated the Burgundians in the Battle of Dijon. Later, Dijon came under the rule of the bishops of Langres, of whon the counts of Dijon obtained the cit as a fief. In 1007/1016 it became the possession of the Dukes of Burgundy who made it their residence. Dijon was granted the privileges of a city in 1187. After the death in 1361 of Philippe I of Burgundy, King Jean II ('le Bon', 'the Good') gave Dijon to his fourth and youngest son, Philippe (duke Philippe II 'the Bold'). After the death in 1477 of Duke Charles 'the Bold' in the Battle of Nancy, Dijon, Burgundy and the Picardie were incorporated into France while Flanders and the other possessions of Charles II in what today is Belgium and the Netherands fell to Maximilian I of Habsburg (1508 Emperor), Charles' son-in-law. In 1722 the university of Dijon was founded and in 1725 became the seat of a bishop. The old town fortificcatins were demolished in the 19th century. The Canal de Bourgogne was completed in 1833, and in 1844 the first railroad to Dijon was opened. In 1899 the city was received into the Légion d'honneur. In 1940 Dijon was bombarded and occupied by Germany (three of the bombers, however, by mistake bombarded Freiburg im Breisgau). The city was liberated in 1944.
The

Porte Guillaume [left] was built in 1788 by Jean-Philippe Maret in place of an ancient gate of the 12th century. Originally, the gate was named Porte de Condé for Louis V Joseph de Bourbon-Condé, 8th Prince of Condé. During the French Revolution it was renamed Port de la Liberté. Finally, it took the name Porte Guillaume, referring to Guillaume de Volpiano (962–1031, also named Guillaume de Dijon), founder of the abbey of St. Benignus of Dijon, architect of Mont-Saint-Michel and of the abbey of Saint-Germain-des-Prés in Paris.
[https://de.wikipedia.org/wiki/Dijon, http://en.wikipedia.org/wiki/Dijon, http://fr.wikipedia.org/wiki/Porte_Guillaume_(Dijon), http://en.wikipedia.org/wiki/William_of_Volpiano]

---