| | |
| --- | --- |
| ČESKÁ REPUBLIKA | CZECH REPUBLIC |
| Vysočina | Highlands (Jihlava) region |
| Okres: Pelhřimov | |
map →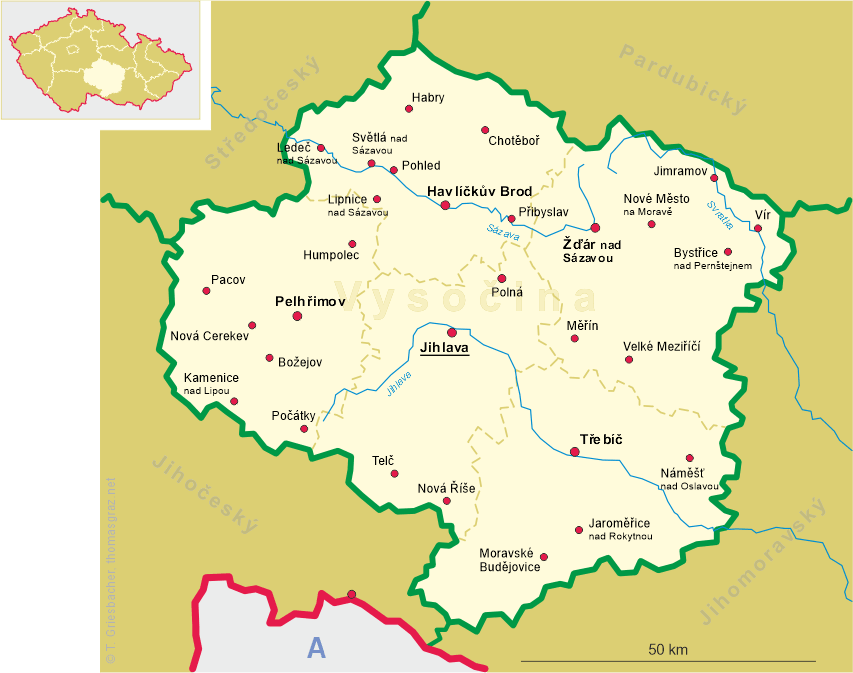 Pelhřimov
• lv: Pelhržimova
• lt: Pelhržimovas
• de: Pilgrams
• ru: Пельгржимов
• sr: Пелхримов
Pelhřimov is situated at an elevation of 494 m at the western-most tip of the Bohemian-Moravian Highlands, about halfway between Prague and Brno. Pelhřimov is the capital of the district of the same name; the municipality has a population of about 16,100 (2016).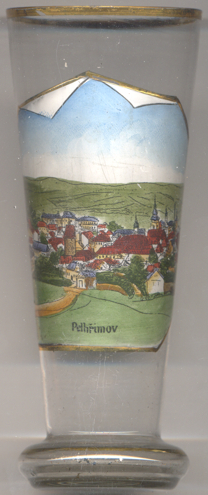 The first settlement probably originated in the 2nd half of the 12th where today Starý Pelhřimov is located. In the 13th century the name was then transfered to a new settlement located near St. Vitus church. The town was first settled mainly by German colonists. Gradually Czechs established themselves as the majority. In the Hussite Wars, Pelhřimov sided with the Hussites. The favourable position of the town was important after the upheavals ended. Silver mining aided the expansion of Pelhřimov. In 1434 the town passed into the hands of the lords Trčka of Lípa, who sold the estate in 1550 to the lords of Říčany, who built a castle in the immediate vicinity of the town ramparts. In 1572 the town bought its freedom and in 1596 Emperor Rudolf II elevated Pelhřimov to a royal town. Two large fires ravaged the town in 1646 and in 1766; thanks to those, the town houses today are almost uniformly Renaissance-Baroque. The 19th century brought an expansion of industry; beer has been brewed in Pelhřimov since 1552, when the town was granted the privilege of doing so.
The

deanery church of St. Bartholomew [background right] was founded in the late 13th or the beginning of the 14th century. Since 1589 the church exterior shell is decorated with sgraffiti. The prominent 30-metre-high tower, today a popular lookout point, was built in 1576.
The

Lower Gatehouse [the prominent tower depicted centre left], also called 'Jihlava Gate', was built in the 16th century as part of the fortification system. The 5-storey tower has a height of 36 metres. Today, it houses the Museum of Records and Curiosities, which was opened in 1994.

[https://de.wikipedia.org/wiki/Pelhřimov, https://de.wikipedia.org/wiki/Pelhřimov, https://cs.wikipedia.org/wiki/Pelhřimov]

---