| | |
| --- | --- |
| ÖSTERREICH | AUSTRIA |
| Bundesland: Niederösterreich | Lower Austria |
| Bezirk: Neunkirchen | |
map →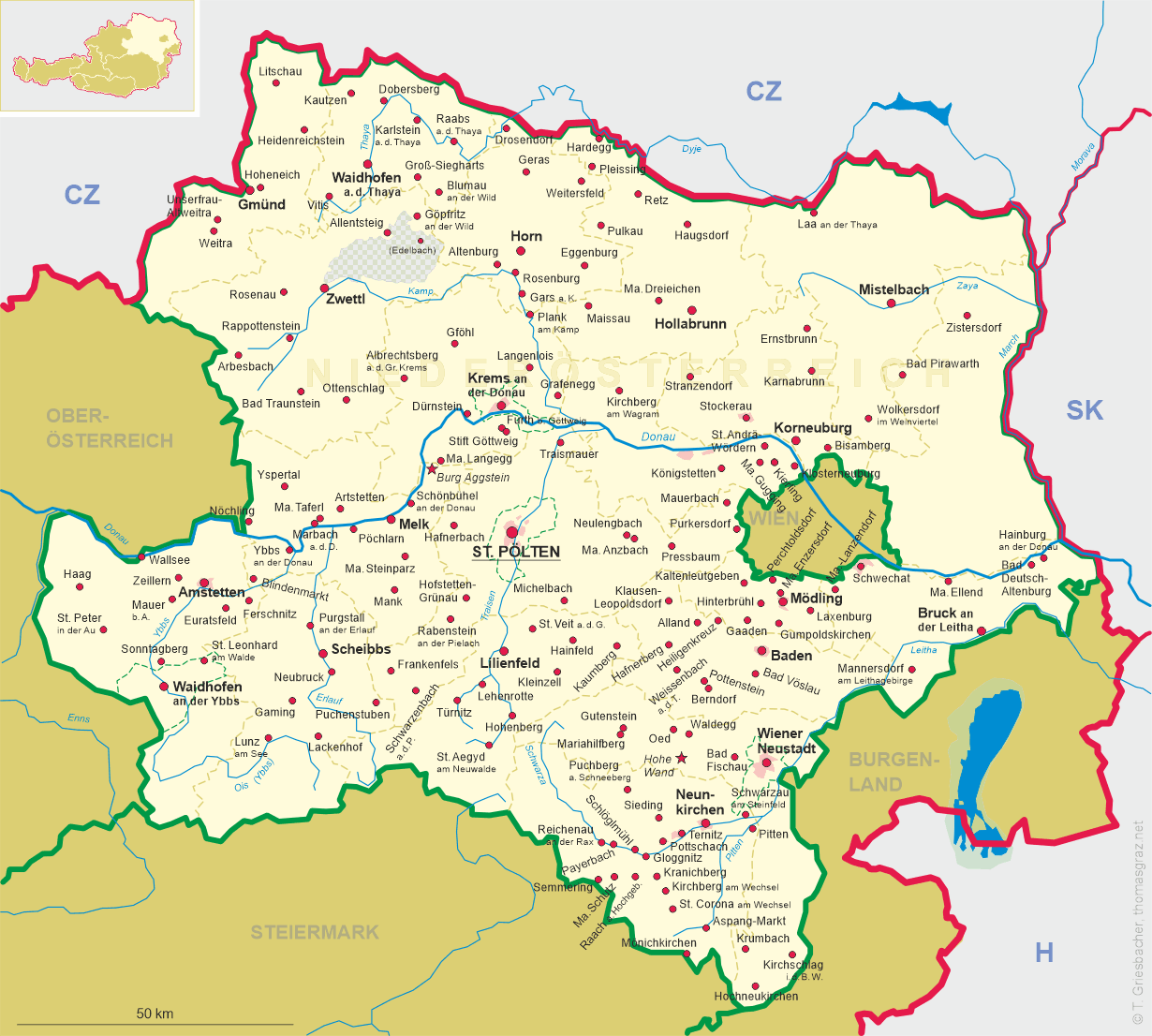 Reichenau an der Rax
• lt: Raichenau prie Rakso
• cs: Rychnov na Rakousu
• ru: Райхенау-ан-дер-Ракс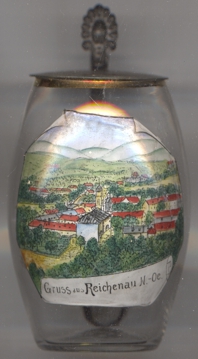 Reichenau an der Rax is situated at an elevation of 484 m at the foot of the Rax mountain range on the Schwarza river, a headstream of the Leitha. The municipality has a population of about 2,600 (2013).
Reichenau castle was first mentioned in a 1256 deed. Duke Otto IV of Austria (Otto the Merry), who in 1327 had established the abbey of Neuberg an der Mürz, acquired Reichenau in 1333 and granted it to the monastery. Original an ore mining and forestry area, Reichenau became a summer resort of the Viennese nobility in the 19th century due to its picturesque setting. From 1854 on the development of the area was decisively promoted by the opening of the Semmering railway line with a train station in neighbouring Payerbach (until today the station is named Payerbach-Reichenau), part of the Austrian Southern Railway (Südbahn) from the Vienna to Trieste. Reichenau was directly connected to Payerbach by the Höllentalbahn narrow gauge railway in 1926 at the same time with the opening of the Raxseilbahn, the oldest aerial cable car in Austria. During the period of the Austrian-Hungarian Empire, Reichenau became one of the most fashionable summer resort places, because Emperor Franz Joseph I and his family spent several summers here.
The Catholic

parish church Sankt Barbara [left, no. 4120: centre] was built in 1843–1846 based on a design by the architect Wenzel Bartak, which was modified by Miachel Zeura in 1841. Originally, the church was commissioned by the 'Innerberger Hauptgewerkschaft', a company for iron working and iron marketing from Eisenerz (historic former name Innerberg). The church was consecrated in 1846 as a filial church of the parish of Payerbach and in 1908 became an independent parish.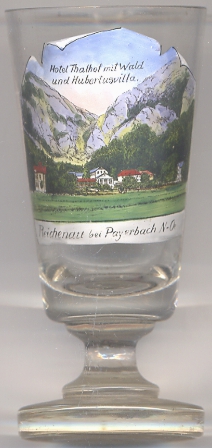 Hotel Thalhof [near left, no. 2830: centre] was first mentioned as a farm in 1652. The earliest mention as an inn dates from 1785. In the late 19th century, the owner founded the cold-water cure establishment (today Kurhaus of Reichenau), the first of its kind in Austria-Hungary. From 1852 on, Emperor Franz Joseph of Austria had an own appartment in the Thalhof. Besides Franz-Joseph and his wife, Empress Elisabeth, many notable persons were guests of the Thalhof, such as the authors Ferdinand Raimund, Nikolaus Lenau, Arthur Schnitzler, Peter Altenberg and Robert Musil.
Further buildings depicted on glass no. 2830 are

Hubertusvilla and

Waldvilla.
Reichenau was also the German name of Rychnov na Moravě and Rychnov nad Kněžnou (CZ).

[http://en.wikipedia.org/wiki/Reichenau_an_der_Rax, https://de.wikipedia.org/wiki/Reichenau_an_der_Rax; https://de.wikipedia.org/wiki/Pfarrkirche_Reichenau_an_der_Rax; http://www.content-event.at/thalhof-presse/geschichte-des-thalhof; http://www.semmeringbahn.at/images/Semmeringbahn-Managementplan-Deutsch.pdf: Thalhofstraße 21 and 24; comp. maps.google.com]

---