| | |
| --- | --- |
| ČESKÁ REPUBLIKA | CZECH REPUBLIC |
| Pardubický kraj | Pardubice region |
| Okres: Svitavy | |
map →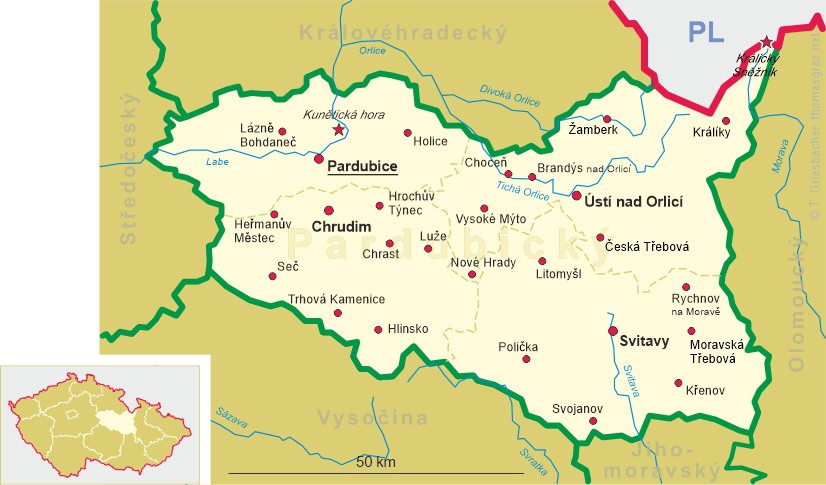 Rychnov na Moravě
• de: Reichenau
• dsre: Рихнов на Морави
Rychnov na Moravě, situated at an elevation of 355 m in the Svitavy district, was first mentioned in 1365. Rychnov became Protestant in 1550, but the Protestant community was dissolved in 1630. The Catholic parish was established in 1834. During the times of the Austrian Monarchy, it was part of the district Moravská Třebová (Mährisch-Trübau) in the Margraviate of Moravia. Since a rearrangement of the administrative district in the 1960s, the seat of the district is in Svitavy (Zwittau), the district itself was attached to the region East Bohemia. After the most recent adminsitratitve rearrangement, the district is now part of the Pardubice region (Pardubický kraj).
The

parish church of St. Nicholas (farní kostel sv. Mikuláše) [background centre] was rebuilt after World War II with the aid of the inhabitants of Rychnov.
Another glass from this collection is a souvenir from Rychnov nad Kněžnou. Reichenau, the German name of Rychnov na Moravě, is also the name of Reichenau an der Rax in Lower Austria.

---