| | |
| --- | --- |
| ČESKÁ REPUBLIKA | CZECH REPUBLIC |
| Královéhradecký kraj | Hradec Králové region |
| Okres: Náchod | |
map →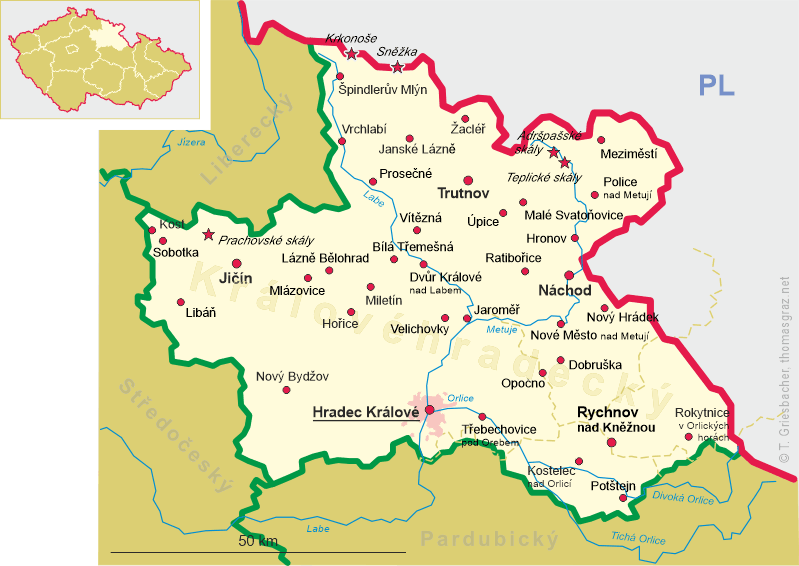 Nový Hrádek
• de: Neubürgles
• sr: Нови Храдек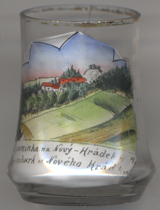 Nový Hrádek is situated at an elevation of 560 m above the river Olešenka in the northwestern slopes of the Orlickèacute; hory (Eagle Mountains) in the Náchod district about 7 km east of Nové Město nad Metují and 12 southeast of Náchod at the border to Poland. The municipality has a population of about 850 (2019).
The village originated towards the end of he 13th century near Frymburk castle (see below). The earliest written document mentioning the place dates from 1362. At least since 1537 an iron mill existed here. In 1736 it obtained the privileges of a market town. The name Nový Hrádek is documented as early as 1790. Followinng the end of manorialism at the end of the 19th century, the town (in German named Neubürgles) became an independent municipality in the district Neustadt an der Mettau (Nové Město nad Metují). After World War II it was for a brief period (1945–1946) part of the district Dobruška before being reallocated again to the district Nové Město nad Metují for a few years; from 1949 until 1960 it was again part of the district Dobruška. Since 1960 it is part of the district Náchod. The status of 'městys' (market town) was renewed in 2006.

Frymburk castle [left] (in German Frymburg, Frumburg, Frümburg, or also Friedenburg) was founded in the early 14th century by the lords of Leipa (Czech: z Lipé). At some time in the 14th century it came in possession of the lords of Opočno and Dobruška. The castle was destroyed in 1425 during the Hussite Wars. The castle remained abandoned since the mid-16th century. There were some plans to rebuild the castle around 1940, but the outbreak of World War II prevented these plans. The castle was nationalised in 1948 and in 1950 was declared a historical monument. Initiatives in 1991 for a renovation were abandoned when the ruins were restituted to the previous owners.

[https://de.wikipedia.org/wiki/Nový_Hrádek; https://de.wikipedia.org/wiki/Burg_Frymburk]

---