| | |
| --- | --- |
| DEUTSCHLAND | GERMANY |
| Bundesland: Freistaat Sachsen | Saxony |
| Landkreis: Erzgebirgskreis | |
map →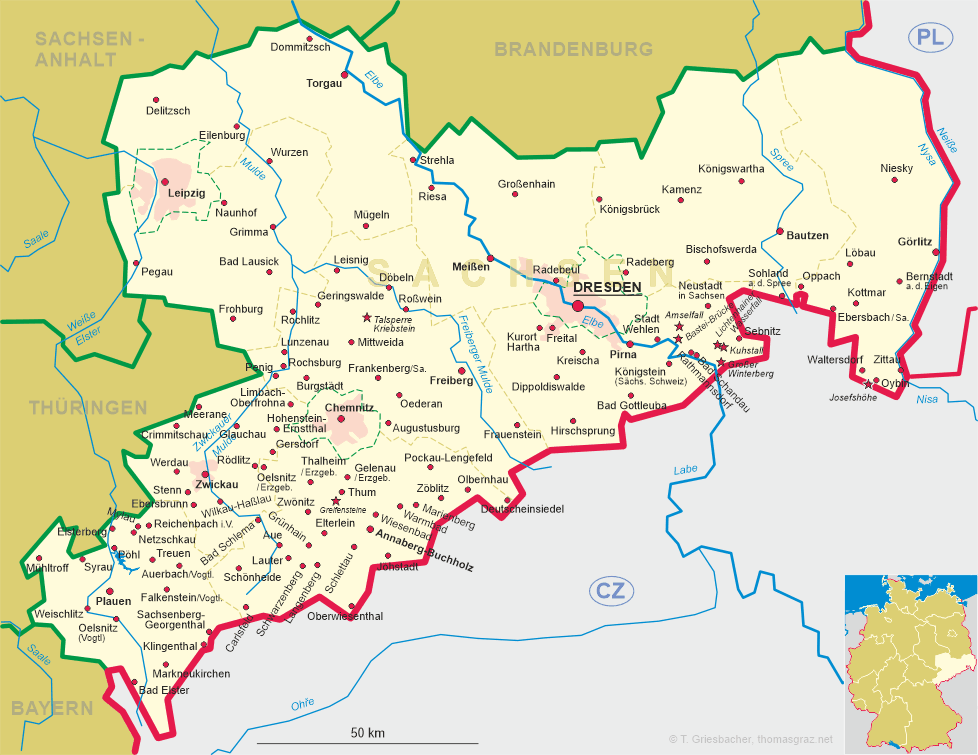 Schlettau
• lv: Šletava
• mk, sr: Шлетау
• ru, uk: Шлеттау
Schlettau is situated at an elevation of 612 m on the river Zschopau in the district Erzgebirgskreis ('Ore Mountains district') of southwestern Saxony, about 30 km south of Chemnitz and about 5 km southwest of the district town Annaberg-Buchholz. The municipality has a population of about 2,300 (2021).
Around 1100 a stronghold was built at this place to protect the crossing over the river. The oldest known written document that mentions Sleten or Slatin dates from 1351. he time, the place was in possession (as a fief from the king of Bohemia) of the lords of Schönburg. In 1413 it came in possession of the monastery Grünhain in a barter. In 1367 it was mentioned as an oppidum (town or township) for the first time. The oldest document confirming privileges as a town date from the 15th century. In 1515 it obtained the status as a Free Royal Mountain Town. Following the introduction in 1527/1529 of the Protestant faith and the subsequent dissolution of the monastery Grünhain, Schlettau came under the rule of the Wettin dynasty. In 1889, with the opening of the railway from Annaberg-Buchholz Süd (South) to Schwarzenberg, it was connected to the railway network. The neighbouring community Dörfel was incorporated into
Schlettau in 1996.
The top picture on glass no. 4237 [left] shows a view of the

railway station, built in 1889. The historistic wooden decorations were removed in the 20th century. The building was renovated in 2006–2007.
The bottom left picture shows, on the left, a view of the

Imperial post office, built at the end of the 19th century. Although not serving as a post office any more, it still has largely retained its original appearance today.
The Protestant

town church Sankt Ulrich [bottom left picture: background right] is a landmark of the town. A chapel was mentioned for the first time in 1351. The original chapel was replaced by a late Gothic church at the end of the 15th century. After having been destroyed by a large fire in 1659, the church was rebuilt in Baroque style.
The

town hall [bottom right picture] was built from 1720 onwards.

[https://de.wikipedia.org/wiki/Schlettau; https://bahnhof-schlettau.de.tl/Der-Bahnhof-und-das-Gel.ae.nde.htm; https://de.wikipedia.org/wiki/Liste_der_Kulturdenkmale_in_Schlettau; https://de.wikipedia.org/wiki/St._Ulrich_(Schlettau)]

---