| | |
| --- | --- |
| ÖSTERREICH | AUSTRIA |
| Bundesland: Kärnten | Carinthia |
| Bezirk: Spittal an der Drau | |
map →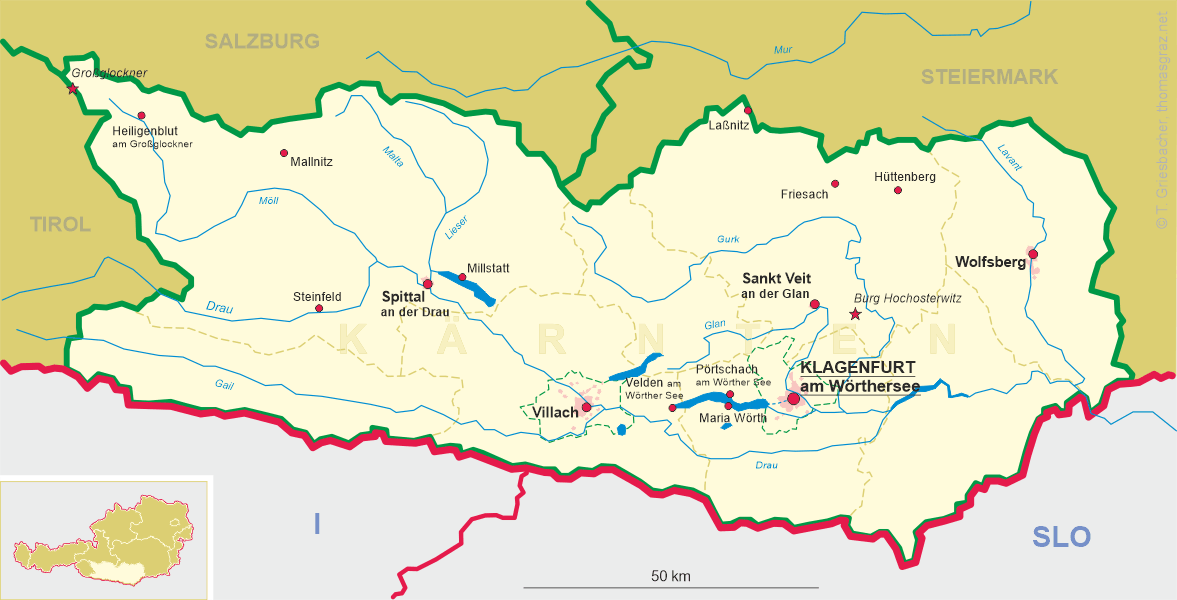 Heiligenblut am Großglockner
• lt: Heiligenblutas
• sl: Sveta kri
• ru: Хайлигенблут
Heiligenblut am Großglockner is an important resort both for summer and winter tourism and is located at an elevation of 1,301 m at the foot of the Großglockner (3,797 m, [background left]), the highest mountain of Austria. The municipality has a population of about 1,100 (2012).
For centuries only foot paths lead from Heiligenblut over the Glockner massif to Salzburg in the north. Since 1909 it already was possible to travel by railway through the tunnel between Mallnitz in Carinthia and Böckstein near Bad Gastein in Salzburg. The mountain road (Großglockner-Hochalpenstraße) from Heiligenblut over the Hochtor (2,504 m) to Bruck an der Großglocknerstraße in Salzburg was constructed between 1930 and 1935.

The

parish and pilgrimage church Sankt Vinzenz was begun in the late 14th century in place of an older St. Vincent chapel. It took more than one century to complete the church: the choir was finished around 1430, the nave was completed around 1490. A fresco from the late 15th century in the choir with the image of St. Christopher is a reminder of the dangerous paths which travellers had to take over the mountains. The main altar of 1520 is one of the largest examples (10.6 m high) of wood-carved altars in the country. The tabernacle of 1494 in the choir contains the most important treasure of the church, a reliquiary which holds a small bottle with blood of Christ. According to the legend it was brought to Heiligenblut by the byzantine general Brictius whoose tomb is shown in the crypt of the church.
In 2010 the Heiligenblut Star Boys' singing procession, a regional variant of the Star Boys' singing processions has been entered into the UNESCO list of intangible cultural heritage in Austria.

---