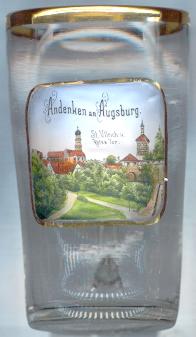 The

church Sankt Ulrich und Afra [left] was built as the church of the free Imperial Benedictine abbey in 1474. The chancel was completed in the 16th/17th century. The tower has a height of 93 m. The interior decorations of the Late Gothic basilica date from the Renaissance and Baroque periods. The church also contains the burial places of the patron saints of the Augsburg diocese, Ulrich, Afra and Simpert. In 1937 the church received the papal title of a Basilica minor.

St. Ulrich (890–973 AD) became bishop of Augsburg in 923 and defended Augsburg against the Hungarians in 955 together with Otto the Great. He was canonized as a saint of the Catholic church in 993 by Pope Johannes XV.

(see also list of other basilicae minores depicted on glasses of this collection)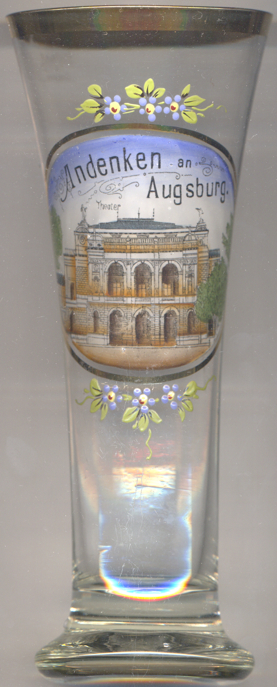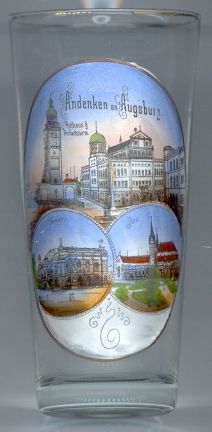 The

Stadttheater (Municipal Theatre) [left, no. 3161 and right, no. 1590: bottom left] was built in 1876–1877 by the famous theatre architects Ferdinand Fellner and Hermann Helmer. It was re-opened in 1939 after extensive renovations and altreations, but was destroyed by bombs on 25/26 February 1944. A modern theatre was built in its place in 1952–1956.
(See also list of further buildings by Fellner and Helmer that are depicted on glasses of this collection.)
The

Cathedral of Our Lady (Mariendom) [right, no. 1590: bottom right] was founded around 700 AD. The first document mentioning the cathedral of Our lady dates from 822. The crypt under the west choir was built in 960 by bishop Ulrich, the Romanesque west choir followed between 994 and 1065. The two Gothic naves and the east choir were added between 1321–1341. Between 1537 and 1548, during the Reformation, parts of the church were damaged andmany of its images and altars were destroyed. The Lady chapel was created in 1721. The whole church was renovated in Neo-Gothic style in 1852–1863. Many of the original, Gothic, decorations were recovered and restored by renovations works in 1934.
The top part of the picture on glass no. 1590 [right] shows the Perlachturm and the Town Hall (see above).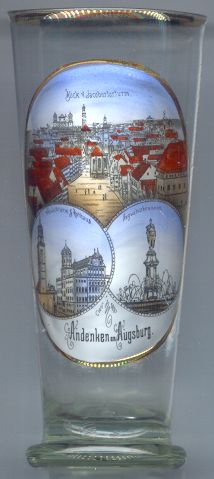 The

Augustusbrunnen [left, no. 2074: bottom right picture] in front of the Town Hall is the oldest of the three monumental fountains in Augsburg's main street, Maximilianstraße. The Renaissance fountain was created in 1588–1594 by the Dutch sculptor Hubert Gerhard. The bronze sculpture of the Roman emperor Augustus which crownes the fountain was cast by Peter Wagner. The original today is exhibited in the entrance hall of the Town Hall, a copy replaces the original on the fountain. The four figures beneath the emperor's sculpture are allegories of the four rivers that flow through Augsburg: Lech, Wertach, Singold and Brunnenbach.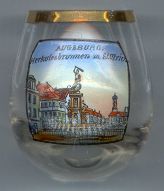 The

Herkulesbrunnen [right, no. 1792] is the largest of the three monumental fountains in Augsburg's main street, Maximilianstraße. It was cast in 1602 by Wolfgang Neidhart after a design made by the Dutch artist Adrian de Vries between 1597 and 1600. The centrepiece shows the struggle between Herkules and the sevenheaded hydra. The fountain symbolises the Roman origins of the town, the world-wide connections of the town's traders, and the abundance of water in Augsburg.
Mozart's father, Leopold MOZART (1719–1787), was born in Augsburg. He studied philosophy in Salzburg and later became a member of the court orchestra of the prince archbishop. In 1757 he was appointed composer to the court and chamber, and in 1763 beacme deputy Kapellmeister. His birth house is a museum today.
Rudolf DIESEL (1858–1913) invented the internal combustion engine in Augsburg in 1892. The first working engine of 1897 today is exhibited in the Deutsches Museum in Munich. The engine today is also known as 'Diesel engine'.
Berthold BRECHT (1898–1956), famous German playwright, was born in Augsburg.

---